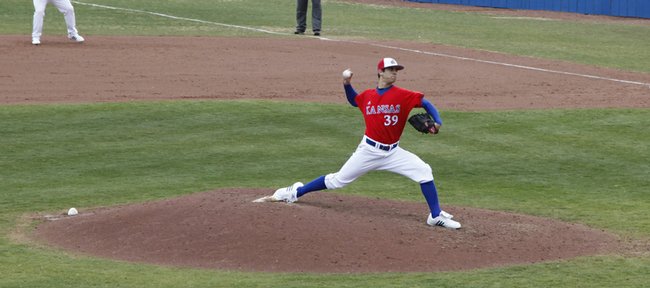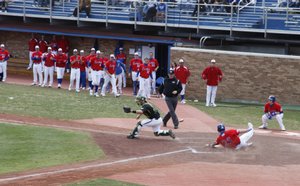 This was the kind of response Ritch Price had hoped for.
With his team mired in a midseason lull — having dropped four straight conferences games, the most recent of which came in a ninth-inning collapse against visiting Baylor a day earlier — Price entered Saturday's game in need of a good day.
And in the Jayhawks' dominant 6-0 victory over the No. 7 Bears, that's precisely what he got.
"An average team walks into the yard and gets beat up today after a devastating loss like last night," said Price. "But I thought we showed some toughness and showed some competitiveness, and that's what it takes to play in this league."
T.J. Walz (3-0) pitched Kansas' second complete-game shutout of the season, giving up three hits and striking out six, and the team's lineup pounded out nine hits against Bears starter Logan Verrett (7-1), a freshman right-hander who entered the game leading the Big 12 in victories.
On a day that winds reached 40 mph — on a couple of occasions keeping hard-hit balls inside the park — Walz used an unusually effective change-up to keep Baylor batters off balance and earn his first victory since topping then-No. 4 Arizona State on March 13.
The sophomore right-hander retired the Bears' first batter in each of the first eight innings and didn't allow a runner past second while benefiting from one of Kansas' finest defensive performances of the season.
The Jayhawks defense didn't commit an error and made a number of difficult plays, the most memorable of which was left fielder Nick Faunce's diving catch to rob Don Lambert of extra bases in the fifth inning.
"I said to Faunce in the middle of the eighth inning, 'You guys just played unbelievable today,'" Walz said. "We wouldn't have been in that position if it weren't for the defense."
The team's bats weren't bad, either.
Following a two-run fourth inning, Kansas added four more runs in the sixth, taking advantage of three walks and three extra-base hits, including Tony Thompson's two-run home run that knocked Verrett from the game.
Thompson finished 2-for-4 with three RBIs, and Faunce, who had struggled through the first half of the season, concluded a strong week by going 2-for-3 with an RBI on Saturday.
The victory helped pull Kansas (18-11, 4-4 in the Big 12) back to the .500 mark in the Big 12, but more importantly, it helped the team regain some of the swagger it had lost during a two-week stretch in which the Jayhawks lost four of their previous six games — with three of those losses coming by two runs or fewer.
"We needed to get back on the roll we were on once we beat Texas," Thompson said. "Coming home, we knew we had to go out today and give ourselves a chance to win this series."
Narodowski ailing: After leaving the field late in Friday's game because of an ankle injury, KU starting shortstop David Narodowski missed Saturday's game and is uncertain for today's series finale.
Price, who had hoped the junior would be able to return Saturday, called the injury day-to-day.
Today's game time changed: Because of inclement weather forecast this afternoon, Kansas has changed first pitch for today's series finale against Baylor up an hour, to noon.
More like this story on KUsports.com