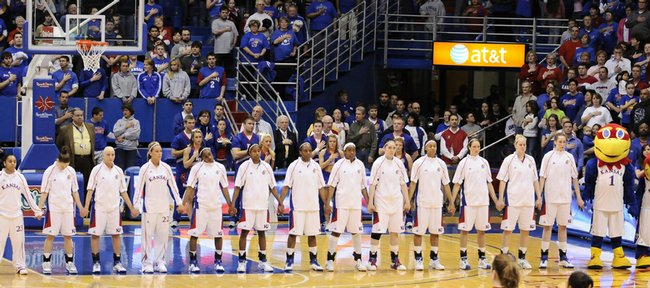 Sometimes basketball statistics can be skewed by nuances like injuries, blowouts and schedule strength.
In the case of South Florida University, though, one stat blinks like a red beacon on Kansas coach Bonnie Henrickson's desk.
The Bulls have forced opponents into an average of 20 turnovers a game.
At the same time, Kansas has been turnover-prone all season.
"That's my biggest concern," Henrickson said prior to today's WNIT title game against the Bulls. "It's absolutely my biggest concern."
Tipoff will be at 1 p.m. in Allen Fieldhouse. CBSC (Sunflower Broadband 143, 235) will have a live telecast.
In Wednesday's WNIT semifinal victory over Illinois State, the Jayhawks committed 18 turnovers, yet survived, 75-72, because they shot 54 percent from the field and made 24 of 30 free throws.
Henrickson says South Florida reminds her of Texas A&M; and the Aggies, generally regarded as the Big 12's most athletic team, forced the Jayhawks into a whopping 26 turnovers when the two schools met on Jan. 31 in College Station, Texas.
"They're similar to Texas A&M;," Henrickson said, "but they shoot threes like Iowa State."
In fact, the Bulls launch about 22 shots a game from beyond the arc, whereas Kansas averages about 10 fewer.
USF's Janae Stokes, a 5-foot-7 junior, has unloaded a staggering 290 three-point shots — compare that KU leader Danielle McCray's 175 — and Stokes isn't even a starter.
As the first player off the Bulls' bench, Stokes provides every coach's dream — instant offense.
"She's a fantastic three-point shooter," Henrickson said of Stokes. "She gets her shots off so quickly you have to make sure you crowd her."
Speaking of crowds, no one knows how many people will show up today. KU officials were expecting about 3,500 fans for Wednesday's semi against Illinois State, but more than 8,000 went through the fieldhouse doors.
"The crowd absolutely helped us," Henrickson said.
While Kansas was playing its WNIT semi in a rollicking atmosphere, the Bulls were playing in a tomb. South Florida spanked Boston College, 82-65, in front of only 702 fans in the Eagles' campus arena.
Henrickson is quick to point out, however, that South Florida has proven it can win in front of a hostile crowd. USF won at Rutgers, for example, and in the WNIT quarterfinals the Bulls spilled St. Bonaventure, 80-66, in front of more than 4,000 fans in the Bonnies' crackerbox gym.
So a large crowd today isn't likely to intimidate South Florida.
"It won't hurt them," Henrickson said, "but it will help us."
Kansas has won 16 of its 19 games in Allen Fieldhouse this season, including six in a row. All three losses were to Big 12 teams — Texas Tech, Kansas State and Oklahoma.
In order to advance to today's championship, Kansas won four in a row — three at home and one at New Mexico. USF toppled Florida Gulf Coast and Mississippi at home before knocking off St. Bonaventure and Boston College.
While USF has four players averaging double-figure scoring — led by first-team All-Big East guard Shantia Grace (14.8) — Kansas has been relying heavily on McCray, who is averaging 30.7 points and 10.0 rebounds during the WNIT.
McCray's 123 points in four games are only six away from the tourney record established by Wisconsin's Jolene Anderson in five games two years ago.
More like this story on KUsports.com