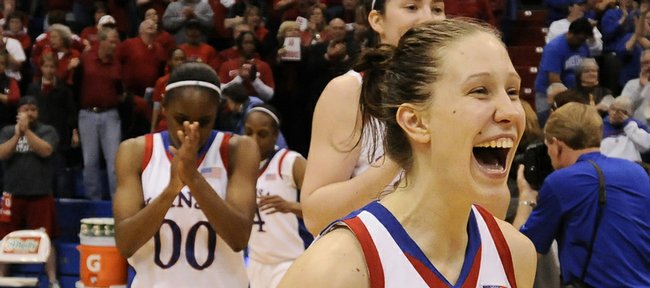 Five years later, listen to Serbian native Ivana Catic of the Kansas women's basketball team recount her first day in America. Then listen to her high school coach's perception of Catic on that day and see if you don't reach the conclusion she is ideally suited to play point guard.
"I didn't know anybody," said Catic on Thursday from her seat on an Allen Fieldhouse bleacher moments before practice. "I didn't know who was going to wait for me at the airport. They had a little sign: 'Ivana.' It was weird to meet people, not know anything about them, and the next day have to be at practice. That night, when I got there, met all my teammates, got settled in a dorm and I was like, 'Wow, this is where I'm going to be the next year,' I kind of panicked. I didn't know anybody. I was new in the environment that was so different for me. ... I cried myself to sleep. Not just that night, for about three weeks."
Her basketball coach at Mount deChantal Academy, an all-girls Catholic high school in Wheeling, W. Va. that closed its doors after the 2008 graduating class, remembers the day of his favorite point guard's arrival. He and Sandi Clerici, the school's principal, greeted Catic at the airport.
"I just remember how mature she was from the very first moment I met her," said Rowan, now a warden for an Ohio correctional facility for juvenile offenders. "Very grounded. Very modest. She was so excited to get to the States. From the moment she got to Wheeling, she was just so excited, had so many ambitions."
By presenting herself that way, Catic made her coach's job easier. She gave him one less thing about which to worry. Such seems to be the nature of the 5-foot-8 senior from Zrenjanin, Serbia, who will play the final basketball game of her college career Saturday in Allen Fieldhouse against South Florida in the WNIT final.
'She lights the room up'
Kansas coach Bonnie Henrickson remembers clearly her first meeting with Catic.
"I was on a whirlwind, trying to visit everybody all over," Henrickson said. "I think I flew in on a redeye, and I was like, 'I've got to be on.' Then I got in there, and it's just the two of us in the room, and she lights the room up. I'm thinking, 'That's supposed to be my job, not her job.' She's just a dynamic kid."
Take a trip with Catic back to her childhood, and it's easy to see where she developed into such a terrific facilitator who lightens the load carried by everyone who ever coached her.
Childhood memories
Catic, 22, remembered the date NATO's bombing of Serbia started. It was 10 years and 11 days ago. She remembered that it lasted three months, and she remembered what it did to her mother's already hectic schedule.
"There were times when we wouldn't have electricity for 12 hours, and we had to do chores when we did have it, and if that happened to be at 2 in the morning, then you had to get up at 2 in the morning to wash dishes and do chores," Catic said. "My mom would cook in the middle of the night. I did dishes, cleaned up a little when she was cooking. I helped out where I could because it was hard for my mom to not sleep, do all the chores in the middle of the night, and then go to work. It just made me a better person, more appreciative of what I have here. I don't take anything for granted. Something as simple as having training table for athletes, free food for us, it's great. It's free. It's cooked. And it's right there."
Catic remembers when food wasn't easy to come by for highly educated Vesna and Dragan Catic and their two daughters.
"In 1993, I think it was the highest inflation in the history of modern economy," Catic said. "We had a bill, it had a five and then it had like 12 zeroes. That's like 500 billion of the local currency."
The local currency is "dinar," but in making the translation, Catic calls them "bucks."
"It was just crazy," she remembered. "They would print new bills each week. My sister was in college, and my mom, for example, would give her 100 bucks at the beginning of the week for one week. By Wednesday, the price of one liter of milk and bread was 50 bucks. The currency would depreciate so much. You get paid, and by the time you are able to get that money from the bank, it's not really worth anything. It was a difficult time for my mom and my dad. I was only 7, so I didn't really grasp the whole situation. I don't know how they managed to get all the food on the table and provide everything for us."
Most of her childhood reflections put a smile on her face, such as looking back on taping posters of and newspaper clippings about her basketball idol, Michael Jordan.
"Because of the time difference, I always had to wake up at 3 o'clock in the morning to watch his games," she said. "My mom would try so hard to keep me awake because I would cry so hard in the morning if I didn't get to see the game. I remember sleeping in the living room, and she was like, 'All right, wake up, the game is on.' She even took pictures of me, sitting up in my PJ's and sleeping because I just couldn't stay awake."
KU excitement
All these years later, halfway across the world, others juggle their schedules to see the team for which Catic starts. A home crowd of 8,360, fifth-largest in the history of the KU women's basketball program, watched the Jayhawks defeat Illinois State, 75-72, in a Wednesday night semifinal.
Catic scored two points against the Redbirds, but nobody had a bigger field goal than hers. In a game KU had led by 17 points, Illinois State had a chance to take the lead, but Kristi Cirone's three-point shot was off target. KU's Sade Morris rebounded the ball and whisked it up-court on a fast break. She rifled a pass to the lefty Catic down low on the left side of the hoop. Catic pump-faked a much taller defender and banked in a shot to give Kansas a four-point lead with 2:25 left. The shot triggered an eruption from a crowd that had been growing more nervous by the second.
Catic, teammates and athletic department officials who are putting on a full-court marketing blitz envision an even bigger crowd for the title game.
"Maybe not full, full, full like it is for the men's games, but I think maybe 12,000 people," Catic said, guessing Saturday's attendance. "When we had that student section (behind the baskets), that was new for me. We never had that. I even saw people all the way in the back row. That was amazing. When you see that, you just have this one thought in your mind, that it's finally paying off. People are realizing that we play good basketball. Yeah, we're girls, but, like, we're good. We can still play, and it can be fun at a girls' game. That's just a great feeling. Now we have to top it off with a win Saturday. I feel we're confident."
Ever the coach's facilitator, Catic made sure not to get ahead of herself.
"The upperclassmen have to make sure everybody's focused and not too emotional," she said. "We have to focus on the process, rather than the outcome."
Banner year?
Should Kansas win Saturday, Catic, teammates and their coaches, will be responsible for hanging a banner in one of the world's most famous basketball venues. What, she was asked, years later would she think about when looking at that banner if it is earned Saturday?
"You know what, it would be a great thing and proof of all this hard work we've been through, my teammates and coaches," she said. "Just a testimony to the hard work and things I've had to give up. Things haven't always been comfortable for me because obviously playing at this level you have to go way past your comfort zone. You have to do things you never thought you would do, like running up and down these bleachers with a 20-pound vest when it's 95 degrees in here, all those things people don't really know about. All the things that athletes do, those hours in the gym working on your game when nobody's here on Saturday night, when everybody's out. I just hope it would inspire the young kids who would come in next fall and just everybody else who wants to come here and keep on building this program."
A management and leadership major in the business school, Catic said she will "walk in May" and take a couple of courses in June to finish her requirements for the degree. Then she faces a decision: return home or make a life for herself here. She said it won't be an easy choice to make.
"Right now, it's probably safer to be here and have a life here," she said. "People think it's bad here. They haven't been other places. What it is now here would be the best it's been in Serbia in 30 years. Compared to Serbian way of life, things are still good. Yeah, things are more expensive. There are fewer jobs available, and some companies are not doing as well, but let me tell you, it's way better than how it is in Serbia. ... My dad is an engineer. Unfortunately, he works as a security guard because the job market is so bad. My mom is a middle school physical-education teacher. She's doing well."
Why then, if the job market is so much better here than in Serbia, is a difficult decision?
"Home is always going to be home," she said. "When I go there in the summer, I see my friends from growing up. My sister has two children, and I love those kids. It's just difficult to leave all that."
It will be difficult for her to turn in her Kansas uniform as well. At least she'll be doing so after receiving the loudest pregame ovation of her career. Those in the crowd familiar with her life story and upbeat attitude no doubt will put a little extra into their cheers.
More like this story on KUsports.com