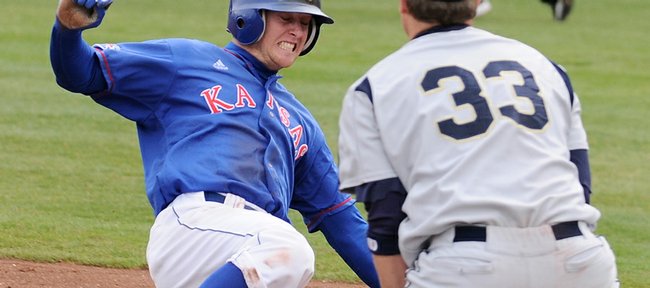 Before his team's 15-6 victory over visiting Northern Colorado on Wednesday afternoon, Kansas University baseball coach Ritch Price felt compelled to have a little chat with senior catcher Buck Afenir.
The Jayhawks' top hitter throughout much of the first part of the season, Afenir was coming off a sluggish series against Texas A&M; and, to make matters worse, had followed it up with an 0-for-5 outing in Tuesday's near loss to NCU, stranding multiple base-runners in the process.
And the lack of crunch-time execution did not go unnoticed.
"I basically got onto his butt about not being a surfer and being a baseball player," said Price, referring to the California native's sometimes laid-back demeanor.
Message received. In the Jayhawks' lopsided victory Wednesday at Hoglund Ballpark, Afenir responded in a big way, picking up five RBIs and two hits to help the Jayhawks' earn their 14th consecutive home victory this season.
"(Price) was real disappointed in how flat our team was," on Tuesday, said Afenir. "We've had a couple of mid-week performances where we've come out flat, and today was good for us because we came out with a lot of energy and scored a lot of runs."
Despite a lackluster start — the Jayhawks fell behind the Bears for the second straight game — KU had no trouble putting NCU (8-17) away, using a five-run first inning to set the pace in what eventually would develop into a 14-2 advantage.
Taking no chances, Price re-inserted his regulars back into the lineup after giving most a day off in Tuesday's game, a move that paid dividends as nine Kansas batters recorded hits and seven finished with at least one RBI.
Starting pitcher Brett Bollman, meanwhile, recovered from his first-inning hiccup to hold the Bears scoreless through the next five innings and help push Tuesday's performance from the team's collective memory.
"I think everyone was a little happier with this one," said third baseman Tony Thompson, who finished 1-for-2 with four RBIs.
Perhaps most importantly, however, Kansas (17-10, 3-3 in the Big 12) emerged from its mini-slump unscathed, heading into this weekend's series against No. 7 Baylor with a renewed sense of confidence and a chance — with a solid performance against the Bears — to shoot up the Big 12 conference standings.
"I think they're having some problems right now," said Afenir of the Bears, who had dropped three of their previous six games heading into Wednesday. "And we've got a great opportunity to bring them in here, where we've got a lot of confidence playing, and get two wins — hopefully three if we can."
More like this story on KUsports.com