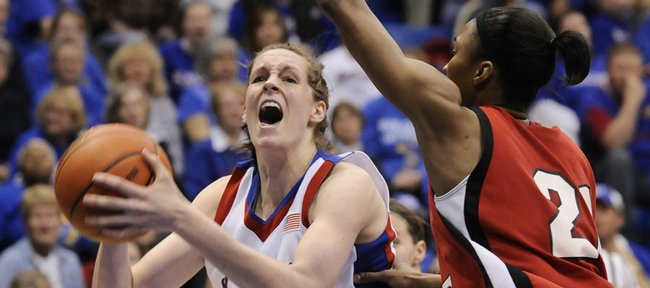 Audio clips
KU-Illinois State
KU scoring
McCray 31 (10-for-18 shooting), Boogaard 18 (6-for-8 shooting), Sutherland 9 (4-for-4 shooting), Morris 8, Smith 7, Catic 2.
KU was 25-for-46 from the floor (54 percent), 1-for-9 from three (11.1 percent) and 24-for-30 from the free-throw line (80 percent).
ISU was 26-for-69 from the floor (38 percent), 3-for-13 from three (23 percent) and 17-for-21 from the line (81 percent).
KU outrebounded ISU, 39-29. KU had 18 turnovers to ISU's six.
FINAL: KU women defeat ISU, 75-72
ISU's Brea Banks overthrows the inbounds pass, and LaChelda Jacobs intercepts it in the backcourt. One pass later, time expires.
KU comes away with a 75-72 victory and advances to the WNIT final at 1 p.m. Saturday against South Florida in Allen Fieldhouse.
KU women 75/ISU 72 — 2.9 seconds left in game
Who else but McCray comes through in the clutch for the Jayhawks. She missed a shot inside, but, using second effort, she leaped across the lane to get her own miss before putting it back in with a foul. And, boy, is she pumped. She screams out to the crowd, jumping in the air before yelling, "Let's go!"
McCray's free throw pushes KU's lead to six.
KU plays good perimeter defense on the next possession, as Cirone is forced to go inside and make a two.
After getting fouled, Smith makes two free throws.
The officials keep ISU in it, as Cirone puts in a layup, and Morris is called for her fifth foul when she was simply trying to get out of Cirone's way. Cirone makes the free throw to cut KU's lead to 70-67 with 15.7 seconds left.
Smith is perfect on two more free throws, but Cirone goes coast-to-coast for another two with 9.8 seconds left.
Smith makes one of two free throws after getting fouled. The Redbirds sure are picking on her, but she has come through by making seven of eight free throws.
KU is doing everything it can to give this game away. After a timeout, Sutherland fouls Cirone on a three-point attempt with 3.9 seconds left. The senior makes all three to cut KU's lead to one.
The Jayhawks get the inbounds to McCray (smart play) and she'll shoot two with 2.9 seconds left. The junior makes both.
KU women 65/ISU 62 — 1:01 left in game
Boogaard fouls out for KU on an away-from-the-ball foul. I didn't see that one. Smith checks in to take her place.
Nicolle Lewis hits two free throws to trim KU's advantage to two.
Sutherland comes up with a big offensive rebound for KU, but she follows with a critical error, throwing an elbow into an ISU player on a screen. The illegal pick is KU's 17th turnover.
Cirone misses a three for the lead, and Morris sprints to the other end in transition. She drops it to Catic under the basket for a layup, and the KU fans are louder than I've heard them all night.
Sutherland gets a steal in transition, and for a second, it looks like she has a breakaway. An ISU player slaps the ball away at the last second. Would Sutherland have tried to dunk it? I guess we'll never know.
Following a Cirone miss, Smith comes up with the defensive rebound and is fouled. She makes both free throws to push KU's lead to six.
The Jayhawks can't seem to get the crucial rebounds late. After an ISU offensive board, Bracey throws in a three to cut KU's lead back to three. The Redbirds have grabbed 14 of the last 21 rebounds.
KU women 60/ISU 57 — 3:44 left in game
After two free throws from Boogaard, Catic comes through with a steal up top for KU. Unfortunately for the Jayhawks, Catic misses the front end of a one-and-one after getting fouled.
McCray swishes a 16-footer from the side. Whenever KU needs a big bucket, McCray always seems to come through.
Morris picks up her fourth foul with 7:02 left. She'll have to sit for a few minutes before coming back in.
ISU's Ashleen Bracey twirls before knocking in a shot off the glass with a foul. After the free throw, the Redbirds trail just 57-50, and you can hear the fans starting to get anxious at the Fieldhouse.
Boogaard is called for a charge — KU's 15th turnover — and Henrickson takes a wise timeout.
Cirone dishes out to an open Krick, and she drains another three from the wing. KU's lead is down to four.
McCray follows with two free throws, then on the other end rips away a defensive rebound after a Cirone miss. She's coming up big in the clutch for the Jayhawks.
After a Cirone steal, Amanda Clifton forces up a leaner that rolls in. ISU has cut the lead to 60-57.
The official attendance is listed at 8,360, the fifth-largest in Kansas women's basketball history.
KU women 53/ISU 44 — 7:59 left in game
Krick hits a three in tranisition for ISU, and Cirone follows with a pair of free throws. KU, up 17 at one point, has had its advantage trimmed to nine at 51-42.
Smith still can't buy a three. She gets a wide-open look on the wing, but her shot bounces away. She's now 0-for-3 from deep tonight.
KU women 50/ISU 37 — 11:17 left in game
Over the course of this season, McCray has developed from a good player into a great player. She hits another guarded shot, and she doesn't look fazed no matter how many defenders fly at her. The junior is up to 18 points on 7-for-12 shooting.
Boogaard misses her first shot of the night, but Sutherland is there to scoop up the offensive rebound and put it back in. At this point, KU has doubled ISU in rebounds (30-15).
The Jayhawks go back to Boogaard, as she banks in another short shot. She's nearing her season-high (20), as she now has 16 points.
KU women 44/ISU 30 — 15:16 left in game
Nice job by Ivana Catic, who took the ball straight to the rim after breaking the press. With numbers, she bounced the ball to Boogaard in the lane, and the KU forward put it in with a foul.
McCray follows with her own nifty move. After missing a shot, she grabbed the rebound under the basket, then flung her body backwards to throw in the follow with a foul. ISU calls another timeout. KU has taken control with an 11-1 run to make it 44-28.
Krick breaks the ISU drought with a stepback 10-footer. The Redbirds had gone 2 minutes, 59 seconds without a field goal before that.
KU women 36/ISU 27 — 17:39 left in game
KU has forced it inside twice to Boogaard, and twice she's been able to draw fouls. The forward still could be a little tougher with it once she gets it, but KU won't complain about her making three of her four free throws.
Nicollette Smith rips away a steal at the 17:54 mark, and it's the Jayhawks' first steal of the game.
McCray cashes in on the other end, bouncing in a jumper from 15 feet. ISU takes a timeout, as KU has its largest lead at 36-27.
KU scoring
Danielle McCray 9, Krysten Boogaard 8, Sade Morris 8, Aishah Sutherland 6.
KU was 14-for-24 from the floor (58 percent), 1-for-5 from three (20 percent) and 2-for-2 from the free-throw line (100 percent).
ISU was 11-for-31 from the field (35.5 percent), 0-for-6 from three (0 percent) and 3-for-4 from the line (75 percent).
KU outrebounded ISU, 20-10. KU had nine turnovers to ISU's two.
Halftime thoughts
• A nice start for KU, considering a lot of things could have gone better for the Jayhawks. McCray had nine points, but she was only able to get up five first-half shots. The Jayhawks had quite a few turnovers (nine). KU also forced just two first-half turnovers, so its defense could be better as well.
• Another solid first-half line for Aishah Sutherland, who is emerging as a consistent player for KU. The forward had six points on 3-for-3 shooting with four rebounds in 15 minutes.
•Boogaard also had a perfect first half, going 4-for-4 from the floor. She has been both strong and balanced when taking the ball to the basket, and that aggressiveness has paid off.
In case you were wondering, South Florida won the other WNIT semifinal game against Boston College. The winner of this game will play South Florida on Saturday.
KU women 31/ISU 25 — Halftime
Morris drains a pair of tough pull-up jumpers. She looks much more comfortable with her shot than she was earlier this year. The guard is now tied for the team-high with eight points.
McCray gets bumped going to the basket, and she gets KU's first free throws with 1:16 left in the half. She swishes both.
The Jayhawks have dominated the boards against the undersized Redbirds. KU is outrebounding ISU, 20-10.
ISU's Maggie Krick misses a three at the buzzer, and KU takes a 31-25 lead into the break.
KU women 25/ISU 21 — 3:35 left in 1st half
The Jayhawks turn it over on two straight possessions. Those are starting to add up, as KU is up to seven giveaways.
Sade Morris drains a 15-footer from the baseline, and on the next possession, Aishah Sutherland banks a short shot off the glass and in. ISU calls timeout, as the Jayhawks have scored seven straight points to take a 25-19 lead.
KU has made 12 of its 20 field goals (60 percent), but the Jayhawks have no free-throw attempts as of yet. Remember, on Monday against New Mexico, KU had 36 free throws.
ISU women 19/KU 18 — 6:50 left in 1st half
With the shot clock running down, Ivana Catic rifles a pass inside to Boogaard, who lays it in for her eighth point.
ISU has done a nice job of defending McCray so far. The junior hasn't been able to free herself for many shots, as she only has four shot attempts (making two).
On the defensive end, KU hasn't been aggressive. The Redbirds, more than 13 minutes in, still do not have a turnover. They average 13.6 giveaways per game.
KU women 12/ISU 11 — 11:57 left in 1st half
KU turns it over, and coach Bonnie Henrickson pushes down both of her palms, telling her team to settle down. The Jayhawks might be hurrying things just a bit early on.
Boogaard puts in another layup inside. She's now 3-for-3 with six points to lead all scorers.
Nicollette Smith has missed a pair of shots, including a three. The sharpshooter — who led the Big 12 in three-point percentage earlier this year — has now made just one of her last 15 long-range shots.
KU women 8/ISU 5 — 15:55 left in 1st half
KU has shot a good percentage early, but that's mostly because the Jayhawks have gotten themselves good shots.
Krysten Boogaard scores KU's first four points, with both baskets coming on layups.
The Jayhawks have made four of their first five field goals through the first media timeout. Sade Morris and Danielle McCray have two points each.
6:56 p.m.
Welcome back to the Newell Post Live, coming to you from Allen Fieldhouse where the Kansas women's basketball team is getting set to take on the Illinois State Redbirds in the semifinals of the WNIT.
There's a nice crowd already here at the fieldhouse — I'd guess around 5,000 or so folks already. ISU has brought its band and also about 200 red-shirted fans, but there are many, many more Jayhawk fans. In fact, this is one of the best women's atmospheres I've seen in the years I've covered the women.
Illinois State is 27-7 this year and is led by Missouri Valley Conference player of the year Kristi Cirone. The 5-foot-8 senior guard is averaging 18.6 points and 4.0 rebounds pe game, so it should be a good matchup between her and KU's honorable-mention All-America selection Danielle McCray.
More like this story on KUsports.com