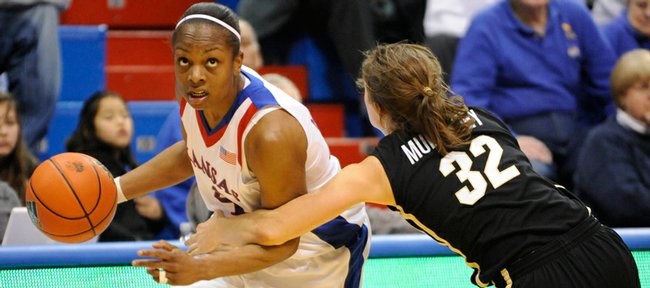 For the most part, no one can quite put a finger on what has gotten into Kansas University junior Danielle McCray lately. People try, of course.
Kansas women's basketball coach Bonnie Henrickson points to the ability to do just about everything well — create off the dribble, pull up for a three-point attempt, battle in the post. McCray herself points to an improved in-game focus.
The particulars of her recent streak: Over the course of the Jayhawks past 10 games, a blazing stretch in which the 5-foot-11 junior has averaged 27 points — up from a 21.2-point season average — and 9.5 rebounds, McCray has led Kansas to eight victories, including three in the WNIT, where the Jayhawks will take on Illinois State at 7 tonight in a semifinal matchup at Allen Fieldhouse.
While explanations of her recent string of success are far-ranging, however, perhaps the best can be traced back nearly three years, to a frustrating freshman season and the transformation that followed.
Despite arriving in Lawrence with a good deal of fanfare, McCray's entrance into major college basketball provided, as it does for many freshmen, no lack of roadbumps along the way.
From the start, Henrickson used McCray at the four position, and while the freshman's combination of size and ability would often create mis-matches for opposing defenders, McCray was incapable of creating her own shot and struggled mightily at the defensive end.
As Henrickson put it, "She couldn't guard me in my heels."
When coaches would get on to her about mistakes in practice, meanwhile, she would go into a shell, and most nights ended with her venting to mother Ellareese Murray on the phone.
"Her freshman year was a time of (transition)," says Murray. "She was coming from high school, she was always Momma's little girl. I had to give her that motherly tough love. It was rough, but I just told her, 'Have faith in your friends and your coaches.'"
The season ended in unspectacular fashion, with Kansas finishing 11-20 (4-12 in the Big 12) and bowing out in the second round of the conference tournament.
But having tasted a bit of success in spite of her struggles — she averaged 10.5 points and 4.8 rebounds mostly coming off the bench as a freshman— she entered her first offseason ready to attack a laundry list of improvements she'd need to make in order to be a force at the Division-I level.
Foremost on that list was conditioning. Her strength wasn't an issue — she won a state shot put title in high school — but her endurance required major work if she hoped to play major minutes in one of the country's top conferences.
Throughout the next summer, she got her weight down, adding a new level of quickness to her game, and, for the first time in her career, had an opportunity to develop her outside shot. In high school, McCray estimates she took five or six three-point shots her entire career; this season, she has averaged over five three-point attempts per game.
In addition, she began to embrace some of the things that she'd detested in her first year. Things like the tough practice matchups against KU graduate assistant manager Steven Wallace — ones that had left her dejected and frustrated as a younger player.
The following season as a sophomore, she started 29 games and saw her averages bumped both scoring (14.9) and rebounding (7.1) as the Jayhawks improved to 17-16 overall.
This year — with another offseason to shore up her game — she emerged as one of the top players in the Big 12, a distinction evidenced by her first-team all-conference honors.
While most of the attention she's garnered this season centers on her heightened scoring and rebounding numbers, however, it's the aspects of her game that don't necessarily show up in a box score that she's most proud of.
"When I first got here, I would just put the ball down and go," says McCray. "Or I'd come off a screen, and if a player was right there, I'd run right into them. Now, if I see you cheating a screen, I'm going to pop off the other way. Or if you're behind me, I'm going to post you up. Just the things that you have to have to take it to the next level."
These days, it takes some digging to uncover a significant hole in her game. During a three-game run in the WNIT, McCray has put together arguably the best stretch of basketball — men's or women's — at KU this season, scoring 25 points against Creighton in the first round, a career-high-tying 35 against Arkansas in the next, and a game-high 32 to go along with nine rebounds in Monday night's 78-69 victory over New Mexico.
With another season of eligibility, McCray's goal now is to take another step forward in making herself an attractive target to WNBA scouts. There are still things to work on, she assures, and with a number of promising youngsters returning next season — including injured point guard Angel Goodrich and Aishah Sutherland, who has averaged 13.7 points in three WNIT games — the Jayhawks should be a contender to qualify for the NCAA Tournament for the first time since 2000.
First, though, she'll look to close out the season with two more victories and the school's first WNIT title.
"Unfortunately we couldn't make it to the NCAA Tournament (this season), something we were trying to do for the whole season," said McCray. "But hey, if we get an opportunity to do something else, to go to a different tournament, why not try to win the whole thing?"
More like this story on KUsports.com