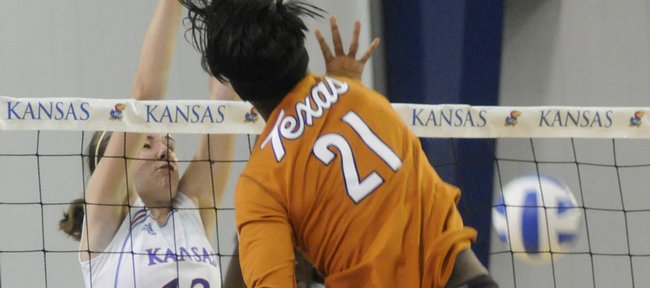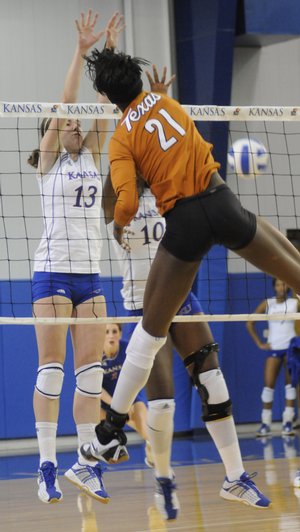 On the bright side, the Kansas University volleyball team's match with visiting Texas could have gone much worse.
For one thing, the Longhorns entered as the country's No. 3- ranked team. For another, they feature four all-Americans and a bench full of players that would not look out of place in the starting lineup of the New York Knicks.
But following Saturday's outing -an encouraging, if not spectacular, 14-25, 25-20, 20-25, 23-25 loss at the Horejsi Center - Kansas coach Ray Bechard took no solace in his team's moral victory.
"We're not taking a pat on the back for taking Texas to four games," assured Bechard, whose team fell to 7-6 this season (1-3 in the Big 12). "That wasn't our goal tonight. Was there some good volleyball on our side of the net? Yes. But our goal tonight was to extend the match and beat a ranked team on our floor."
Despite an encouraging second set, in which Kansas scored six straight points to turn an 11-13 deficit into a 17-13 lead and eventual victory, and a near-victory in set No. 4, the Jayhawks were stunted by a slow start - a persistent problem that has plagued the team on multiple occasions this season.
In four Big 12 games this season, the Jayhawks have never won the first set, and on Saturday, they fell into an early 4-10 hole to open the match and spent the rest of the evening attempting to play catch-up.
"We have this thing where we just don't jump out and attack teams," said freshman setter Nicole Tate, who finished with 33 assists and three service aces.
And against a team like Texas, that lack of early attack proved costly. Longhorns outside hitter Destinee Hooker finished with a match-high 20 kills, although a good majority of those could be more aptly described as first-degree murders.
The 6-foot-4 junior, who is also a two-time NCAA champion in the high jump, spent most of the evening at high-altitude, pounding volleyballs into the opponent's terrain at a significant clip as she recorded kills on two of the Longhorns' final five points of the evening to prevent a fifth set.
The glass-half-full analysis? Saturday marked the second straight match Kansas has won a set against a Top 3 opponent - the Jayhawks took No. 2 Nebraska to four games earlier this week - and came within a whisker of forcing a fifth set against the Longhorns, battling back from a 15-20 deficit midway through the fourth set to pull to within 23-24.
But the reality is that the Jayhawks now find themselves in a fairly significant conference hole, while facing the prospect of a home matchup against No. 17 Kansas State on Wednesday at 7 p.m.
"These kids are trying," said Bechard. "Obviously, trying very hard. But our goal is to beat ranked teams, and we know if our long-term goal is the NCAA tournament, we know that's what we're going to have to do."