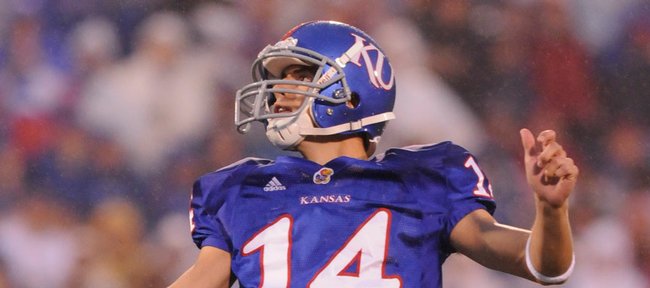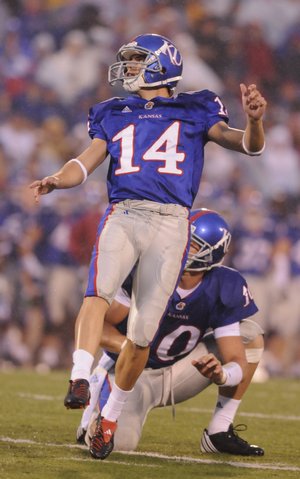 With Kansas University's football team driving for a potential game-winning field goal in the final minute of Friday's 37-34 loss at South Florida, KU place-kicker Jacob Branstetter went through his usual routine on the sideline.
Visualize. Focus. Kick. Visualize. Focus. Kick.
But as Branstetter prepped both mind and body for the possible late-game heroics, KU quarterback Todd Reesing tossed an interception on his 51st pass attempt.
In an instant, the fate of the game switched from Branstetter's foot to that of South Florida freshman Maikon Bonani, who responded by nailing a 43-yarder that handed Kansas its first loss of the season, just its second in the past 16 games.
It's hard not to see how Branstetter's night against USF parallels the start of his KU career.
One minute, he was winning the starting kicking job in the preseason, and the next he was ruled ineligible by the NCAA and temporarily off the team.
"Definite roller coaster," the red-shirt sophomore from Lawton, Okla., said. "Mentally, emotionally. I had a lot of phone calls home to mom and dad and a lot of nights talking to my fiancee."
In the days after the Jayhawks' season-opening victory over Florida International, Branstetter was cleared to play. KU coach Mark Mangino instantly inserted him into the starting lineup for Week 2, and the move paid off right away.
Branstetter made all three field-goal attempts in a 29-0 victory over Louisiana Tech. He followed that up with a 2-for-2 showing Friday at South Florida.
"I had faith that it would all work out," he said. "And maybe me missing that (FIU) game is going to keep me more focused because I know that in a moment it could be gone. So every time I walk out there to kick, I'm going to make sure I make the best of that kick. I try to use a cliche, or kind of a saying, 'Make sure you make it.'"
Branstetter, who began his kicking career as a sophomore in high school, always had confidence in his right leg. Plenty of practice, novels worth of self-motivation and the sincere belief that he was born to do this have led him to this point in his life - starting in the Big 12 Conference on a nationally ranked team.
Like the beginning of the 2008 season, the road to Kansas was not entirely smooth for Branstetter.
After racking up numerous prep honors at MacArthur High, including district Special Teams Player of the Year in 2005, Branstetter chose to attend the Air Force Academy in Colorado Springs, Colo. Although he was thrilled to be kicking in college, something seemed off.
"I went to the Air Force and didn't feel like that was really the right place for me," he said. "When I got back (home), my parents said, 'Maybe Kansas is the right place.' So I thought back on all the good times I had here, and I saw the program going up. Being an Oklahoman, coach Mangino being at OU and winning a national championship as an offensive coordinator there : I knew this program was going in the right direction, and I just wanted to be a part of that."
Branstetter first came to KU the summer after his junior year of high school. He attended the Jayhawks' kicking camp, fell in love with the campus and found himself back in Lawrence two years later.
He red-shirted in 2006, sat unnoticed behind Scott Webb in 2007 and finally is getting his chance in 2008.
Because of all he has been through, Branstetter does not allow himself to look too far into the future.
"I haven't actually had time to slow down and think about those things," he said. "I don't know if I would even consider looking at record books or anything like that. I haven't really had time. I'm trying to focus on my responsibility as a teammate and as a kicker. Those guys are out there pounding their heads together and running the ball up and down the field, and it's my job to go out there and put points on the board."
Whether he does usually can be determined before the ball even reaches the uprights.
"My high school kicking coach said he didn't have to watch me kick, he could just hear it," Branstetter said. "It's a lot like golf. If you hear like a flapping sound, you probably hit it off the toe or you hit it fat. If you hear a thump, if you hear a good, solid thud, you know you hit it good. That's what I look for."
The first time he heard that noise was during his sophomore year in high school, when he nailed a 42-yard game-winner to give MacArthur its first city championship in 15 years.
"When I get into those moments where maybe I'm not kicking the ball so well, I'll look back on that kick and think, 'You know what, you can do this. You've been doing it since high school,'" he said.
Today, those moments typically come after kickoffs, which Branstetter admits have been sub-par.
But that's the only aspect of the past three weeks that has dampened Branstetter's spirits. He's happy now. The transfer, being ineligible, wondering if he'd ever kick again : that's all behind him.
"During the time that I was ineligible, I had a chance to relax," he said. "Not relax in that I wasn't practicing, but relax mentally and relax emotionally and just enjoy kicking the ball again. And during that week and a half, my leg was fresh, I was really hitting the ball well, and I knew that if I just stayed focused and relaxed, when I came back, I was going to hit the ball as well or better than I ever had. It's been a great start to the season."
More like this story on KUsports.com