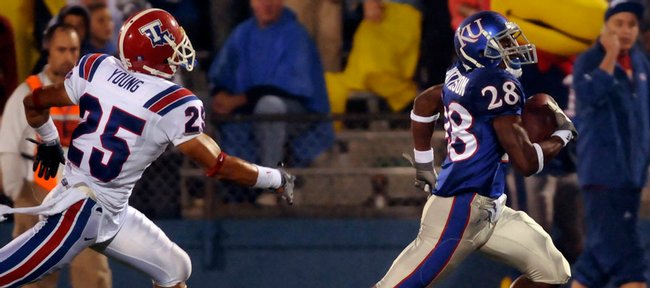 Top 10 KU career receiving touchdowns
1. Willie Vaughn (1985-88), Bruce Adams (1972-74), 17; 3. Mark Simmons (2002-05), 16;4. Brandon Rideau (2001-04), 14;5. Marcus Henry (2004-07), 13;6. Dexton Fields (2005-present), Isaac Byrd (1994-96), 12;8. Termaine Fulton (1997-01), David Verser (1977-80), Dezmon Briscoe (2007-present), 11.
Watching Daymond Patterson run with a football calls to mind watching Tom Seaver firing fastballs for the '69 Mets. Under normal circumstances, Seaver had an overpowering fastball. Put a runner in scoring position and two strikes on the batter, and Seaver reached back for more. Under normal circumstances, Patterson is the fastest player on the football field. Then when he needs a little extra, he kicks it up a notch.
Two weeks into the Kansas University football season, Patterson's receiving contributions have been the team's most pleasant surprise. He generally was considered the favorite to land the punt-return duties and has turned that former weakness into a strength. It's as a receiver that Patterson has juiced the team most significantly.
Perhaps the most interesting revelation from looking at down-by-down numbers for KU's talented receivers centers on Patterson, a 5-foot-9, 175-pound true freshman from Mesquite, Texas. Patterson moved into the starting lineup after the injury to Dexton Fields, and the numbers say Patterson's performance as a receiver can be captured in one word: perfection. Todd Reesing has thrown to him 11 times, and those throws have resulted in 11 completions for 152 yards, a 13.8-yard average, and two touchdowns.
On third down, Patterson has four catches for 100 yards.
KU coach Mark Mangino was asked heading into the season what made Patterson a player ready to play right away as a freshman.
"There are a number of things," Mangino said. "I'll make it simple, though: speed. He can flat-out run."
And he can flat-out catch. His addition to the team gives KU even more speed than it had a year ago and a deeper pool of receivers than perhaps any time in school history.
A not-so-grand total of two wide receivers from Kansas University heard their names called in the past 27 NFL drafts, both in the sixth round.
Isaac Byrd was selected by the Chiefs in 1997, and the New York Jets chose Marcus Henry this past draft.
A down-by-down examination of Reesing's receivers two games into the season reveals that KU's quarterback uses all of his options on all downs and doesn't play favorites.
Reesing does tend to look for Kerry Meier as a safety valve, especially on do-or-die downs. On third and fourth downs, Reesing has thrown to Meier 10 times, resulting in six catches for 81 yards. Proving Meier has a knack for running his routes long enough to get the first down, all six of the receptions were for first downs.
Dezmon Briscoe has been targeted six times on such downs, with five receptions for 141 yards, three first downs and two touchdowns.
No. 4 receiver Jonathan Wilson twice has been thrown to on third down, catching both balls for first downs covering a total of 53 yards.
More like this story on KUsports.com