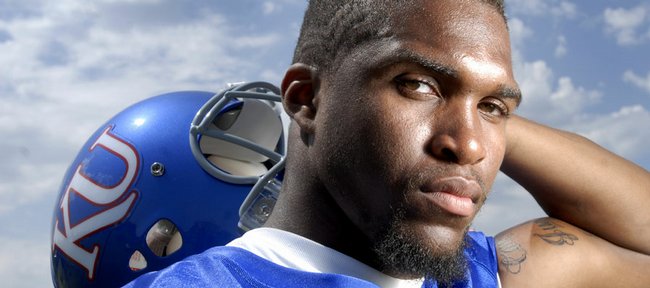 Audio clip
KU running back Angus Quigley
Podcast episode
In the third week of Going Deep, Matt Tait and Eric Sorrentino talk with Tampa Tribune beat writer Brett McMurphy about the similarities and differences between the KU and South Florida football programs. Also, find out which former Jayhawk has plans to attend Friday's game in Tampa.
Reader poll
Dezmon Briscoe (146 yards receiving, TD)

4%

76 votes

Daymond Patterson (130 yards receiving, 2 TDs)

27%

430 votes

Todd Reesing (32-for-38, 412 yards, 3 TDs)

12%

193 votes

Darrell Stuckey (10 tackles, 2 tackles for loss)

20%

317 votes

Angus Quigley (15 carries, 84 yards)

26%

413 votes

Jacob Branstetter (3 field goals)

8%

139 votes

Other

0%

5 votes
1573 total votes.
When Kansas University third-string running back Angus Quigley rushed for 47 yards on six carries in the team's season opener, it didn't seem to raise many eyebrows.
Just a minor note in a 30-point Jayhawks blowout, fans figured. Just a backup making the most of his garbage-time carries.
But while the first game easily could have been written off as a fluke, Quigley's effort Saturday - a 15-carry, 84-yard outing in which he finished with a 5.6 yards-per-carry average -was a bit harder to ignore.
And Sunday night, Kansas coach Mark Mangino acknowledged as much, saying Quigley, a 6-foot-2, 222-pound junior, likely has nudged his way into a more prominent role in the team's running game following his performance in the Jayhawks' 29-0 victory over Louisiana Tech.
"Absolutely," said Mangino, asked whether Quigley could see some early carries in Friday's 7 p.m. matchup with 19th-ranked South Florida in Tampa, Fla. "We haven't game-planned or anything, but I would suspect that we're going to have him in the mix there earlier."
In two games this season, the 13th-ranked Jayhawks have struggled to establish a consistent ground attack, content instead to air the ball out. Kansas coaches have brushed off the thin ground production (69 carries, 254 yards, one touchdown in two games), saying that the lack of a running game is the result of defenses willing to give them the pass in an effort to stop the run.
But the stats, up to this point, are worth noting. Junior transfer Jocques Crawford rushed for just 17 yards Saturday, and starter Jake Sharp, who ran for more than 800 yards as a sophomore in '07, has rushed for a total of 51 this year.
The only back who seems to have established some consistency thus far is Quigley - although he was quick to play down talk Saturday that he has established himself as a prime candidate for the starting job.
"You gotta let the work speak for itself," the Cleburne (Texas) High graduate said. "I'm just a player here. I don't make any decisions. Whatever the coaches decide, that's what I go with. And I just want to help my team win."
Harper leaves hospital: Senior cornerback Kendrick Harper, who left Saturday's game late in the first quarter on a stretcher, was released from the hospital Sunday evening and was doing "fine," according to Mangino.
"As we speak, he's being released," the coach said around 6 p.m. Sunday. "He had a battery of tests taken, and everything seems to be fine. He feels a lot better. In fact, I just talked to him a few minutes ago, and he's being released and he says he feels a lot better. That's good news."
Harper appeared to be injured during a head-first collision with Louisiana Tech receiver Phillip Livas. He came off the field on his own power, but was later put onto a stretcher and taken away in an ambulance.
Despite his release, however, it was unclear whether the Hartwell, Ga., native and Butler County Community College transfer would be available for the game against South Florida.
"I've never even discussed that with him or our medical staff," Mangino said. "I was more concerned with his health. When he comes in tomorrow I'll talk about that. I don't have any clue, and it's not even been discussed, to be quite honest with you."
No weather worries: Severe weather stemming from Hurricane Ike is not expected to affect Kansas' matchup with South Florida, school officials said Sunday.
"The people at South Florida called us last week, and they don't expect any problems," Kansas associate athletics director Jim Marchiony said. "At that point, they thought that it might come through on Tuesday, but they don't expect any problems (with the game)."
Last week, rumors on various Web sites suggested that if the severe weather prevented the teams from playing in Tampa, it was possible the game could be moved to Memorial Stadium.
But Marchiony, who said he'll keep in touch with South Florida officials throughout the week, was quick to shoot down those rumors Sunday night.
"There's been a lot of talk on the Internet, apparently, of the game being moved to Lawrence," Marchiony said. "That will not happen. Any of that, that will not happen."
Branstetter on rise: Sophomore placekicker Jacob Branstetter got two pieces of good news this week. First, he learned that he'd been cleared to play by the NCAA after transfer issues threatened to sideline him for the 2008 season. Second, he learned he'd be starting his first game as a Jayhawk in Saturday's victory over Louisiana Tech.
While fellow transfer Alonso Rojas, primarily a punter, shined in the team's season-opening victory, connecting on field goals of 47 and 37 yards, Mangino said he expects Branstetter will be handling all of the team's kicking duties in the coming weeks.
"Eventually, I think he'll grow into the situation where he'll handle everything," Mangino said. "And to be honest with you, that's the way we'd like it to be, so that Alonso can really get back to focusing on punting only."
Branstetter was 3-for-3 on field goals Saturday, connecting on attempts of 28, 26 and 25yards. His only miscue - a failed extra point in the third quarter - came as the result of a botched hold.
More like this story on KUsports.com