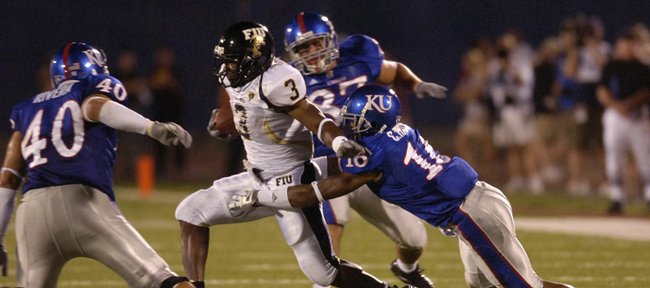 Videos
KU football vs. Louisiana Tech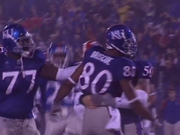 Complete video coverage of the Week 2 matchup between the Jayhawks and Louisiana Tech.
Podcast episode
The guys (Kevin Romary, Matt Tait, Eric Sorrentino, Jesse Newell) preview KU's game with Louisiana Tech, give their predictions and also show off their limited knowledge of hurricanes and tropical storms.
The thing about the Kansas University defense, is that - with a couple notable exceptions - there are not a lot of stars.
No sure-fire NFL prospects. No big-time personalities. Only one player - linebacker Joe Mortensen - was named to the Big 12's preseason all-conference team. For the most part, Kansas' defense is a group comprised mostly of "program guys," to steal a term from coach Mark Mangino.
And perhaps no unit better demonstrates this than the defensive line, a collection of talented and relatively unknown players who go about business in a committed manner and don't seem altogether interested in the spotlight.
"We all take pride in (our jobs)," said junior lineman Caleb Blakesley. "(But) we're just one brick in the wall. Without one of those bricks, you don't have a complete wall."
Currently, the brick wall is also fairly deep. In addition to brainiac defensive ends Russell Brorsen and John Larson and junior pass-rush specialist Max Onyegbule, the Jayhawks feature a slew of young talent - junior Jeff Wheeler (end), sophomores Jake Laptad (end) and Jamal Greene (tackle) and true freshman Darius Parish - that are all part of a rotation that has gotten off to a quick start this season.
In last week's season opener, Kansas allowed just 66 rushing yards against Florida International and ended the week ranked second in the Big 12 in total defense.
"Our goal is a shutout every game and under 150 yards per game," Greene said. "That's our goal as a defense."
While last week's performance represented a fine start to the season, however, the Jayhawks enter today's 6 p.m. matchup at Memorial Stadium facing a suddenly not-so-inferior foe in Louisiana Tech.
The Bulldogs are coming off a victory over Mississippi State of the SEC in which they forced five turnovers and overcame a double-digit deficit. A member of the WAC, the Bulldogs have developed a bit of a reputation of matching up well against high-profile opponents, most recently last season, when they nearly ruined Hawaii's perfect regular season by taking the Warriors to overtime in a narrow 45-44 loss.
"When we scheduled this game, I knew it would not be an easy game," Mangino said. "Let's put it this way: It will take our best effort to win the game."
Offensively, Kansas likely will have to be sharper than it was in Week 1. The team's most notable struggle came in the lack of a potent ground attack - Jocques Crawford, Jake Sharp and Angus Quigley combined for just 128 yards on 36 carries - while quarterback Todd Reesing appeared a bit rusty in his first game after last year's out-of-nowhere sophomore season.
Louisiana Tech's secondary battered Mississippi State quarterback Wesley Carroll into four interceptions, although team members admit that tonight's foe should prove to be a bit more formidable.
"Reesing is a great quarterback," said Bulldogs defensive back Antonio Baker, who finished with one interception and 10 tackles in Week 1. "He's got a lot of dynamics to his game. He can pass, he can run, he can scramble, he can make good reads. It'll be a tough challenge."
The good news for Kansas fans is that history seems to be on their side in this one. In the past five years, Kansas is 14-0 against non-BCS conference teams at home and is currently riding a 10-game overall home winning streak, the second-longest such streak in school history.
As Greene was quick to point out earlier this week, however, "No. 1 could lose to No. 119. That's why you play on Saturdays."
More like this story on KUsports.com