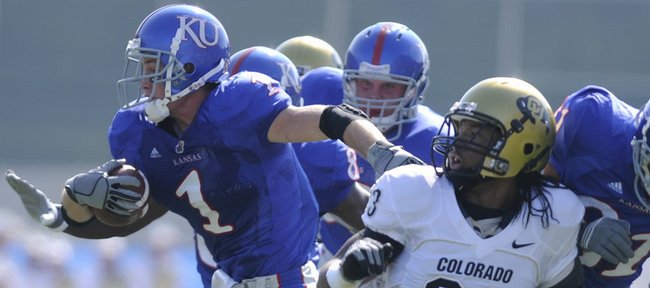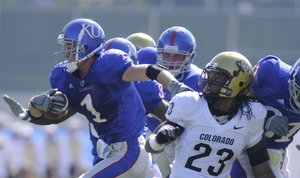 Sharp vs. Woods
Justin Woods outran Jake Sharp in the 100-meter dash 2 1â2 years ago in high school. Sharp has had more opportunities on the football field, though, this year:
Jake Sharp, KU: 101 rushes, 466 yards, 5 TD's; 13 catches, 161 yards, TD.
Justin Woods, KSU: 19 rushes, 63 yards, TD; 1 catch, 4 yards.
Kansas University running back Jake Sharp is 2-0 against Kansas State since joining the Jayhawks out of Salina Central High in 2006.
But there's one Wildcat who has Sharp's number.
His name is Justin Woods, a red-shirt freshman running back from Mill Valley High in Shawnee.
The story goes like this: As a high school senior, Sharp made quite a name for himself. In the fall of 2005, he led the unbeaten Mustangs to the Class 5A state football championship, scoring a state-record 63 touchdowns in the process. In addition, he finished his high school career with 6,524 rushing yards, second all-time in Kansas. Such gaudy statistics earned him Gatorade Player of the Year honors, and Rivals.com had Sharp listed as the No. 1 football recruit in Kansas.
Such accolades surely would make any high school athlete feel like the king of the world. But, for Sharp, something was missing.
Still is, actually.
In addition to being a standout football player, Sharp was a stud on the track. He won the Class 5A long jump title three times and always was a threat to win the 100- and 200-meter dashes at the state track meet.
After coming up short during his first three seasons, Sharp became obsessed with breaking through and winning the state sprinting title as a senior. Unfortunately, so was Woods. Like Sharp, the Mill Valley junior was a football standout, using his blazing speed to make defenders look silly. After a handful of showdowns throughout their sprinting careers, Sharp and Woods met on the track in Wichita one final time on Saturday, May 27, 2006.
Sharp was expected to win. Most everyone in attendance was rooting for him. But that vibe, along with a few confident comments from Sharp in the local newspaper fueled Woods' fire.
As the two broke out of the blocks, Sharp had an early lead. In fact, Woods was in fourth after 15 meters. He caught the leaders by the 50-meter mark and the race was on. Ten meters later, Woods took a half-step lead on Sharp and maintained it the rest of the way. Woods crossed the finish line in 10.56 seconds. Sharp crossed in 10.60.
"I think about it every day," Sharp said of the race. "It really bothers me. I trained to be the 100-meter champion in Kansas for I don't know how many years and I took second three years in a row. I really never won it when it counted. I feel very uneasy about that. I'll never be able to change it."
Since that second-place finish, it's been all football for Sharp. His victories over K-State - one with Woods in a KSU uniform - have helped, but they have not erased the pain of losing that race.
Sharp was fast from the get-go. He said he first realized he possessed unusual speed in elementary school, when he routinely outran teammates and opponents on the youth football circuit.
"It was flag football, I guess," he said. "Coming up, I was always one of the quicker guys and then in about fifth grade, Pop Warner football, I realized I was fast."
Throughout his childhood years, Sharp raced his classmates, much the way most young athletes play pick-up basketball games or touch football in the park.
"There was a kid back at home, he was my same age, and he and I always used to race," Sharp said. "He used to beat me when we were kids. I was never the fastest guy and that always bothered me because I always want to be the fastest. Always."
Throughout his youth, Sharp got faster each year, but his wheels really started rolling during his sophomore year of high school. As a freshman, he averaged 11.2 seconds in the 100-meter dash. By his sophomore season, he had shaved .7 seconds off of that time and routinely ran 100's in the 10.5-second range.
"I just grew up," Sharp said. "It was just me maturing. That was probably the biggest leap in speed I've had."
Now, as a junior at KU, Sharp's emphasis on speed continues. He says he feels faster today than he did when he arrived at KU. That's no accident. Sharp said he's worked harder on his explosiveness than ever before.
He credits the KU strength coaches for helping him get faster. Together, they run quick drills designed to work his fast-twitch muscles. He lifts lighter weight with more explosion to improve his burst, and he works on lengthening his stride and obsesses over footwork and technique.
"They have a lot of crazy stuff we do," Sharp said. "Footwork's very important. Technique is more important than anything. If your technique's right you're going to be fast, even if you're slow."
Saturday, Sharp will try to make it two-for-two against Woods in their college football careers. If he does, you can bet he'll try to track him down after the game.
"I haven't talked to that guy since the race," Sharp said. "It would be funny if we could catch up. My 4x100-meter relay team did take second (at state in 2006) and we definitely were not even picked to make the finals."
More like this story on KUsports.com