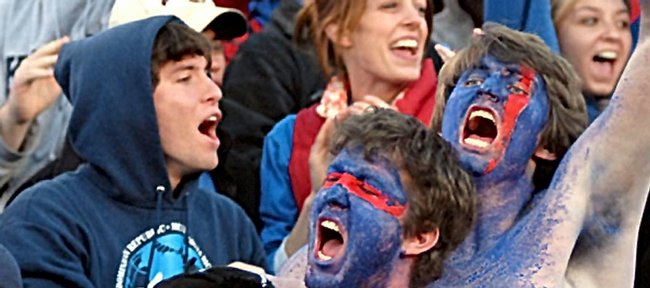 And then there were two.
Kansas University's student newspaper has winnowed its options for a new football kickoff chant.
Voting on a new chant to replace the vulgar "Rip his (expletive) head off" concluded Wednesday on kansan.com.
Now, University Daily Kansan editor Matt Erickson said students will be asked to vote online today for either "Go : Jayhawks!" or "Kayyyyyyyy (kick) Youuuuuuuu!"
Those two were the winners in polls conducted this week.
After voting concludes today, the newspaper will encourage students to use the winning chant during Saturday's homecoming game against Texas Tech.
On Monday, Kansan staffers offered online voters five options, and "Go... Jayhawks!" won that contest with 46 percent of the votes by the Wednesday deadline.
Other submissions also were voted on, in a separate poll. The winner of that group - "Kayyyyyyyy (kick) Youuuuuuuu!" - earned 51 percent of the votes in that poll. As of 5:30 p.m., a total of 1,484 people had voted for the student-submitted entries, and 1,373 had voted for the Kansan-submitted options.
Also, Erickson said the Kansan and the chancellor's office had split the cost of a full-page ad that's to appear in today's student newspaper protesting continued use of the existing chant. The Kansan and the chancellor's office each paid $570 to cover the cost of the ad, said Jordan Herrmann, Kansan business manager.
"We've got swagger. You don't have to swear," the ad reads. Two young children are pictured, covering their ears.