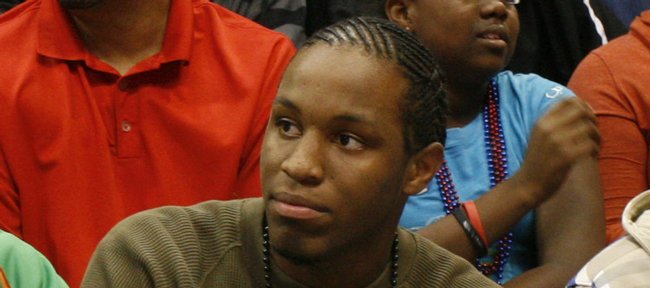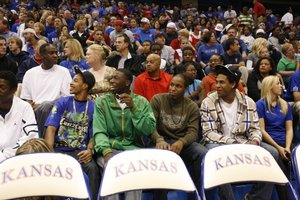 Michael Snaer figures he picked the best possible weekend to make an official recruiting trip to Kansas University.
That is, the start of college basketball season.
"Oh, man ... Late Night (in the Phog) was something else. It was totally different from anything I've seen before. It was all new to me. I took it all in," Snaer, Rivals.com's No. 11-rated prospect nationally, said Sunday upon returning to his hometown of Moreno Valley, Calif.
"Everybody was nice to me. The fans cheered a lot. They were super loud for the team," added Snaer, a 6-foot-4, 185-pound shooting guard out of Rancho Verde High.
Snaer, who also has been to Missouri, Florida State, Marquette and UCLA, now will digest what he has seen at all five places and choose a destination in the coming days or weeks.
"I don't know if it will be soon or later," Snaer said. "Whenever I feel it is right."
He said there's still a possibility he'll take an unofficial visit to another university, not naming that school.
"I liked it a lot," Snaer said of KU, adding, "all of them are equal right now."
KU, as previously reported, received an oral commitment Saturday from Elijah Johnson, a 6-2 point guard from Cheyenne High in Las Vegas. The other two seniors who attended Late Night were: Xavier Henry, 6-6 from Putnam City (Okla.) High; and Dominic Cheek, 6-5 from St. Anthony High in Jersey City, N.J.
Henry, who has visited Memphis, is expected to announce in the coming days or weeks in some sort of ceremony on one of ESPN's channels.
"He's keeping it a mystery," Johnson said of Henry, the No. 3-rated player in the country who is down to KU and Memphis.
"He is keeping it to himself," noted Snaer. "I didn't ask him what he was going to do."
Cheek, meanwhile, returned to the East Coast on Sunday, also in no hurry to pick. Cheek will visit Villanova Oct. 24, Pittsburgh Oct. 31, Indiana on Nov. 7 and Memphis on Nov. 14, St. Anthony assistant coach Ben Gamble told Rivals.com.
"Dominic had a great time during his visit to Kansas. One thing he said to me is how much Tyshawn Taylor has improved as a player," Gamble said, referring to Cheek's former prep teammate. "Dominic said Tyshawn is very happy at Kansas."
More like this story on KUsports.com