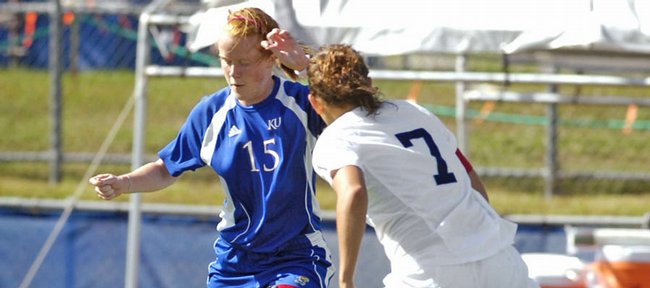 Francis Marion University's soccer team brought a flimsy, plastic butter knife to a proverbial gun fight Sunday afternoon at Jayhawk Soccer Complex.
Kansas University, meanwhile, toted an artillery of ballistic missiles, rendering the Patriots' meager tools helpless to KU's talented offensive arsenal.
In lieu of any blood and gore, fans witnessed goals galore - although there was one "fireball" sighting.
When the 90-minute onslaught ended, the damage was: Kansas 7, Francis Marion 0.
The final goal came off the foot of reserve midfielder Erin Ellefson, a blast from 25 yards out in the 64th minute that sailed past Patriots goalkeeper Emily Brandenburg. The score by Ellefson, whose quick-strike shots provoke teammates to scream "fireball," was the first of her Jayhawk career. It also helped break the record for most goals in a game in KU team history.
"My teammates yell fireball all the time when I shoot it," Ellefson said. "It was nice to get one in actually. It felt good."
Forward Shannon McCabe, who had quite a day offensively with three goals and an assist, sat out the final 30 minutes with the rest of the starters. McCabe said she wasn't surprised to see Ellefson finally break through.
"Her shots are wicked-fast and hard," McCabe said. "She does that all the time in practice. ... If you get hit with that, you have a ball mark probably for weeks."
Both Brandenburg and Patriots starting goalkeeper Casey Durham faced the Jayhawks' firing squad all afternoon. KU outshot FMU, 34-4, including 17 shots on goal to the Patriots' two. Francis Marion (2-12-1), an NCAA Div. I independent team, hardly crossed midfield for most of the game and didn't even record a shot until the 56th minute. By that point, Kansas had 22 shots and a 4-0 lead.
McCabe scored the opening two goals of the game, the first into the upper-right corner off a diagonal pass from Monica Dolinsky in the 25th minute. McCabe's second score, however, was her most impressive - a corner kick that curved with the wind into the back corner of the goal before anybody could poke the ball away.
The score gave KU a 2-0 halftime edge. Then, things really got out of hand.
The Jayhawks tallied five goals over the first 19 minutes to open the second half. Emily Cressy scored off a deflected shot from Dolinsky just 36 seconds in for a 3-0 lead. McCabe struck for a third time eight minutes later on a similar deflected shot from Jessica Bush.
McCabe said she couldn't remember the last team she recorded a hat trick in a game.
"Maybe when I was like 11," she said. "It was just a fun game. Everyone got to play, and we scored some good goals. So I thought that was important to make a statement against a team like this."
Kortney Clifton added the Jayhawks' fifth goal off a pass from McCabe in the 61st minute. Less than one minute later, Dolinsky also cracked the scoring column, prompting KU coach Mark Francis to empty his bench. The score tied Dolinsky with Cressy for the team lead at seven goals.
Kansas (10-5-1) has just three games remaining in the regular season and returns to Big 12 action at home on Friday against Texas.
More like this story on KUsports.com