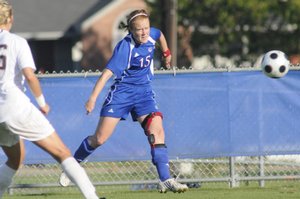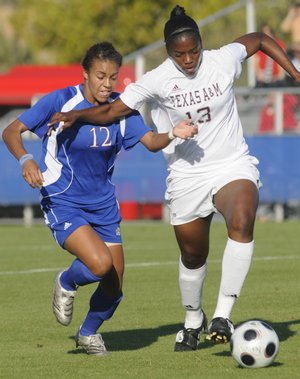 Shannon McCabe's goal Friday afternoon was a biggie.
Maybe one of the biggest in Kansas University soccer history.
Her chip in the 29th minute over Texas A&M; goalkeeper Kelly Dyer gave Kansas the only score of the game in the Jayhawks' 1-0 upset victory over the No. 6 Aggies at Jayhawk Soccer Complex. In the process, KU defeated its highest-ranked opponent ever and crawled back into the NCAA Tournament conversation.
Funny thing about the goal, though. It wasn't supposed to be a shot.
"I don't think it really matters at the end of the day," McCabe said with a wry smile. "It went into the net, and that should be all that counts."
KU coach Mark Francis knew what he saw from the sideline.
"It looked like a cross," he said, "but we'll take it."
McCabe's scoring play began innocently enough off a pass from midfield by junior Monica Dolinsky. McCabe then gained steam and gathered the ball on the left side of the field - just outside the penalty area - with virtually no angle on the goal. Without hesitation, she let fire from 18 yards out.
But her "shot" continued sailing over Dyer until it nestled in the back of the net by the far post.
"When I hit it, time went into slow motion," McCabe said. "I was just watching it, and it went in. It was great."
Kansas made the goal stand over the next 60 minutes despite constant pressure from Texas A&M;, which included eight corner kicks and one shot by Aggies midfielder Beth West that smacked the post.
Texas A&M; (12-2-1, 5-1-1 in Big 12 play) entered Lawrence with one loss all season -11 games and one-and-a-half months ago. In Big 12 play, the Aggies were undefeated and had not allowed a goal in two weeks.
That tally stretched to an astounding 354 consecutive minutes until McCabe's first-half strike.
Kansas (9-5-1, 3-3-1), meanwhile, experienced one of its most miserable road trips of the season last weekend - including a tie against lowly Oklahoma - miring the Jayhawks in a tie for sixth place in the Big 12.
So, yes, McCabe's goal was a biggie.
And now, she just might have helped change the course of KU's season.
"It was big," defender Estelle Johnson said. "I know right now in our season, this was a big turning point for us. We have four games left that we really need to win. I think this was a good start to it."
KU is at home for its final nonconference game Sunday against Francis Marion.
More like this story on KUsports.com