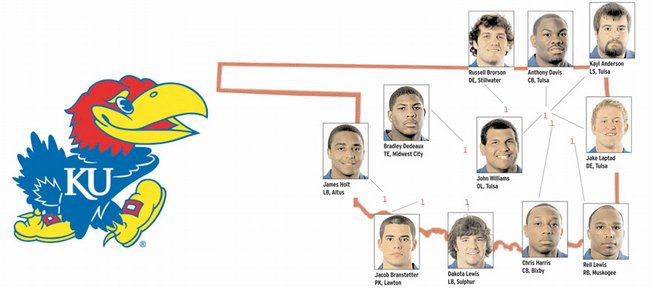 Videos
KU football vs. Oklahoma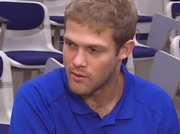 Complete video coverage of the Jayhawks' trip to Norman, Oklahoma to take on the Sooners in the 'Hawks' third conference game of the season
Audio clips
2008 Oct. 14 Football Press Conference
Friendship only stretches so far in Oklahoma.
In the case of Chris Harris, a Bixby, Okla., native and current cornerback for the Kansas University football team, the cut-off point is the turnstiles of Oklahoma's Memorial Stadium.
When Harris and the rest of his Oklahoma-born teammates travel to Norman on Saturday for Kansas' 2:30 p.m. matchup with the No. 4 Sooners, they're not exactly expecting a welcome-home party.
"They don't care if I've been friends with them for 12 years, they're still going to root for OU," said Harris of his friends from high school, many of whom attend Oklahoma. "That's just the way they are."
Similar sentiments should be plentiful Saturday, when a large collection of Oklahoma natives return to their home state for the Jayhawks' biggest game of the season. With the exception of Texas, the state of Oklahoma is where Kansas' coaches have gone most frequently to sign out-of-state recruits.
Of the 101 players listed on the Jayhawks' roster, 12 hail from the Sooner state, including six current starters.
On the one hand, this weekend's homecoming represents a welcome opportunity for home-grown players to return to a familiar setting while playing in a game with conference title implications (and beyond).
Said defensive end Jake Laptad, "I'm just looking forward to playing in front of my family, and a bunch of my high school friends go there, too, so it'll be fun."
On the other, it's a trip into stormy waters - many grew up attending Sooners games, so they can attest to the bee's nest awaiting the Kansas football team Saturday.
One of the nation's most notable college football venues, Oklahoma's Memorial Stadium has long been a state icon, a place where visiting teams are not warmly welcomed and devotion to the Sooner state's most recognizable team - professional or otherwise - is far-reaching.
"In Kansas, everybody is either a K-State or a Kansas fan," Harris said. "In Oklahoma, I don't care if you go to Oklahoma State, you're still an OU fan. People just go to Oklahoma State because sometimes it's a cheaper school or something like that. But they're OU fans."
Saturday's game will also offer a chance at redemption for a handful of the team's players passed over by the Sooners before landing at Kansas.
"Playing them will bring up the intensity level a bit for me," said senior linebacker James Holt, an Altus, Okla., native whose father played for the Sooners. "But I'm going to go out there and play my same game and hopefully show them what they missed out on."
If there's one member of the Jayhawks' program that doesn't need to worry about proving himself or enduring a wave of boos, it's the guy coaching the team.
When you happen to be a part of a national championship season, like Kansas coach Mark Mangino was as a member of the Sooners' staff from 1999-2001, you apparently get a free pass.
"It's kind of funny, when I was there last time we went there, the fans were outside the game, and they're telling me 'Welcome home,'" said Mangino, who is 0-2 against the Sooners as a head coach. "And I guess it goes back to ... if you win a national championship there, they declare you a resident of Oklahoma forever."
Asked whether that would change if his Jayhawks were to pull off their first victory over the Sooners since 1997, Mangino chuckled.
"It'll change a little bit," he said. "But that's all right. I'm willing to take that risk."
More like this story on KUsports.com