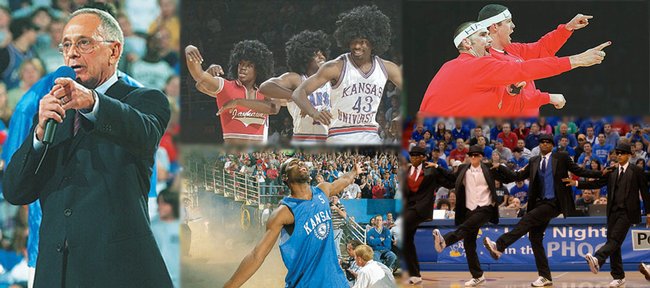 Larry Brown can't remember who first came up with the idea to hold a season-opening basketball celebration at Kansas University.
Memories tend to fade after 24 years.
"Mark Freidinger, one of our assistant coaches, and some other guys wanted to bring some enthusiasm to the program. We just did it," former KU and current Charlotte Bobcats coach Brown said of KU's Late Night, which debuted in 1985 and is still going strong entering Friday's 24th-annual festivities.
"I had no idea it'd become this. You look around the country, and so many are copying it. I don't think any compare to this," Brown added.
His inaugural Late Night drew just 6,000 fans.
"Did we still call it a sellout?" joked Monte Johnson, athletic director at the time. "Sometimes we stretched (the truth on) those things.
"Larry started it. I don't remember exactly how. All I know is they (coaches) wanted to try something different. We supported it. Obviously, it's grown to be a huge event."
The event has gone from "Late Night With Larry Brown," to one year of "Later With Roy Williams," then back to "Late Night With Roy Williams" and the past five years, "Late Night in the Phog."
Late Night always has included an intrasquad scrimmage. Skits were added in 1986 and have remained.
"We got that (skits) started. We had Larry Bud Melman (of Late Night With David Letterman Show) that second year," former KU forward Mark Randall said of the Late Night that opened the 1986-87 season.
"He was the big guy everybody came to look at. To have the Letterman Show icon in the house was cool.
"I always had a blast at Late Night," Randall added. "It was a great way to include the fans, to get out and dunk and enjoy that kind of stuff. It's grown. It gets a little more elaborate every year."
Late Night became bigger - many say better - during the early part of the Williams era. In 1989, a sound stage was constructed in the north end zone for a pre-scrimmage concert that cost five bucks to attend.
Former KU forward Mike Maddox remembers lip-synching the song "Simply Irresistible" with teammates Rick Calloway, Freeman West and Jeff Gueldner on the stage.
"Halfway through the skit, my (1988) championship ring slipped off my finger and flew into the crowd," Maddox recalled. "I didn't think I'd ever see it again. Fortunately, a cheerleader caught it. As I walked off the stage, she handed it back to me. That's the wildest memory I have."
The most memorable moment in Late Night history took place in 1996, when former KU power forward Scot Pollard proposed marriage to Mindy Camp.
She accepted.
"Egotistically speaking, I don't think that can be topped. Not many things that go on at Late Night are life-altering events," Pollard said. "As far as important ... that's about as big as it gets."
Pollard also wore a dress and nailpolish on his fingernails that night, but that's just the zany Pollard for you.
"A common rumor is I was in drag when I proposed. That's not true. I was changed and in normal clothes. It was 45 minutes after I was in drag," Pollard added.
Current KU coach Bill Self, who attended the first Late Night as a graduate assistant on Brown's staff, recognized Brown and the '88 title team at the 2003 Late Night, Self's first as head coach.
Self has continued the traditions of skits and scrimmaging.
His players love it all, just like the Jayhawks who played for Brown and Williams.
"That's one thing I'm really going to miss," senior center Matt Kleinmann said of life after KU. "I will have to savor every minute of this one. I know I'll be happy just to see that banner drop. That will be icing on the cake for me," he added of a temporary 2008 national championship banner to be unfurled Friday night.
"That will send chills down my spine. That will be the big thing for me (and) we'll get the freshmen to do something fun," Kleinmann added.
There's no chance Self will copy his predecessor Williams and dance Friday night. His players probably will strut their stuff again, however.
"It'll be a fun experience to get the crowd to meet the freshmen," sophomore Brady Morningstar said. "Hopefully the highlight (of the night) won't be Cole in the middle of a circle kicking his legs out."
Aldrich, a 6-11 sophomore who danced last year, is capable of a stunt that would make Pollard proud.
"It's one of the reasons I came here," Bloomington, Minn., native Aldrich said of Late Night. "That's the type of fan support that helps us get a national championship. We had a great time last year. It'll be another fun time this year."
Self will not only observe the action, but make sure senior high school recruits Dominic Cheek, Xavier Henry, Elijah Johnson and Michael Snaer have a great time sitting right behind the bench.
"I've been told they are going to raise one or drop one or do something like that," Self said of a temporary title banner. "It'll be fun. For a variety of reasons, it's probably as important a night as we've had with our program just to keep the momentum going - at least since our first Late Night, when coach Brown and the '88 team came back.
"With many students gone (on fall break) and the football team away (at Oklahoma), this is a great opportunity for a lot of local families to come in and see it and get pretty good seats, too."
There is no admission fee at Late Night. Doors will open at 5:30 p.m. Friday, with the show to begin an hour later.
¢ Stephenson to skip Late Night: Lance Stephenson, a 6-5 senior guard from Lincoln High in Brooklyn, N.Y., will not be attending Friday's Late Night after all. Stephenson, who will sign in the spring period, instead will be competing in a tournament with his AAU Juice All Star team, Zagsblog.net reports. Stephenson has visited St. John's and wants to visit KU, Memphis, Southern California and UCLA.
More like this story on KUsports.com