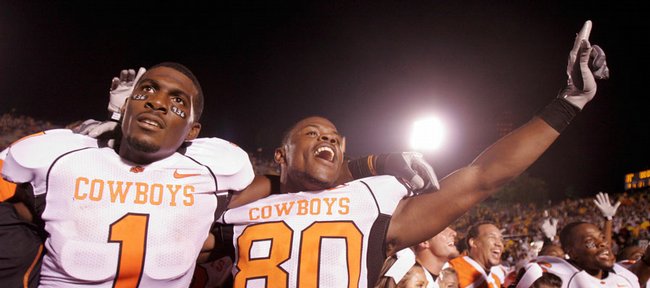 Just when the Texas-Missouri game was looking like a Top 5 matchup and possible preview of the Big 12 championship game, along came the Oklahoma State Cowboys to shake things up.
Chase Daniel and the No. 11 Tigers still will be troublesome in Austin, Texas, maybe even more so now that they're coming off a loss. And there's no telling how the pressure of being the nation's new No. 1 will affect Colt McCoy and the Longhorns - if not against Mizzou, perhaps in their next game, against those very same OSU Cowboys, now ranked eighth.
Week after week, that's how it's going to be in the Big 12 in this, the best season the league ever has seen.
Proclaiming the Big 12 loaded with good teams isn't exactly breaking news. It's just that the first two weekends have been such a scoreboard-watcher's delight that it makes you wonder how much better can the next seven weeks get.
Prediction? Please. At this point, it's tough enough picking which game or games will be that week's standings-buster, much less trying to figure out who will make it to Arrowhead Stadium on Dec. 6 for the league championship.
Even Longhorns coach Mack Brown sounded wary following Texas' 45-35 victory over Oklahoma on Saturday.
"If we play with less intensity, we will lose," Brown said.
SEC fans might be snickering at all the fuss. They've enjoyed this kind of week-in, week-out drama for years. But it's new to this part of the country, at least at this level.
Saturday was a great example.
The fun began early, with then-No. 1 Oklahoma and then-No. 5 Texas meeting in their annual clash at the Cotton Bowl. The Longhorns won a thoroughly entertaining game, 45-35.
Colorado gave Kansas a mild scare, but the Jayhawks came away feeling good about Jake Sharp turning a career-high 31 carries into 118 yards and three touchdowns. Keep it up and he'll be the running threat No. 16 Kansas needs to loosen up defenses for quarterback Todd Reesing.
About the same time, Texas Tech needed overtime at home to hold off a Nebraska team coming off consecutive losses.
Then came the nightcap from Columbia, Mo.
When Oklahoma State got ahead early, it seemed like a matter of time before Daniel got on a roll, especially with a chance to vault to No. 1. Daniel made a few plays, but the Cowboys made more and won 28-23.
"Every time I tune into something about the game, they said it wasn't even going to be close, we wouldn't stand a chance, we didn't have the right guys," Oklahoma State linebacker Andre Sexton said. "So we took it as a personal challenge on defense. We just wanted to give the opportunity to the offense to get on the field and make plays."
But it wasn't just those games. Every game offered some insight about the "other" teams that could still play a role in determining the division, conference and possibly even national races.
Kansas State's victory over Texas A&M;, and the way Baylor handled Iowa State, makes you wonder if one of them might turn into a spoiler down the road.
"We felt like all along we have a good football team, and maybe we are starting to show it a little bit," Baylor coach Art Briles said. "We feel like we have the potential to be a very, very good football team. And we are starting to climb up to that level."
Now let's starting looking down the road.
Missouri-Texas is still Saturday's headliner, getting prime-time treatment from ABC. Yet Kansas at Oklahoma could also be considered a title game preview.
The following week, Texas Tech goes to Kansas and Oklahoma State goes to Texas. November opens with "only" Texas at Texas Tech, but that's also rivalry weekend: Kansas State at Kansas; Nebraska at Oklahoma.
And then come four more weekends.
"We know there's a lot of games to be played," Sooners linebacker Travis Lewis said. "There's a lot of one-loss teams right now, and our goals are not thrown out by any chance, by any means. We have our heads up."
Oklahoma captain Gerald McCoy recalls losing to Texas two years ago and still playing in the title game.
"It's a long season," McCoy said. "We'll be OK."
Oklahoma State and Texas Tech seem to have the misfortune of being good the same time as everyone else. But both will still have their chances of breaking through.
The question for the Red Raiders might be whether the Cornhuskers exposed anything.
Nebraska "held" Graham Harrell to 284 yards, while its quarterback Joe Ganz threw for 349 yards. The Cornhuskers benefited by getting 80 snaps to 48 for the Red Raiders. Holding the ball and keeping Harrell on the sideline isn't a revolutionary concept, but Nebraska made it work.
"That's the game plan a lot of people have against us," Harrell said. "You've got give them the credit. They came out and executed. But they made the mistake at the end and it came down to it and we got the win."
Will the same formula work another, better team that knows how to finish? That probably won't be Texas A&M; this week. But it could be any of the Red Raiders' final four foes: Kansas, Texas, Oklahoma State and Oklahoma.
Stay tuned.
More like this story on KUsports.com