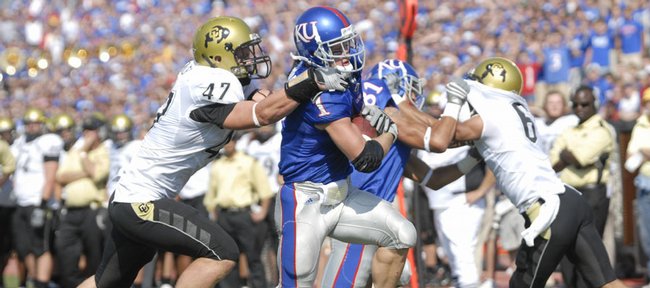 4:12 p.m.
Audio clips have been posted on the left. Some of the most interesting comments came from Kansas coach Mark Mangino, who was extremely upset with the play of his special teams.
Final, KU wins 30-14.
Jake Sharp rushed 31 times for 118 yards and three touchdowns, leading Kansas to a 30-14 victory over Colorado on Saturday at Memorial Stadium.
The Jayhawks led just 16-14 heading into the fourth quarter before putting together consecutive touchdown drives.
KU's defense had one of its best performances of the year, allowing just 234 yards. CU starting quarterback Cody Hawkins finished 8-for-22 for just 90 yards with a pair of interceptions.
Both of CU's touchdown drives started in Kansas territory.
Todd Reesing finished 27 of 34 for 256 yards and a touchdown. Kerry Meier added nine receptions for 94 yards to lead the Jayhawk wideouts.
6:14 left in fourth quarter, KU leads 30-14.
KU grabs a couple first downs to milk the clock before punting it away. This one looks to be in hand.
9:00 left in fourth quarter, KU leads 30-14.
Matt Ballenger comes in at quarterback for CU, but it doesn't help. The Buffaloes go four yards on three plays before a punt. Fields fumbles the punt, but luckily for KU, it rolls out of bounds.
10:29 left in fourth quarter, KU leads 30-14.
It's amazing how KU's offense goes on runs like this. The Jayhawks make it look easy on a 43-yard drive, with Sharp taking an option left seven yards into the end zone. Sharp now up to 109 yards on 25 carries. Looks like I'm going to go 0-for-3 on my pre-game predictions.
13:07 left in fourth quarter, KU leads 23-14.
KU's defense steps up to force a three-and-out, and the Jayhawks finally get a positive play from special teams, as Dexton Fields returns the punt 36 yards into CU territory.
13:07 left in fourth quarter, KU leads 23-14.
Reesing is really something to watch. Right when the Jayhawks needed it, he led them 76 yards on seven plays in less than two minutes. Sharp capped the drive with an eight-yard touchdown run up the middle, but Reesing was the catalyst, passing for a 15-yard gain to Briscoe, an 18-yard gain to Meier and rushing for another 10-yard gain.
:06 left in third quarter, KU leads 16-14.
Just like that, Colorado comes right back. Hawkins throws a 38-yard strike down the middle to Smith, and on the next play, Hawkins plunges in for a one-yard score. The Smith kick return ends up being a killer for KU.
1:09 left in third quarter, KU leads 16-7.
Smith comes up with his second big play, returning the kickoff 59 yards to the KU 41. The Jayhawks' special teams have been a glaring weakness over the last two weeks.
1:18 left in third quarter, KU leads 16-7.
The Jayhawks make a switch to the hurry-up offense, and the change pays dividends immediately. Reesing fires a 20-yard pass over the middle to Meier, then rockets another 23-yard strike to Briscoe. Reesing later completes the drive with a five-yard touchdown pass to Briscoe off play action. KU finally gets a little breathing room.
6:55 left in third quarter, KU leads 9-7.
KU's special teams continue to be an adventure. Following a CU punt, Daymond Patterson falls down while trying to catch the kick, fumbling the ball momentarily before recovering it. Darrell Stuckey also is called for a block in the back, pushing the Jayhawks back farther.
9:54 left in third quarter, KU leads 9-7.
The Jayhawks' offense continues to be out of sync, as Reesing short-hops Dezmon Briscoe on a third-and-four and the Jayhawks are held to another three-and-out. Alonso Rojas follows with his best punt of the year - 77 yards - to pin Colorado back inside its own 10.
11:29 left in third quarter, KU leads 9-7.
Kansas defense starts the second half strong, forcing a Colorado punt after stuffing Stewart on a third-and-two run. Following a good punt, KU will take over inside its own 10-yard-line.
HALFTIME LEADERS
Kansas
Passing
Todd Reesing 12-for-15, 105 yards
Rushing
Jake Sharp 14 rushes, 52 yards, TD
Reesing 3 carries, 9 yards
Receiving
Dexton Fields 4 catches, 45 yards
Tim Biere 2 catches, 26 yards
Kerry Meier 2 catches, 24 yards
Colorado
Passing
Cody Hawkins 5-for-14, 38 yards, TD, 2 INTs
Rushing
Rodney Stewart 11 carries, 62 yards
Hawkins 3 rushes, 6 yards
Receiving
Cody Crawford 4 catches, 33 yards, TD
Patrick Williams 1 catch, 5 yards
KU's offense, much like last week, looked sluggish in the first half. We'll see if the halftime adjustments help once again. The scary thing for KU fans has to be that Colorado has started to run the ball effectively. Rodney Stewart is averaging 5.6 yards per rush, and if he continues that pace, the Buffaloes could conceivably control the clock in the second half of a close game.
Halftime, KU leads 9-7.
KU survives some weird coaching decisions at the end of the half to keep a 9-7 lead at halftime. The Jayhawks elected to run the ball three times (for nine yards), then took a timeout with seven seconds left on the playclock to leave 12 seconds on the game clock. After a punt out of bounds, an incomplete pass from Hawkins ended the half.
56 seconds left in second quarter, KU leads 9-7.
Colorado puts together an impressive drive at the end of the half, gaining 48 yards on the ground to move inside the KU 30. Darrell Stuckey halts the drive, though, intercepting a pass before tiptoeing inbounds to secure the turnover.
6:24 left in second quarter, KU leads 9-7.
Kansas fails to take advantage of the good field position, going three-and-out. After a punt to the end zone, CU will take over at its own 20.
8:07 left in second quarter, KU leads 9-7.
Another huge play from the KU defense. Jake Laptad corrals Cody Hawkins in the end zone for a 16-yard loss and a safety. The streaky Jayhawks look to be on one of their patented runs.
8:56 left in second quarter, game tied 7-7.
The kickoff chant is alive and well, much to the chagrin of those on the west side of the stadium.
8:56 left in second quarter, game tied 7-7.
All of a sudden, KU seems to have found its running game. Jake Sharp rips off consecutive runs of 21 and 10 yards, and quickly, KU moves in CU territory. Reesing shows no hesitation in completing a 27-yard pass to Dexton Fields, and two plays later, Sharp bowls in from a yard out to give KU its first score.
12:00 left in second quarter, CU leads 7-0.
KU's defense shows some life, stopping Colorado on a third-and-two to force a punt from the CU 45. KU will take over from its own 24. Amazingly, out of five possessions, this is KU's best starting field position.
14:09 left in second quarter, CU leads 7-0.
A third-down pass sails on Reesing, and KU has to settle for a 39-yard field-goal attempt, which sails wide right from Jacob Branstetter. Great start for Colorado, which has to believe now that it can hang with the Jayhawks.
End of the first quarter, CU leads 7-0.
Kerry Meier has been sitting out with what appears to be a leg injury, as he has been jogging up and down the sidelines. It doesn't look serious, but one of KU's best playmakers isn't in there. The Jayhawks are finally starting to move it, driving from their own 20 to the CU 27. Reesing, though, doesn't look like himself, hesitating and double-pumping on almost all this throws. He just hasn't looked comfortable in the earlygoing. Meier just came back in, so good news for KU.
3:15 left in the first quarter, CU leads 7-0.
Kansas' offense goes backwards in three plays, and after a poor punt, CU takes over at the KU 28. The Jayhawks get burned on a blitz, and Hawkins completes a 16-yard pass to Crawford on a third-and-nine to move the ball to the 11. Two plays later, Crawford catches an 11-yard pass in the end zone to put the Buffaloes up by a TD.
6:35 left in the first quarter, game tied 0-0.
Huge play by Kendrick Harper, who stripped Colorado's Cody Crawford after a reception at KU's 4-yard-line. The Jayhawks' offense needs to get out of this hole.
7:42 left in the first quarter, game tied 0-0.
The two teams trade punts. KU's offense is starting slow for the second straight week, now with three rushes for two yards. Josh Smith comes up with a big play, returning a punt 37 yards to the KU 35. The Jayhawks' defense, like last week, is backed up on its own end early.
12:00 left in first quarter, Game tied 0-0
Kansas punts it away after stalling on offense. Four passes and one run (for negative one yard) on the first possession.
11:18 a.m.
No surprises with the starting lineup. Dezmon Briscoe, Dexton Fields, Kerry Meier and Johnathan Wilson are the starting receivers. After Briscoe's key block last week that helped spring Todd Reesing on his nine-yard, game-changing scramble inside the 10, Briscoe has more than earned his starting spot back.
10:58 a.m.
The Jayhawks have come out to do warmups in their blue uniforms. I know there was a lot of speculation that this might be the game that they broke out the red jerseys. I guess nothing would stop them from changing before kickoff, but as of now, it looks like it KU will be in its standard blue.
10:44 a.m.
Credit to nycbackpage on the KUsports.com message board for this.
I couldn't help but laugh when I saw his post on the football board.
Does this man, from the '70s and '80s Christian band Sonseed, look like anyone to you?
8:20 a.m.
Welcome to the Newell Post Live, 8 a.m. edition. I have to admit, it's a little harder to get amped for a game when your alarm clock has just gone off. I'm sure we'll all shake off the Z's as the next few hours pass.
Just like past weeks, let's get to some true/false, fill-in-the-blank questions. Don't forget to give your score predictions and/or answers to the questions in the comments section below. Also, if you haven't yet, make sure you sign up for Kream Keegan. You have until 11 a.m. to register.
True or false: Jake Sharp will run for more than 100 yards against Colorado.
False. While Colorado's rush defense is not good (allowing 171.4 yards per game, ninth in the Big 12), it's hard to imagine Kansas changing up from what has been effective on offense. That means lots of passing and lots of Todd Reesing. Sharp should get most of the carries after his performance against Iowa State, but if he does struggle early on, the coaches have shown a tendency to give the quick hook in favor of one of the other two backs. Expect 60-70 yards for Sharp and 110-120 rushing yards as a team for Kansas. The majority of the offense should still come through the air.
True or false: Marcus Herford will average 30 yards per kick return.
True. Here's a stat for you: Marcus Herford's longest kick return this year (26 yards) is more than two yards shorter than his average kick return last year (28.6 yards). The senior is due for a good game, and there's no better time to break out than today. Coming in, Colorado is ranked last in Division I in kickoff return defense, giving up 31.4 yards per return. A good day from Herford would be a welcome sight for KU, which will need more contributions from its special teams in the coming weeks if it hopes to compete with the big dogs of the Big 12.
True or false: Kansas' defense will post four or more sacks against Colorado.
True. Colorado has some major issues on offensive line, as three players in the unit have suffered season-ending injuries and two others have been ruled out because of eligibility issues. Times have become so desperate that CU coach Dan Hawkins has moved redshirt freshman defensive tackle Eugene Goree over to offensive guard this week and said he might play there as soon as this week (Goree has never played on offense in his life). It all adds up to a long day for CU's offense, and if Kansas gets an early lead (which I think will happen), the Buffs will be forced to pass to try to get back in it. The Jayhawks had success in the second half blitzing Iowa State quarterback Austin Arnaud, and look for them to stay aggressive against a makeshift offensive line today. I'll say Jake Laptad, Joe Mortensen, Mike Rivera and Russell Brorsen all come away with a sack. There, no one can accuse me of making safe predictions.
If KU wins, it will be because ...
the Jayhawks are able to pass the ball effectively against Colorado's defense. Looking back to last year, Hawkins might have come up with the best gameplan all year to stop KU's offense. KU struggled to move the ball all game before eventually coming away with a 19-14 victory, helped in part by a long run by Reesing when he was flushed from the pocket. CU's pass defense has been good this year (182.8 yards allowed per game, 36th nationally) but KU didn't have much problem moving the ball in the second half last week against a strong ISU pass defense (which was ranked 30th in the nation at the time). The biggest advantage the Buffaloes have coming in probably will be their defensive line (led by George Hypolite) against KU's inconsistent offensive line. If Reesing is protected and can move the football through the air, the Jayhawks shouldn't have any problem improving to 5-1.
If CU wins, it will be because ...
the Buffaloes somehow find a way to score 30 points. Colorado's offense has some major issues. The offensive line is in shambles, quarterback Cody Hawkins is struggling (he hasn't thrown for more than 200 yards in any of his last three games) and the Buffaloes can't run the ball (in fact, they only average two more rushing yards per game than the Jayhawks). As we know, to beat KU, teams will have to outscore the Jayhawks. CU will need to get plenty of special teams help and will also need a big game from playmaker Josh Smith if it hopes to get the points needed to overpower the Jayhawks.
Prediction: KU 41, CU 20 I predicted last week's game against ISU would go down to the final possession, but this one shouldn't be close. If Kansas would have played Colorado two weeks ago, I would have said this game could have gone either way, but the Buffaloes don't have much confidence coming in after a pair of blowout losses to Florida State and Texas. Expect KU to jump out to an early lead before making life miserable on Cody Hawkins by blitzing the heck out of an inexperienced CU offensive line. The Jayhawks pass defense should play better against a bad offense, and KU should roll to its 13th straight win at home.
More like this story on KUsports.com