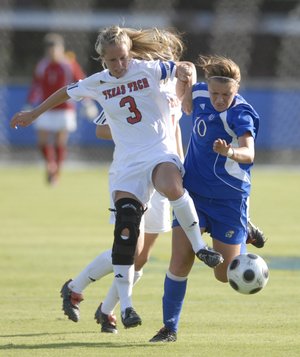 Julie Hanley should've considered bringing a book to keep her entertained while hanging out in the goalie box on Friday.
Kansas University's starting goalkeeper certainly didn't have many shots to read on the field.
Hanley faced only one shot on goal against Texas Tech and received just enough offensive support in front of her as the Jayhawks defeated the Red Raiders, 2-0, in their Big 12 home opener at Jayhawk Soccer Complex.
For 67 minutes, nobody on Tech's team managed a single shot in the vicinity of Hanley. And when the Raiders' Shannon Sims finally recorded her team's first shot, it sailed five feet wide and behind the net.
Was Hanley getting bored back there?
"A good bored, I guess," she said sheepishly.
Interestingly enough, KU coach Mark Francis' only objective for his Jayhawks before Friday's game was getting the shutout, which occurred with relative ease.
Perhaps converting offensively should have been mentioned in the pregame speech as well.
Kansas, which controlled the ball for much of the game, used 72 minutes and 12 shots until finally breaking through on a well placed attempt from junior Monica Dolinsky.
Kansas out-shot Texas Tech, 17-4, overall, with eight shots on goal to the Raiders' one.
Earlier in the contest, Dolinsky missed her first penalty kick this season, which came as quite a surprise to Francis.
"As a youth player, I saw her take PKs, and I don't know if she ever missed one, to be honest," Francis said. "I think for her, just scoring the winning goal and making up for that was really good for her confidence."
Dolinsky's goal came off a pass from Lauren Jackson, who blew by one defender into open space and found Dolinsky just inside the middle of the penalty area. Dolinsky then buried a low ball into the left corner for the Jayhawks' (8-3) first goal.
"It was a big relief," Dolinsky said. "Especially since we went through the whole first half without one. I definitely needed that to redeem myself."
Dolinsky's atoning goal pushed her season total to six, which gave her the team lead - for 13 minutes, at least.
That's when freshman forward Emily Cressy found some magic of her own against Texas Tech (6-4-1). She collected Shannon McCabe's cross inside the box, spun a defender and nailed KU's second goal with five minutes remaining.
The score was Cressy's sixth this season, tying her with Dolinsky for high-team honors.
"We don't make a big deal about it," Cressy said. "I don't really talk about my goals like that, and she doesn't either. We're humble about it. It doesn't really matter."
Friday marked the third time this season that both Dolinsky and Cressy scored in the same game.
It also marked Hanley's third shutout on the year.
More like this story on KUsports.com