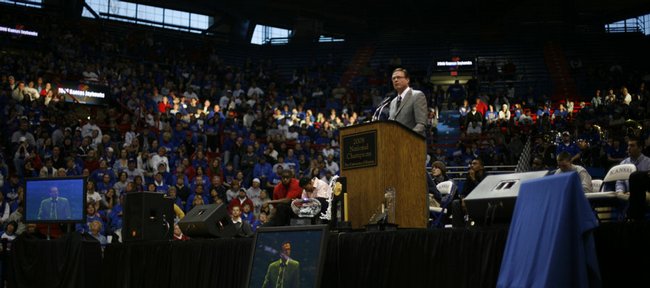 Allen Fieldhouse doors will swing open at 5:30 p.m., Oct. 17 for Kansas University's season-opening Late Night in the Phog.
The program, which will include men's and women's basketball skits and scrimmages, will start at 6:45 p.m., and conclude around 9:30 p.m., KU associate athletic director Jim Marchiony said Thursday. It will be televised by Metro Sports with portions shown by ESPNU.
Admission is free. Fans are encouraged to bring nonperishable goods or make a donation to benefit area food pantries.
"I think the festivities, including the entertainment and the chance to see our men's and women's teams scrimmage, in addition to the unveiling of the banners, will make it a Late Night to remember," Marchiony said of KU's 24th-annual season-opening hoops extravaganza.
A temporary 2008 NCAA title banner will be unfurled in the south rafters as well as a Final Four and Big 12 title banner. An '08 national title banner identical to the four in the north rafters will be unveiled during KU's game against Florida Gulf Coast on Nov. 18.
¢ Walk-on tryouts set: KU's men's team will conduct walk-on tryouts on Sunday, Oct. 26, in Allen. Anyone interested in trying out must pick up a packet of information from the men's basketball office (250 Wagnon Student Athlete Center) prior to Oct. 15. Only full-time KU students are eligible for tryouts. For more information contact the basketball office at 864-3056.
¢ DJ impresses: Former KU forward Darnell Jackson has been impressive in training camp workouts of the Cleveland Cavaliers.
"He reminds me of somebody like Dick Butkus," Cavs' coach Mike Brown said of the 6-foot-8, 250-pound Jackson, in an interview with the Cleveland Plain Dealer.
"You take a guy like Darnell Jackson, he's a grizzled vet almost. His presence is almost similar to a guy who has been in the league three or four years," Brown added.
Jackson is hoping to earn meaningful minutes as a first-year player.
"I'll be the dirty guy on the floor" Jackson said. "There's just so much to learn. I just try to do what I need to do, get the ball, get out, run down the court and play defense."
Jackson commented to the Plain Dealer about former KU teammates Darrell Arthur and Mario Chalmers getting booted from the NBA mandatory rookie transition program after being caught with women and scent of marijuana in their room.
"I didn't know what happened," Jackson said. "When I found out I was kind of disappointed. I've been through a lot with those guys. But they made that choice. A lot of people make mistakes. They have to take their medicine and move on."
¢ Heat competition fierce: Chalmers, Chris Quinn and Marcus Banks are vying for the starting point guard position with the Miami Heat.
"Mario has had a couple of really good days and a couple of days where he's taken a couple of steps back and he's trying to figure it out. It's really about trying to get him some consistency and trying to play at an efficient level every day," Heat coach Erik Spoelstra told the Palm Beach Post.
"Some days I look really good learning the system, and some days I'm trying to learn things and trying to put them out there on the court," Chalmers said.
¢ Lance to visit: Lance Stephenson, a 6-5, 195-pound senior shooting guard from Lincoln High in Brooklyn, N.Y., will visit KU this month, likely for Late Night, Rivals.com reports. Stephenson also wants to visit Memphis, Southern Cal and UCLA this month. Other schools on his list: Pittsburgh, Indiana, North Carolina, Seton Hall. He will not sign until April.
More like this story on KUsports.com