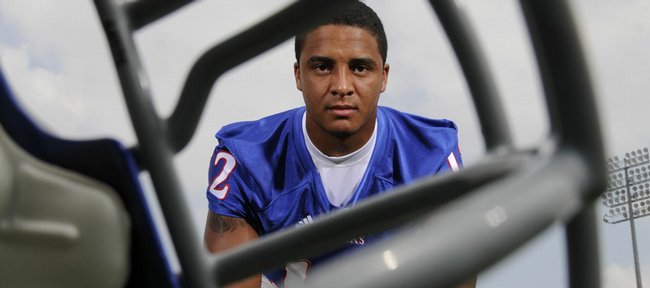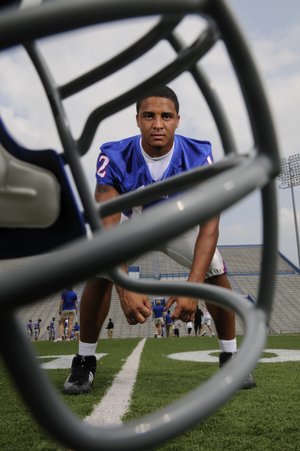 Fumble forcers
The following is a list of the nation's leaders in fumbles caused per game:
1. Zach Arnett, New Mexico: 0.80
2. James Holt, Kansas, 0.75
3. Clay Matthews, USC, 0.67
4. Clinton Snyder, Stanford, 0.60
4. Carl Ihenacho, San Jose St., 0.60
Audio clips
2008 Oct. 1 KU football practice
It's one of the more obscure statistics in football - fumbles caused per game.
So it's only fitting that one of Kansas University's stealth starters ranks second among all Football Bowl Subdivision players in knocking the football loose.
His name is James Holt, a senior linebacker from Altus, Okla. And his game is playing as hard as he can on every play, no matter what the situation.
Often overshadowed by the high-profile world of fellow linebackers Mike Rivera and Joe Mortensen, Holt keeps his head down and his spirits up and does whatever he can to give the KU defense a boost.
"All the big hype, that doesn't mean much to me," Holt said. "I just like to go out and play ball."
This season, that's been good news for the Jayhawks. In four games, Holt is tied for second on the team in tackles (24), leads the team in tackles for loss (4.5) and had the second-best night of his career against South Florida when he finished with 13 tackles.
As for those fumbles, he's forced three this season to rank second in the NCAA, a feat KU defensive coordinator Clint Bowen says is no mistake.
"Some guys just really have a knack for it," Bowen said of forcing fumbles. "It's really about having an awareness to opportunities. You talk about it, but a lot of guys don't do it. And it's a huge emphasis on our defense. If you get a turnover it's well noted and we try to make as big a deal about it as we possibly can to let them know how important it is, because it really is. It's one of those things that truly does just change a game."
Once dubbed by The Daily Oklahoman as "the most underrated high school recruit in the state," Holt spent his younger days all over the field. He was a running back in Pee Wee football and graduated to quarterback and wide receiver by high school. Before he was done, he had settled in at safety, the spot that ultimately landed him a full-time job at linebacker.
"My aggressive play at safety was kind of like a linebacker anyway," Holt said. "I've always been aggressive against the run so it's not much different. And I like linebacker. I like to hit, plus you get to be the leader of the defense."
The gridiron is not the only place Holt has plans to lead. This May, he'll earn a degree in History. After that he hopes to study abroad and then return to the states to dabble in politics in Washington D.C.
"The person who kind of got me interested in (politics) was J.C. Watts; he played for Oklahoma and then he ended up being a congressman for Oklahoma, and that just kind of got me thinking."
Watts quarterbacked the Sooners from 1977-1981, twice leading them to Big 8 titles and Orange Bowl victories over Florida State. He served in the U.S. House of Representatives from 1995-2003.
Holt's knowledge outside of football doesn't stop with politics. He lists cooking as one of his main hobbies, enjoys watching shows like "Entourage," "Dexter" and "Californication" on HBO and Showtime and strums his guitar for therapeutic purposes.
"It just depends on what kind of mood I'm in," Holt said. "If I'm kind of stressed out, that's usually when I pull out my guitar. But if we're just at the house chillin', we'll put on something else and have a good time.
"My guitar's been kind of like my prozac. It's a stress reliever."
And a relaxed James Holt is bad news for ball carriers everywhere, even those on his own team.
"He's the ultimate underdog and he's lovin' it," said KU running back Angus Quigley. "It's good to be an underdog because the underdog has no worries. I don't think he's ever made me fumble, - a claim Holt disputes - but I don't think I've ever gotten away from James Holt either."
More like this story on KUsports.com