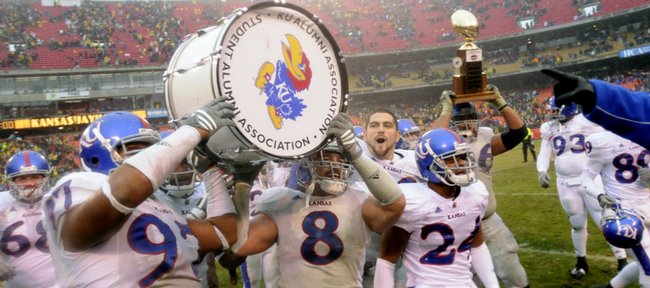 Kansas City, Mo. — Taking a glance at his football team early last week, there was not a lot for Kansas University coach Mark Mangino to smile about.
His quarterback — the one who'd broken all those records and raised all those expectations — couldn't lift his throwing arm. His most reliable receiver, who had limped his way through the second half of the season in obvious pain, was a question mark. And the team's tough-as-nails running back, the small-town boy, couldn't even take the field, so pained was he from an injury sustained two weeks before.
"You know I don't discuss injuries," Mangino said following Saturday's 40-37 victory over Missouri. "I will tell you this: If I had to discuss injuries leading up to this game, a roll of toilet paper wouldn't be long enough for all of the names and injuries that would be on it."
Of course, if there's anything that can help a Kansas football player tune out injury, it's a matchup against hated rival Missouri. A team that handed the Jayhawks their only loss of the 2007 season. A team ranked No. 12 in the nation. A team with not one, but two preseason Heisman hopefuls stationed on its roster.
And so, in a game that immediately will take its place among the best in Kansas' recent history, the Jayhawks managed to grind out a victory that wasn't decided until a potential game-tying field goal glanced off the cuticles of a Kansas defender as time expired.
"Right away, people asked me if this was the greatest win we've ever had," said Mangino, the reigning national coach of the year. "We've had some great wins here, so I can't say that. Let me tell you what I can tell you: It is the guttiest win that we've ever had since I've been the coach at Kansas."
In doing what they had struggled to do throughout the season, the Jayhawks were able to hang with a Missouri team many figured would be too much. They won the time-of-possession battle by 12 minutes, including an unthinkable 12:49-to-2:11 margin in the first quarter.
They converted on 12 of 19 third-down conversion opportunities. They made plays when they had to — and some when they didn't.
There was punter Alonso Rojas, whose rugby-style punts helped nullify the talents of Missouri's standout return man, Jeremy Maclin.
There was Jake Laptad, who brought down Tigers quarterback Chase Daniel in the end zone for his second safety of the season.
And there was receiver Dezmon Briscoe, taking over kick-return duties and gobbling up a game-high 310 all-purpose yards.
Despite questions of how the their shaky defense would hold up against one of the nation's most potent offensive attacks, the Jayhawks forced three turnovers — all of which came courtesty of junior safety Darrell Stuckey — and took Daniel out of rhythm early and often. The former Heisman finalist completed just 25 of 41 passes for 288 yards and four touchdowns, though he also tossed two costly interceptions.
His counterpart, meanwhile, enjoyed a redemption of sorts. Kansas signal-caller Todd Reesing shrugged off his soreness to beat the only team he'd failed to beat as a sophomore last season, throwing for 375 yards and four touchdowns to keep things close.
After building a 26-10 lead early in the second half, Reesing and Co. found themselves in a dogfight late, as Missouri came charging back, scoring two touchdowns in less than a minute to pull within 26-23 by the start of the fourth quarter.
After Derrick Washington rushed for a six-yard touchdown to give Missouri a 37-34 lead with 1:50 remaining, a banged-up Reesing — he had to receive stitches on his hand following the game — took the field with one last opportunity.
And the junior from Austin, Texas, made the most of that opportunity.
He drove the Jayhawks — trailing 37-33 — to the Missouri 26-yard line, where he faced a fourth-and-seven call with precious few seconds remaining.
Reesing took the snap, somehow escaped a collapsing pocket and unleashed a 26-yard floater that landed softly in the hands of a wide-open Kerry Meier for a touchdown.
The score gave Kansas a 40-37 advantage with 27 seconds remaining.
However, because the opponent was the Tigers — they of the blink-and-you'll-miss-them scoring drives — the game was not decided until Missouri kicker Jeff Wolfert, best in the Big 12 going into the game, unleashed a potential game-tying 53-yard field goal attempt as time expired.
The ball, partially blocked by KU safety Phillip Strozier, sputtered to the ground well short of the end zone, and that, as they say, was that.
"Getting a little revenge from last year," Reesing said of the best part of Saturday's victory. "Obviously, they gave us our only loss last year, and then to come back when we probably weren't favored very much this game and to get a win against them in this big rivalry is a huge thing."
In the grand scheme of things, Saturday's game does not change much. Kansas will go to a bowl, as it would have had it lost. The Jayhawks still fell short of their goal of the Big 12 championship game, which will be played next week between Missouri and a yet-to-be-determined opponent.
But knocking off the only team they'd failed to beat a season ago — coupled with the prospect of going into the next four weeks on a winning note and ensuring a winning season for the second straight year — seemed enough to suffice.
"There aren't words that I can really use with my limited vocabulary to describe the feeling I have for all of our players, especially the kids that really had to fight through the last month of the season," said Mangino, whose team will now await its postseason fate. "... Because they gave everything they have to the program.
"(And) they were rewarded today."
More like this story on KUsports.com