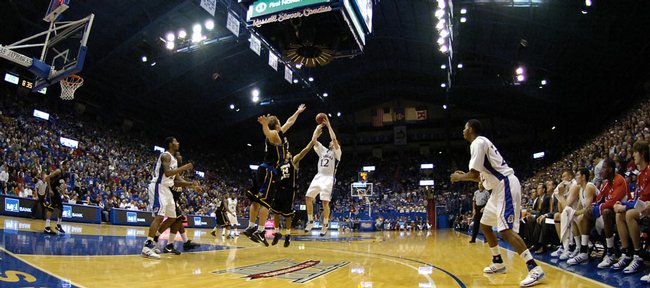 FINAL: KU defeats Coppin State, 85-53
Brady Morningstar scored a career-high 21 points on 7-for-9 shooting, leading the Kansas Jayhawks to an 85-53 victory over Coppin State on Friday night at Allen Fieldhouse.
Morningstar, who hit his first four three-point attempts, set a new career-best for points just 8 minutes into the game. He finished 6-for-8 from beyond the arc and also grabbed a career-high seven rebounds in 31 minutes.
Coming into the game, Morningstar was just 1-for-5 from three-point range.
KU took control early with stifling first-half defense. CSU (1-2) made just six of 27 shots (22 percent) in the opening 20 minutes.
Cole Aldrich led all scorers, posting a career-high 23 points on 8-for-11 shooting. He also grabbed 11 rebounds in 28 minutes.
Sherron Collins added 11 points and a career-best eight assists.
Tyshawn Taylor added 10 points, six assists and five rebounds. The freshman left the game with a left ankle sprain in the second half, but in the postgame press conference, he said he would be fine to play in the Jayhawks' next contest.
KU made eight of 16 three-pointers (50 percent) and also out-rebounded Coppin State, 46-21.
Tywain McKee, the preseason MEAC player of the year, led CSU with 17 points on 7-for-17 shooting. He was held to three points on 1-for-9 shooting in the first half.
The Jayhawks (4-1) will play Kent State at 8 p.m. Monday night at Allen Fieldhouse.
FINAL: KU defeats Coppin State, 85-53
Morningstar hits another three from the corner — why not? — for his 21st point. He gets a standing ovation behind the bench when checking out for the final time. His final line: 21 points, seven rebounds, 7-for-9 shooting, 6-for-8 accuracy from three-point range. He also had two assists and two steals in 31 minutes. It's easily his best game as a Jayhawk.
Brennan Bechard hits a free throw, and Chase Buford gets a two after grabbing an offensive rebound. They both score their first points of the regular season in the Jayhawk victory.
KU 75/CSU 49 — 3:43 left in game
A nice assist inside for Collins, who slices through the lane before finding Releford under the basket.
Collins looks more like himself with the shot clock running down, shaking to the side before swishing an 18-footer.
Aldrich catches a tough pass from Collins in traffic, then slams it home with a whistle. He drains the free throw.
Aldrich picks up a steal at mid-court, then dishes to Releford, who glides to the basket for two. That puts some life into what has been a stale second-half crowd.
KU 65/CSU 45 — 7:19 left in game
A little shake-and-bake from Collins, who weaves by his defender before putting in a left-handed layup in the lane. A free throw completes the three-point play.
Scary moment for KU at the 9-minute mark, as Taylor went down in a heap after a made three by McKee. It looks to be a left ankle/foot injury, though Taylor seems to be putting more pressure on it as he walks off the court.
A nice bounce pass inside from Collins gets Aldrich a good look, and he banks it in from 6 feet.
On the break, Releford gets the ball against two defenders and hangs in the air long enough to draw a foul.
KU 59/CSU 42 — 10:02 left in game
Kucinskas shoots in a three, but Aldich gets a stuff on the other end.
Aldrich throws away a high-low pass intended for Markieff Morris, and quickly Marcus Morris comes into the game for Aldrich.
Jordan Lee gets a layup inside, and Self calls timeout. The lead is down to 59-42, and this game is starting to resemble the Syracuse contest, where the Jayhawks played well in the first half only to lose focus in the second half.
KU 57/CSU 37 — 11:47 left in game
Mike Wall from the Insight.com Bowl is shown on the video board at Allen. It seems like almost a foregone conclusion that the KU football team will be playing there on Dec. 31.
Collins gets a steal, then takes it coast-to-coast for a two.
Morningstar is called for a questionable travel, and Self slams the press table with his hand.
McKee hits a floater in the lane, and he's fouled by Taylor. McKee hits the free throw, and CSU has played much better in the second half.
Nice high-low pass by Markieff Morris, who rainbows it inside for Aldrich. After getting fouled, Aldrich hits both free throws.
CSU gets a three to go, and the Eagles are 9-for-12 from the field in the second half. Self won't be happy with that.
A tough bounce pass by Collins goes through the hands of Aldrich, and KU has another turnover before the media timeout halts play.
KU 51/CSU 27 — 15:39 left in game
Set play to start the half, as Taylor feeds Aldrich for an alley-oop. Self must be getting deeper into the playbook with this young group.
Morningstar cashes another three, this one from the left wing. The best part about his points is that he's taking shots within the offense. By my count, seven of his eight shots have been wide-open ones.
Aldrich shows his strength inside, muscling up a shot off the glass and in while getting fouled. He also hit the free throw.
KU has given up baskets inside on four straight possessions. The defense hasn't come out as crisp as it was in the first 20 minutes.
Tough two possessions for Marcus Morris, who gets stuffed by the rim on a one-handed jam then has a pass to him inside go through his legs.
Kansas scoring
Brady Morningstar 14, Tyshawn Taylor 8, Cole Aldrich 7, Marcus Morris 5, Markieff Morris 3, Travis Releford 2, Sherron Collins 2.
Other notable stats:
• KU was 15-for-32 from the floor (47 percent) and 6-for-12 from three-point range (50 percent). CSU made just six of 27 shots (22 percent) in the first half.
• Taylor had five assists to go along with five rebounds.
• Morningstar was 5-for-7 overall and 4-for-6 from three-point range.
• CSU's leading scorer Tywain McKee was just 1-for-9 with three points.
• Collins, coming off a frustrating second half against Syracuse, went just 1-for-5 in the first half. He had four assists, three turnovers and looked a bit hesitant when making decisions.
Though KU has lost a game, I think Jayhawk fans have to be most pleased with this team's defense in the first five games. KU has only had one bad defensive half in the regular season, and that was the second half/overtime against Syracuse. Usually, with a young team, the defense is last to develop, but these Jayhawks look like they're far ahead of schedule on that end of the court.
KU 41/CSU 17 — Halftime
After Taylor tracks down a loose ball, he fires it to Markieff Morris inside for a slam.
Some first-half playing time coming for Conner Teahan and Tyrone Appleton, as they check in with 2 minutes left in the half.
Jordan Lee throws in a three, and Self gets a quick timeout. CSU still is only shooting 5-for-25 from the floor.
Lazy pass from Teahan gets intercepted inside by the Eagles.
The next offensive possession, Teahan hoists up a guarded jumper from the corner with 31 left on the shot clock. It misses, and that's two bad possessions for him.
Vince Goldsberry hits a jumper, and CSU ends the half on a 7-3 run. Still an impressive first half defensively for the Jayhawks.
KU 38/CSU 10 — 3:21 left in 1st half
The fans are having some fun with the airball chant, as nearly every Eagle has tossed up a shot that has missed everything.
Aldrich gets a three-point play inside, and later, Morningstar hits a 16-footer from the wing. At this point, Morningstar has more field goals made (four) than Coppin State (three).
Some nice hands by our own Tom Keegan, who stretched back to catch an errant throw by Travis Releford that was heading into the first row.
On the next possession, Releford, catches a ball in traffic and puts it off the glass for two, drawing a foul in the process. Releford has shown a good ability to get to the rim without getting charges.
KU 31/CSU 5 — 7:55 left in 1st half
A bad pass by Collins causes a turnover, but CSU can't take advantage in transition.
Another three for Morningstar from the left corner. He's 4-for-4 now without forcing a shot.
Morningstar finally misses a three from the top of the circle. He's still perfect from the corners, though.
Taylor dishes off a nice no-look pass inside, but Marcus Morris misses the bunny. Marcus gets the bucket after grabbing the offensive rebound.
It's an instant replay 30 seconds later, as Marcus Morris misses an easy one in the lane before ripping away the offensive rebound and putting it in for two.
KU 24/CSU 4 — 11:44 left in 1st half
Taylor, after hitting both free throws, drains a three on the next possession from the left wing. Sixteen-to-zero run for KU before a Ceslovas Kucinskas jumper.
Morningstar again shows his value, tipping out an offensive rebound to keep the possession for KU. Seconds later, he rattles in another three from the right corner.
Timeout Coppin State after the Eagles fail to get a shot up against the KU defense. Already three assists for Collins, two for Taylor and two steals for Morningstar.
On a feed from Morningstar, Aldrich takes a power dribble and posterizes Kucinskas on a dunk inside.
The next possession, Morningstar drains a three from the left corner, and he has nine points on 3-for-3 shooting from deep.
KU 11/CSU 2 — 15:42 left in 1st half
Coppin State's Tywain McKee starts things with a tough floater in the lane, but Tyshawn Taylor answers with a three from the corner off a feed from Sherron Collins.
Cole Aldrich gets a lay-in after pulling in an offensive board. Collins originally tried to hit him on an alley-oop, but Aldrich didn't know it was coming. He still was able to recover in time to catch the ball inside.
Morningstar gets a steal on the defensive end, and once again the Jayhawks hit the offensive glass, as Marcus Morris steals a rebound from Aldrich and gets fouled while going up for a shot, making one of two free throws.
Morningstar gets a friendly roll on a three from the corner, as the ball hit front rim and backboard before falling through. Give the assist to Collins.
Another steal for Morningstar, who crosses over before feeding Taylor on the break. Two shots coming for Taylor after the timeout.
7:04 p.m.
Starters for tonight's game: Brady Morningstar, Marcus Morris, Sherron Collins, Cole Aldrich, Tyshawn Taylor.
6:47 p.m.
Sherron Collins seemed to spend a few extra minutes at the free-throw line during shoot-around. Remember, he went just 2-for-5 from the line against Syracuse, with all of those attempts coming in the second half.
6:42 p.m.
It's a good bet that this game will have some empty seats at the top of the Fieldhouse. The students are on Thanksgiving break, so the college turnout is much smaller than it would be in a normal regular-season game.
6:15 p.m.
It's fascinating watching the interaction between assistant coach Danny Manning and the KU players during shoot-around.
Manning is known as a quiet guy to us media types, as he's usually a guy that deflects the attention elsewhere.
He's been anything but quiet in this shoot-around. He's been laughing and joking with a lot of the players, especially the big men like the Morris twins. Manning looks like he's trying to ease the tension of some of the younger players, and those guys look like they're having a genuinely good time during layup and dunk drills.
5:45 p.m.
Welcome to the Newell Post Live, coming to you live from Allen Fieldhouse where the Kansas Jayhawks are getting set to take on the Coppin State Eagles.
Here are some quick notes about Coppin State, which comes into the game with a 1-1 record (including a 94-73 victory over Wilmington and a 66-46 loss to No. 10 Purdue).
• For the second time this year, KU will go up against a preseason conference player of the year. Coppin State point guard Tywain McKee is averaging 18.5 points through two games and was selected to be the top player in the Mid-Eastern Athletic Conference this year. McKee also is one of the 35 Division-I nominees for the Bob Cousy Award, given annually to the nation's top point guard. Some other notables on the Cousy nominee list are Sherron Collins, UCLA's Darren Collison and Syracuse's Jonny Flynn.
• The Eagles will not play a home game until Jan. 10. After playing KU tonight, Coppin State also will take on Syracuse, Oklahoma and Missouri on the road before its first home game.
• Coppin State, though it only scored 46 points against Purdue, has shot the ball well in the earlygoing. The Eagles have made 13 of their 32 three-point attempts (41 percent) and 27 of their 32 free-throw tries (84 percent).
• And just in case you missed it: The last (and only) time KU played Coppin State, Greg Ostertag had this highlight for the ages.
More like this story on KUsports.com