Tuesday, November 11, 2008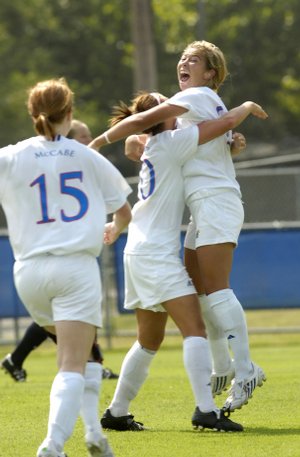 Kansas University's soccer team is headed to the NCAA Tournament. The Jayhawks (12-7-2) on Monday received an at-large bid on the heels of last weekend's victory over No. 8 Texas A&M and shootout loss to No. 18 Missouri at the Big 12 championships.
KU will meet Denver in a first-round match at 6:30 p.m., Friday, at Cagan Stadium. The winner of the KU-Denver match will meet the Stanford-UC Santa Barbara winner on Sunday. Stanford and UCSB will meet at 9 p.m., Friday.
Denver (19-2-2) earned an automatic berth by winning the Sun Belt Conference title. It'll be the first-ever matchup between the programs.
KU will be making its first NCAA Tournament appearance since the 2004 season, and fourth overall in the 14-year history of the soccer program. KU coach Mark Francis is 3-3 all-time in the NCAA Tournament.
Stanford (18-1-1), the No. 1 seed in the region, placed second in the Pac-10. UC Santa Barbara placed second in the Big West Conference with a record of 12-6-3.