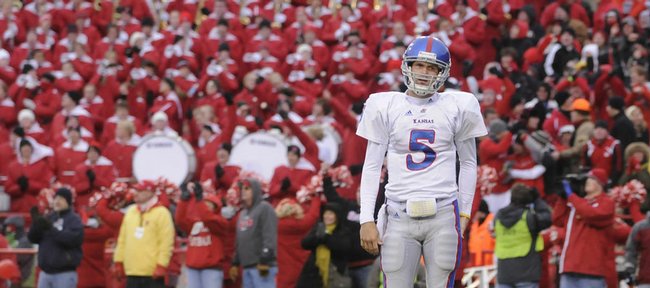 6:22 p.m.
Audio interviews have been posted and can be found on the left side of this page.
FINAL, NU wins 45-35
Joe Ganz threw for 324 yards and three touchdowns, and Nebraska dominated the second half in a 45-35 victory over Kansas on Saturday at Memorial Stadium in Lincoln, Neb.
The Cornhuskers outscored the Jayhawks 31-21 in the second half.
Roy Helu also tore through KU's defense, rushing 16 times for 115 yards and two scores.
The Cornhuskers scored on every possession in the second half except for the last one where they ran out the clock. NU, after starting the second half with a field goal, had touchdowns on four straight possessions.
Nebraska ended with 495 yards of offense, led by Ganz, who was 28 of 37 with three TDs and one interception.
Reesing led KU, going 15-for-30 with 304 yards passing, three touchdowns and one interception.
Dezmon Briscoe added six catches for 176 yards and a touchdown. He also set the school record for touchdowns in a career with 18.
Jake Sharp ended with 22 carries for 90 yards and one touchdown.
NU (6-4, 3-3) has won 20 games in a row against KU in Lincoln, with the last KU victory coming on Oct. 12, 1968.
KU (6-4, 3-3) will play host to Texas next week.
1:43 left in fourth quarter, NU leads 45-35
KU, after two completions, goes back 15 yards on a sack. A three-yard run by Reesing turns it over on downs, and NU will kneel out the clock.
2:15 left in fourth quarter, NU leads 45-35
Darrell Stuckey recovered the onside kick for KU. The Jayhawks will need a score and another recovery to stay in this one.
2:15 left in fourth quarter, NU leads 45-35
Reesing leads the Jayhawks down for another score, ending the drive with a 15-yard TD run on a scramble.
3:48 left in fourth quarter, NU leads 45-28
On third-and-goal from the KU 13, Ganz fires a perfect pass to Swift in the left side of the end zone. Once again, the Jayhawks' secondary is burned for a big play.
3:59 left in fourth quarter, NU leads 38-28
On a fourth-and-8, NU fakes a field goal, with the holder flipping it over his head to a running Henery. The kicker leans forward just enough for a first down at the KU 11.
5:30 left in fourth quarter, NU leads 38-28
NU defensive end Zach Potter intercepts Reesing's first pass of the next drive with a leaping grab.
5:58 left in fourth quarter, NU leads 38-28
KU's defense can't find a way to stop the running of Helu, as he barrels his way up the middle for a 23-yard gain. With that carry, he had 112 yards on nine carries with two scores. On a key third-and-6, Ganz finds a wide-open Swift for 22 yards across the middle with no KU defender in sight. Two plays later, Suh catches a tackle-eligible pass for a 2-yard TD, and the Jayhawks are once again down two scores.
9:55 left in fourth quarter, NU leads 31-28
Reesing won't let Kansas die, moving the Jayhawks down the field against the wind. On a first-and-20, he hit Johnathan Wilson, who made a man miss for a 29-yard gain, and later, Reesing found Sharp on a pass in the flat for 17 more yards. Three plays later, Sharp bounced off two NU players on the right side and made his way seven yards into the end zone. KU's defense will need one stop to give Reesing a chance late.
14:15 left in fourth quarter, NU leads 31-21
KU goes three-and-out after Reesing overthrows a wide-open Briscoe on third down. Rojas shanks another punt against the wind, and NU takes over at its own 48. The next play, Helu takes it 52 yards down the right sideline for a score, and the Cornhuskers have taken control.
End of third quarter, NU leads 24-21.
KU gets a nine-yard run by Sharp, but now will go against the wind in the fourth quarter.
8 seconds left in third quarter, NU leads 24-21.
Both teams haven't been intimidated when trailing in this game. NU comes right back, going 78 yards on eight plays, capped by a 10-yard touchdown dive from Helu.
4:32 left in third quarter, KU leads 21-17.
Reesing finds the end zone on an 11-yard TD pass to Dexton Fields, but a lot of the credit has to go to KU offensive coordinator Ed Warinner. After running numerous option plays, Warinner had Reesing fake the option, then drop back to pass. The play-action caught Nebraska by surprise and ended up being the perfect play called at the perfect time.
6:12 left in third quarter, Nebraska leads 17-14.
After a couple good runs by Sharp, KU goes backward on the next three plays, which includes an intentional grounding, holding call and ineffective shuffle pass. After a punt, though, KU gets its third turnover, as Swift coughed up a punt return and Mike Rivera recovered. The Jayhawks take over at the Cornhuskers' 20.
8:31 left in third quarter, Nebraska leads 17-14.
KU's defense limits the damage, as a sack by Mike Rivera helps move the Cornhuskers back. NU still gets a field goal, as Alex Henery puts through a 35-yard kick to put the Huskers back on top.
13:00 left in third quarter, game tied 14-14.
Another three-and-out for KU. Nebraska defensive lineman Ndamukong Suh now has eight tackles, as KU hasn't been able to block at all today. Nate Swift followed with a 47-yard punt return, and NU is quickly in Jayhawk territory.
HALFTIME LEADERS
Kansas
Passing
Todd Reesing 5-for-9, 150 yards, 2 TDs
Rushing
Jake Sharp 11 carries, 29 yards
Reesing 8 carries, 27 yards
Receiving
Dezmon Briscoe 3 catches, 110 yards, TD
Kerry Meier 1 catch, 28 yards, TD
Nebraska
Passing
Joe Ganz 17-for-25, 198 yards, 2 TDs, INT
Rushing
Quentin Castille 2 carries, 33 yards
Roy Helu Jr. 4 carries, 21 yards
Receiving
Helu 5 catches, 30 yards
Todd Peterson 3 catches 50 yards
The good news for Kansas is ... the defense has forced two turnovers. The Jayhawks have taken advantage of Nebraska mistakes, and they'll need to do so again in the second half.
The bad news for Kansas is ... that it is falling helplessly behind in the time-of-possession battle. NU has had the ball 18:15 compared to KU's 11:45, and the Jayhawks defense has shown a tendency to tire in the second half. KU's offense will need to try to keep possessions going a little longer if its hopes to save its defense.
Halftime, game tied 14-14. KU runs out the clock with three running plays to take us to halftime.
20 seconds left in second quarter, game tied 14-14.
KU's first three-and-out comes at a horrible time, and after a punt, Nebraska takes over at the Jayhawk 49. Weird decision by Reesing on a third-and-2, as, without hesitation, he fired a deep fade route down the sideline incomplete to Briscoe. James Holt bails out the KU offense two plays later, reaching high to bring down an interception inside the NU 20.
2:17 left in second quarter, game tied 14-14.
KU's defense (and particularly secondary) are really underperforming on obvious throwing downs. Case in point on third-and-10 from the KU 25: Ganz drops back, then finds a wide-open Chris Brooks over the middle for a 25-yard score. Brooks' third catch as a Cornhusker helps to tie the score at 14.
4:39 left in second quarter, KU leads 14-7.
KU's offense doesn't waste any time scoring after a Nebraska punt. After a Jake Sharp first-down run, Reesing hit an open Briscoe down the sideline. Briscoe then stepped by the tackle of Rickey Thenarse and weaved his way 53 yards for a touchdown. Briscoe now has the school record for career TD receptions with 18 (he has 11 this season).
6:50 left in second quarter, game tied 7-7.
Reesing is sacked on third down to halt the KU drive. After giving them props before the game, the Jayhawks' offensive linemen are not performing well. Reesing hasn't had much time to look for receivers, and the running game has been stagnant so far (14 rushes, 34 yards).
9:41 left in second quarter, game tied 7-7.
Nebraska's offense turns it over for the first time, as Darius Parish stripped the ball from Lucky and Russell Brorsen recovered it. The play halted an effective drive that had taken the Cornhuskers 45 yards down the field.
12:30 left in second quarter, game tied 7-7.
KU is forced to punt after Reesing throws an incompletion on a third-and-5. Despite the nasty conditions, Reesing has thrown the ball well so far. An 18-yard punt by Alonso Rojas gives Nebraska the ball at its own 30.
End of first quarter, game tied 7-7.
KU's defense holds in its own territory, as on a fourth-and-7 from the KU 34, Joe Ganz throws an incompletion behind his intended receiver.
3:17 left in first quarter, game tied 7-7.
Hopefully ESPN gets pay-per-view. The station has a top-10 highlight already from Todd Reesing, who bounced off a huge blow by a Nebraska defender, backed up a few yards to regain his balance, then found a wide-open Kerry Meier for a 28-yard touchdown pass. Reesing also threaded the needle earlier to Dezmon Briscoe for a 40-yard gain on a post route.
4:47 left in first quarter, Nebraska leads 7-0.
The Jayhawks defense is hurt by one play, as on a third-and-6, Roy Helu was able to break two tackles to pick up a Nebraska first down. Quentin Castille followed with a 15-yard run, a 17-yard reception and an 18-yard run. Later, on a direct snap, tailback Marlon Lucky throws a jump pass to Mike McNeill for a 4-yard touchdown, and quickly, KU is down a TD.
8:44 left in first quarter, game tied 0-0.
KU's offense stalls as well, but the Jayhawks are able to get one first down to at least give their defense some rest. Todd Reesing scrambled for a 13-yard run on a third-and-8, but on a third-and-7, he was dragged down four yards short of the marker. So far, the Cornhuskers' secondary has looked good in its coverage of KU receivers downfield.
11:12 left in first quarter, game tied 0-0.
The Kansas defense forces a quick punt. Strong start from the Jayhawks' linebackers, as Mike Rivera and Joe Mortensen both came up with a tackle-for-loss against NU tailback Marlon Lucky.
1:34 p.m. Kansas won the toss and deferred. Nebraska will receive. Quick weather report: Overcast, 35 degrees, wind out of the northwest at 21-28 mph.
1:27 p.m.
Nebraska fans have turned Memorial Stadium into a sea of red, and despite this being the coldest game of the season for either team, this has easily been the earliest-arriving crowd of any KU game this year. The fans don't wait to get into Memorial; in fact, very few empty seats remain. There are a few speckles of some blue-clad KU fans in one corner, but 99 percent of the folks here want to see the Cornhuskers get their sixth victory.
1:20 p.m.
KU students should feel fortunate, as their seats are much better than those the Nebraska students get. The NU students, who were already waiting in long lines when we walked in the stadium more than two hours before kickoff, are crammed into one corner section of one of the end zones. Those seats that don't even go all the way down to the field, either.
1:08 p.m.
While walking up to Nebraska's Memorial Stadium, I couldn't help but feel like I had been taken back to middle school.
That's because, everywhere I looked, I saw Nebraska fans in Starter jackets.
Now, there's nothing wrong with Starter jackets. They were the thing back in middle school when I begged my parents for a Kansas City Chiefs Starter coat so I could be the cool kid at school.
Funny thing is, you just don't see Starter jackets that much any more. At least I thought that until today. Topeka Capital-Journal reporter Tully Corcoran and I have officially hypothesized that, once something relating to Nebraska football is passed on in the family, it is never thrown away. That must be the case with Starter jackets.
12:50 p.m.
Good news for KU fans. Even though it's cold (really, really cold), Todd Reesing has come out of the locker room and he is not wearing gloves. Kansas fans can breathe a sigh of relief.
Also of note: Jake Sharp and Kerry Meier both are not wearing sleeves. Must be tough guys.
11:30 a.m.
Greetings, and welcome back to The Newell Post Live, this time coming to you from Lincoln, Neb., where the Kansas Jayhawks are getting set to take on the Nebraska Cornhuskers.
So much has happened in the last week (Ron Prince firing, KU basketball opening the exhibition season, election) that it seems like this game has perhaps been overlooked a bit. In actuality, this appears to be one of the biggest games of the season for both teams. A victory would give Nebraska bowl eligibility, and, on the other side, a win for Kansas would guarantee that Nov. 29's game against Missouri would once again be for at least a share of the Big 12 North title and also a berth in the Big 12 championship game.
Let's go ahead and get to our true/false, fill-in-the-blank questions for this matchup.
True or false: Joe Ganz or Todd Reesing will throw for 300 yards.
False. Though both of these quarterbacks have been good for the majority of the year, both have struggled recently. Reesing has just 316 combined yards and four interceptions in his last two games, while Ganz had just 206 yards passing and two costly picks last week against Oklahoma. Both teams also should make a commitment to the run to protect their defenses and also to try to play keep away from the other team's offense.
The weather conditions shouldn't help the passing game either, as the forecast is calling for temperatures in the low 30s with strong winds gusting out of the north. Put it all together, and we should see both offenses putting major emphasis on running the football.
True or false: The team that wins the turnover battle will win the game.
True. I have to agree with Tom Keegan in our Gameday Cram Session video. With two evenly matched teams like Kansas and Nebraska, turnovers should make the difference. The Cornhuskers haven't been great at securing the football (minus-one per game turnover margin), and last week against K-State's Josh Freeman, an aggressive KU defense took the ball away five times. If the Jayhawks can make big plays again this week, they have a great chance of breaking the 40-year Lincoln curse.
True or false: Kerry Meier will catch eight or more passes against Nebraska.
True. Meier has averaged just 4.3 catches per game over his last three games, but I'll predict that he re-emerges in this one. KU will need to rely on its short passing game with the weather conditions, and no one makes the tough catches over the middle better than Meier. I've been wrong a couple times before on Meier predictions, but I'll go with my gut one more time and say that he has a big game.
If KU wins, it will be because :
it avoids three-and-outs. Nebraska has punished opponents in time of possession, averaging more than 36 minutes of possession time in its Big 12 games. The Cornhuskers were especially effective against Texas Tech when they held the ball a whopping 40:12 in an overtime loss. KU's offense has been streaky this season, oftentimes scoring quick but other times stalling quickly as well. KU doesn't have to win time of possession, but it has to hold the ball long enough so that the Jayhawks defense isn't dead tired by the fourth quarter. This is yet another reason Jake Sharp will be important in this game.
If Nebraska wins, it will be because :
the Cornhuskers run the ball like they did in their glory days. NU has averaged 5.2 yards per carry in its last three games, and some of that can be attributed to the emergence of tailback Roy Helu. He had 157 yards on 16 carries last week, and he along with Marlon Lucky gives the Huskers two strong options in the backfield. NU, which fell behind 28-0 in the first 5:33 of last week's game against Oklahoma, will need to hang in the game early to give its crowd a chance to get into the game. There's no better way to do that than to run the football.
Prediction: Kansas 38, Nebraska 31
Jake Sharp's effectiveness last week gives me enough optimism to pick KU this week. KU's offensive line has made the most improvement of any unit from the start of the season, and expect the guys up front to have another strong game against Nebraska. The NU crowd will be a factor, but look for the Cornhuskers to have a costly fourth-quarter turnover that allows KU to end the 40-year drought in Lincoln.
More like this story on KUsports.com