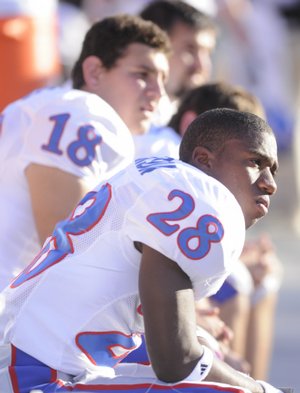 Audio clips
2008 Nov. 4 KU football
Two weeks ago, when Kansas University defensive coordinator Clint Bowen tracked down true freshman receiver Daymond Patterson and told him about this idea he had - namely, to move the 5-foot-9, 175-pound speedster to cornerback in mid-season - Patterson wasn't exactly expecting it.
Up to that point, he had played strictly on the offensive side of the ball, quickly making a name for himself as one of the team's most promising young receivers. Against Louisiana Tech on Sept. 6, he caught eight passes for 130 yards and two touchdowns, and although his production had dipped with the return of injured receiver Dexton Fields, there was no reason to figure he would do anything but continue soaking up as much as possible before taking on a more prominent role in the offense next season.
Now here was Bowen, pitching the idea of switching to a position he hadn't played since high school, when he was a two-way player at North Mesquite (Texas) High.
It wasn't exactly a foolproof move - borne more out of necessity than anything - and Kansas coach Mark Mangino himself admitted that an abrupt mid-season switch from offense to defense, especially for a true freshman, isn't the easiest of transitions.
But in just two games at cornerback, Patterson has done enough to earn the confidence of a coaching staff that has been pleasantly surprised with the youngster's progress. In his first career game on defense, Patterson did enough to earn himself a trial start at right cornerback the following week. And after his second game, a 52-21 victory over Kansas State in which he recorded a career-high five tackles, he was named the likely starter for the rest of the season.
"He has what it takes," Mangino said. "He wouldn't do it if we didn't think he could succeed at it. He's handled it well. He wanted to be out on the field.
"He kind of looks like a natural out there."
Drawing comparisons
From the moment Patterson stepped onto the field as a defensive back this season, the comparisons to former Kansas standouts Charles Gordon and Aqib Talib have been numerous.
In earning the starting cornerback spot over incumbent Chris Harris, Patterson has been inducted into a rare Kansas football fraternity: players with the ability to play, successfully, on either side of the football.
Much like Patterson, Gordon emerged early in his career as a promising receiver, setting freshman school records for receptions (57) and yards (769) in a season, as well as receptions in a game (9). Talib took a different route, starring at cornerback during his first two seasons before eventually being utilized as a receiver and punt returner in his junior season with the Jayhawks.
Both proved they were able to handle a two-way workload and are now playing on Sundays - Gordon as a member of the Minnesota Vikings and Talib with the Tampa Bay Buccaneers.
It is perhaps telling, then, that Kansas' coaches don't shy away from comparisons between Patterson and Gordon.
"There are similarities, there's no question," Mangino said. "And maybe that's what led me to (switch Patterson)."
Kansas offensive coordinator Ed Warinner offered a similar statement, pointing out that the number of players that can successfully play both offense and defense is small.
"It takes a special guy," Warinner said. "Not everybody can do that. ... (Patterson) has got some of those traits. Time will tell. Charles did it over an extended period. But (Daymond) definitely has that change of direction, that expressiveness. And he might be flat-out - in a (40-yard dash) - faster."
A sign of the times?
Patterson's position switch has raised an interesting question: With offenses in the Big 12 regularly making their defensive counterparts look two steps behind, does Patterson's situation represent a possible clue - however small - of where college defenses might be headed?
While Kansas' situation was one based out of necessity - Mangino felt a need to shake up a secondary that had struggled mightily throughout the early portion of the team's schedule - it's not hard to imagine a time in college football when promising offensive players are used on defense in an effort to close the gap on college offenses.
With the exception of some minor shake-ups - Oklahoma safety Nic Harris was moved to linebacker - major position changes in the Big 12 have been scant this season, and some coaches believe it would be difficult to justify moving an offensive standout to defense, or vice versa.
"That's a pretty tough thing, because if a guy is having a lot of success on one side of the ball, you'd be pretty hesitant to put him on the other side of the ball," Baylor coach Art Briles said. "You might see that in some circumstances where guys are spot-playing, or if they're not one of the top one or two receivers, and maybe have a chance to be a dominant player defensively."
"But I don't think you're going to see (Missouri standout receiver) Jeremy Maclin playing defensive back any time soon."
What isn't so hard to imagine, however, is a change in the way defensive players are recruited. According to multiple coaches, the emergence of the spread already has changed the way they approach defensive recruiting. Figuring out a way to stop the spread, or at least slow it, has become Objective No. 1 for most of the league's defensive coordinators. That means finding players with the tools that work best against the air-it-out world of today's Big 12 conference: speedy cornerbacks, like Patterson, to handle speedy receivers, and fleet defensive ends to put pressure on increasingly comfortable-in-the-pocket quarterbacks.
The idea of altering the way teams recruit players based on what they're up against at a particular time is far from ground-breaking. Current Texas A&M; coach Mike Sherman, who spent 11 years as a coach, general manager and vice president with the Green Bay Packers, Seattle Seahawks and Houston Texans, said recently that his professional teams often used the same approach when drafting potential defensive players.
"In the NFC at the time, all the receivers were big, big receivers," says Sherman, in his first season with the Aggies. "So we always tried to look for tall corners, lengthy corners. They weren't the fastest receivers in the world, but they had great length and size, and so you didn't want your itty-bitty corners trying to cover those guys."
As Kansas' defensive coordinator puts it, in summing up the plight of he and his defensive brethren, "The way that teams are throwing the ball, and the caliber of receivers in this league, there are some fast people running routes. And we need some fast people to cover them."
A corner for now
The rest of the season is pretty much set for Patterson, who, barring a decrease in production, will start at cornerback in the team's remaining games.
What will happen next year, however, is less certain. Senior receiver Dexton Fields, the player Patterson backs up on offense, will be gone, and the team's newest recruiting class will feature multiple defensive backs, including four-star recruit Prinz Kande, a defensive back out of Trinity High in Texas.
Patterson already has said he wants to play both offense and defense in the future, and Kansas' coaches insist they aren't necessarily against him doing so, although they're not exactly rushing to guarantee he will, either. Mangino said that he has had a short discussion with Patterson on the matter of playing both ways after this season, but he and his staff would "go over that bridge when we get to it."
In the meantime, Patterson will continue to learn the intricacies of the Jayhawks' defensive system. In the final three weeks of the regular season, he'll be going against two of the country's most potent passing offenses in Texas and Missouri, with this week's game against host Nebraska also figuring to be a substantial test.
For his part, Patterson says he's learning quickly. In his first collegiate game as a defensive back, Patterson had the unfortunate task of lining up against the nation's top-ranked pass offense, a Texas Tech team that happened to feature two legitimate Heisman Trophy candidates in quarterback in Graham Harrell and receiver Michael Crabtree.
"It was a good experience going against them and being able to hold my own and do pretty good," Patterson said. "Because if you can do good against Tech, you can do good against any team."
And having gained some footing during practice over the course of the past few weeks, he's growing increasingly comfortable with his new post.
"It's not as simple as it sounds," he says of the switch. "But when you've got good coaches, good teammates trying to help you on all the techniques, on what you've got to read, that makes it a lot easier."
More like this story on KUsports.com