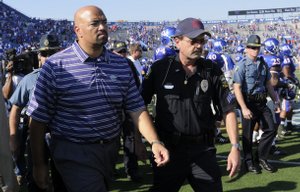 What Keegan says
If it's my hire and TCU's Gary Patterson says no thank you, which he likely will, I know where I turn next.
Not back to Bill Snyder. He had a great run, but things tailed off at the end.
Not former Snyder co-defensive coordinator Bret Bielema, Wisconsin's coach who went 17-1 to start his tenure in Madison and has gone 8-9 since.
Not even Todd Graham, who did an impressive job in his first year at Rice before returning to Tulsa, where he had been an assistant coach. So far, he's 18-5 at Tulsa and would be my second choice at K-State.
I would try to convince Turner Gill, former Nebraska quarterback, Heisman Trophy finalist and long-time assistant coach, to return to the Big 12.
In just his third season at the University of Buffalo, Gill already has turned one of the nation's losingest programs into a winner.
In the past two seasons, Gill has won 10 games and counting, quite an accomplishment at a school that had won 10 games in its first seven seasons as a Division I-A program.
A native of Fort Worth, Texas, Gill has a deep pool of Big 12 recruiting contacts, a winning personality and a gifted offensive football mind.
- Tom Keegan
Kansas City, Mo. — Kansas State coach Ron Prince was unable to rebuild the Wildcats into the Big 12 contender they were under his predecessor.
Now after 2 1â2 seasons in Manhattan, Prince is on his way out and K-State is in the market for another coach who can do what Bill Snyder did in the Little Apple.
Kansas State athletic director Bob Krause fired Prince, effective at the end of the season, on Wednesday, just three months after signing the coach to a five-year contract.
Prince took over for Snyder in 2006, his first head coaching job after 14 years at six different schools. He never lived up to the standard Snyder set, going 16-18, including 4-5 this year.
"It's a decision that we arrived at in the best interest in the institution and the program," Krause said during a conference call. "All along I've looked at understanding we're in a performance-based profession, and in the final analysis, we're at a point that while our goal remains the same, a change is necessary."
Snyder was a consistent winner in 17 years as Kansas State's coach, turning a team that won one game from 1987-89 into one that racked up at least 10 victories seven times, and reached bowl games 12 straight seasons from 1992-2003.
He retired after a 5-6 season in 2006, handing the program over to Prince, Virginia's relatively unknown offensive coordinator the previous three years.
Prince never got the Wildcats going in the right direction.
Kansas State was 7-6 and went to a bowl game in his first season, but the program has regressed since, going 5-7 last season and losing four of five Big 12 games this year.
The Wildcats have lost three straight headed into Saturday's game against Missouri, including a 52-21 setback to Kansas last weekend that dropped Prince to 0-3 against Kansas State's in-state rival.
"The reality is that all coaches want to compete and win championships," Prince said. "That's why we came here and that's why we do what we do, and ultimately educate these kids along the way. We're disappointed, but we're in a position to accept the decision that's been made."
In August, Kansas State signed Prince to a contract that runs through 2012, paying him a base salary of $143,00 with a total guaranteed package of $1.1 million. The deal included a larger buyout, meaning Prince will receive $1.2 million, along with a prorated longevity bonus of about $150,000.
The midweek announcement, during preparation for a game, was unusual, but not the midseason move. Clemson, Washington, Tennessee and Toledo have already started looking for new leaders after announcing coaching moves earlier this season. Earlier this week, the Volunteers announced Phillip Fulmer won't be back next season.
"There's a plan in place and there's some consultation I want to have with some individuals," Krause said. "It's coming down to the point where you have a list of folks you think have the ability to take the program and accomplish the things we want to accomplish."
Prince's teams never had trouble generating offense, with a wide-open attack and strong-armed quarterback Josh Freeman piling up yards and points.
Defense has been a problem, though.
Kansas State had one of the nation's worst last season, allowing 30.8 points and 400.6 yards per game, and the Wildcats have been even worse this year. They rank 107th in scoring defense at 33.7 points per game and 108th in total defense at 444.67 yards per game.
Kansas State allowed 110 points in its past two games, more than 50 three times this season.
"Our objective in coming to Kansas State in December of 2005 was to establish a program that was built to last, a team that would consistently compete for championships," Prince said. "Today, we ran out of time to accomplish that."
More like this story on KUsports.com