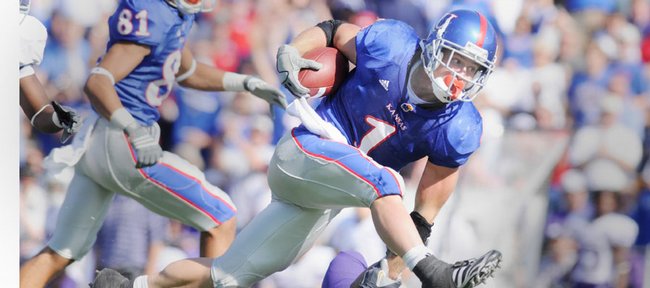 Thanks largely to the marvels of modern technology, Jake Sharp did not have to wait long Saturday afternoon before the inevitable messages began to make their way, via high-frequency radio waves, into the junior running back's cell phone.
By the time Sharp had made his way into Mrkonic Auditorium following the Jayhawks' 52-21 victory over visiting Kansas State, he had accumulated close to 30 text messages congratulating him on his career day against a program he'd grown up watching.
"Phone's blowing up," said Sharp, as he happily lounged in a chair surrounded by reporters.
So, too, is his status in the college football world. Saturday, Sharp rushed for a career-high 181 yards and four touchdowns, adding five catches for 76 yards in a performance unlike any he has had since rolling up a state-record 63 touchdowns as a senior at Salina's Central High.
Said Kansas coach Mark Mangino, whose team improved to 6-3 (3-2 in the Big 12) and became bowl-eligible for the fourth straight season, "He's going to be walking around Salina this summer with his chest out."
In a breakout performance by the team's run game - KU's 280 rushing yards were its most since Oct. 6, 2001 - the Jayhawks rebounded from last week's disastrous 63-21 loss to Texas Tech in convincing fashion to keep pace in the race for their first Big 12 North title in school history.
Using an ugly two-game losing streak - and a good-deal of pre-game trash talk - as motivation, Kansas pieced together its most complete game of the season in winning its third straight game in the annual Sunflower Showdown.
The offensive line opened Buick-sized holes. The special-teams unit did everything asked of it. Even the team's much-maligned defense came up big after rough outings against Oklahoma and Texas Tech.
Despite growing concerns about whether Kansas had the ability to slow opposing offenses down - along with similar concerns about whether a significantly altered secondary could survive in a conference packed with potent aerial attacks - the Jayhawks played arguably their best defensive game of the season.
For the third straight year, K-State quarterback Josh Freeman was rendered essentially useless by the Jayhawks' defense. The 6-foot-6, 250-pound junior threw three interceptions and fumbled on a quarterback keeper at the KU one-yard line, giving him 13 turnovers in three career games against Kansas.
Afterwards, there was no attempt by K-State coach Ron Prince to put a positive gloss on a demoralizing conference loss.
"This is a thorough and complete beating and defeat, there is no question about it," said Prince, whose job security likely took a significant hit Saturday. "I'm not one that's going to try to mince words and try to spin anything. ... This game does mean a tremendous amount to the people of this state, and we let them down."
In the end, Kansas State's first offensive possession provided an ominous precursor to what was to come. Wildcats kick returner Deon Murphy, who earlier in the week guaranteed he'd return a kick or punt for a touchdown, received a Kansas kickoff and then handed off to teammate Brandon Banks on a broken reverse that started the Wildcats' drive at their own eight-yard line.
Four minutes later, following Sharp's second touchdown run of the day, the Wildcats found themselves in a 14-0 hole, and three minutes after that, a 47-yard touchdown run by Sharp pushed the Kansas lead to 21-0.
And the rout, as they say, was on.
Kansas quarterback Todd Reesing attempted a season-low 23 passes, finishing with 162 yards, a touchdown and interception, and linebacker James Holt recorded two sacks, forced two fumbles and recovered another to lead the defense.
The afternoon, though, belonged to Sharp. His yardage total easily surpassed his previous career-best of 127, and he gave the impression he was quite content to bask in the glow of such a performance against a team that showed no interest in the former prep-school legend until he already had committed to play for Mangino at Kansas.
At the same time, however, Sharp wasn't so sure the chest-puffing expedition through Salina this summer would come to fruition.
"Go home?" he asked in mock disgust. "Ha. We get maybe two weeks during the year to go home."
More like this story on KUsports.com