Feature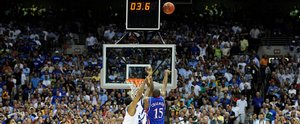 The Lawrence Journal-World looks back at the men's basketball season of 2007-2008, in which the Jayhawks claimed the NCAA championship title for the first time in 20 years and its third ever.
You may not have worked it off yet, but those series of March Madness celebrations are beginning to pay off for the city's coffers.
Sales tax collections for the late March and early April period - the heart of the Jayhawk's National Championship run - were more than $160,000 higher, or about 9 percent greater, than they were a year ago, city leaders recently learned.
How much of that boost is directly attributable to the mass quantities of T-shirts, snacks, beverages and other party supplies isn't known, but leaders said there's no doubt the celebration added to the city's finances.
"It's definitely more than it would have been otherwise," said Ed Mullins, the city's director of finance who oversees the sales tax figures.
Bar and restaurant owners in the city are happy to take credit for some of the increased business. Doug Holiday, owner of Bigg's BBQ, said his south Lawrence restaurant had record-setting sales during the tournament.
"Our sales were over last year's total by a lot," Holiday said. "And the best news is: I think it is going to carry over through the summer. I think all this sports success has really put us on the map. I think there are people who want to come back and check out Lawrence again."
An even clearer sign of how much the National Championship celebrations added to the city's economy may come next month. That's when the city is expected to receive its drink tax check, which is the city's share of taxes collected on alcohol sold at bars and restaurants.
For the time being, though, the sales tax collections are enough to keep city leaders smiling. The most recent sales tax check continues a surprisingly strong year for the city's sales tax collections. For the first five reporting periods of the year, the city's collections are up $524,000 - or 5.9 percent - compared to the same period a year ago.
Questions remain, though, about whether such growth will continue.
"I still think it will be difficult to maintain that type of increase with the pressure that is being put on consumers," Mullins said.
Mullins said he continues to be concerned about how consumers will react to rising fuel prices and a weakening real estate market that has nearly ended the trend of using home equity to make purchases. Mullins said recent news about auto manufacturers reducing their outlook for sales also could be bad news for sales tax collections.
"I always say you have to buy a lot of T-shirts to make up for one less vehicle being sold," Mullins said.
But some retailers are holding out hope. Holiday said he thinks Lawrence entertainment-oriented businesses may see larger sales as the result of the economic slowdown. He said people may be less willing to travel, which means they may spend more of their entertainment dollars locally.
"Maybe they'll go to Clinton Lake instead of the Lake of the Ozarks or something like that," Holiday said. "I think they'll still do something. You can't just go hide under a rock. You've still got to have some fun."