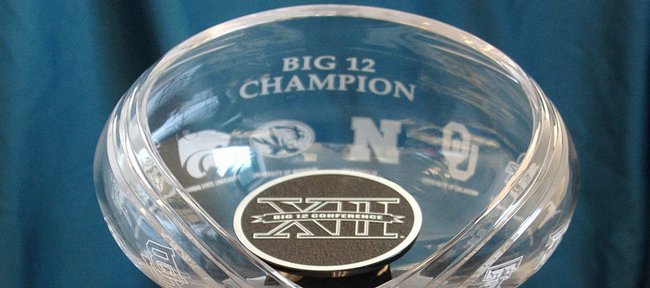 Overall
183 - Texas A&M;
182 - Texas
146 - Nebraska
139 - Oklahoma
132 - Missouri
123 - Oklahoma State
116.5 - Texas Tech
110.5 - Kansas
95 - Baylor
89.5 - Iowa State
75.5 - Kansas State
78 - Colorado
Despite banner years in football and men's basketball, Kansas University's overall athletic program ranked in the Big 12 Conference's second division during 2007-08.
Using a formula that awards 12 points for a league championship, 11 points for second place, 10 points for third and so on, KU's combined point total ranked eighth in the league.
However, in women's sports, the Jayhawks climbed into the first division at sixth place fueled by third-place finishes in soccer and indoor track and fourth places in swimming and outdoor track.
The KU men, despite sharing league titles in football and basketball, wound up tied for eighth place with Baylor. The next best placing for a KU men's team was sixth in golf.
Texas and Texas A&M; dominated the Big 12 in 2007-08.
A&M; won six league championships - five women, one men - to edge Texas, which won or shared four conference crowns, in the overall scoring, 183-182. Nebraska was third at 146.
In men's rankings, Texas topped A&M;, 95 to 81.5, with Oklahoma State third at 67. Kansas and Baylor had 47.5 points apiece in eighth place.
In women's compilations, A&M; won with 101.5 points while Texas squeezed Nebraska, 87 to 86.5, for second place. KU was sixth with 63 points.
The rankings system rewards schools for performance as well as participation because no points are awarded for an unsponsored varsity sport.
The Big 12 Conference conducts 21 championships - 11 for women and 10 for men. Of those 21 sports, Nebraska and Missouri field varsity teams in all but one. Texas, Texas A&M; and Oklahoma are next with 19 sports apiece. Iowa State has 18 while Kansas, Baylor, Texas Tech and Oklahoma State sponsor 17 each.
KU also funds women's rowing, but the Big 12 does not stage varsity competition in that sport.
Kansas State and Colorado bring up the rear with only 14 sports apiece, and it shows in the final rankings. K-State finished 11th in the overall listing with 78.5 points, barely edging Colorado, which ended with 78.
The rankings are based on regular-season records or Big 12 championship events. They do not include the league's postseason tourneys in soccer, baseball, softball and men's and women's basketball or the league championship football game.
Men
95 - Texas
81.5 - Texas A&M;
67 - Oklahoma State
63.5 - Missouri
61.5 - Oklahoma
59.5 - Nebraska
57.5 - Texas Tech
47.5 - Kansas
47.5 - Baylor
40.5 - Colorado
35.5 - Kansas State
33.5 - Iowa State
Women
101.5 - Texas A&M;
87 - Texas
86.5 - Nebraska
77.5 - Oklahoma
68.5 - Missouri
63 - Kansas
59 - Texas Tech
59 - Iowa State
57.5 - Baylor
56 - Oklahoma State
43 - Kansas State
37.5 - Colorado
More like this story on KUsports.com