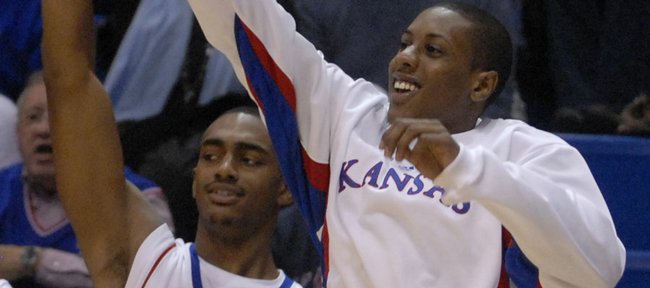 Kansas University's Darrell Arthur and Mario Chalmers - who declined invitations to compete at this week's NBA pre-draft camp in Orlando, Fla. - have until June 16 to decide whether to keep their names in the draft or return to school.
Both appear to be leaning strongly toward playing for pay with Decision Day about three weeks away.
"I think 'Shady' (Arthur) is going to be gone, and I think there's a great chance Mario is going to be gone, but not as great (a chance) as Shady," KU coach Bill Self said Tuesday.
"I already know one of them, OK?" Self said, referring to the 6-foot-9 Arthur's decision almost certainly to stay in the draft. "Although it's not done, there's no reason to talk Shady into coming back. The more I hear, I think he's going to be a lottery pick (top 14 first round). With Mario : there's no talking him into coming back either. He should do what's best for him.
"I don't know if you should assume that," Self added of both leaving KU, "but I don't know if you should hold your breath about anything."
Like Arthur and Chalmers, Brandon Rush (who has signed with an agent and definitely will be in the June 26 draft) decided not to compete in Orlando. All three believe they have been seen enough by NBA scouts not to risk having a sub-par series of camp games.
The three instead will work out for various NBA teams in coming weeks.
KU grads Darnell Jackson, Sasha Kaun and Russell Robinson accepted invitations to participate in drills and pickup games at the Orlando camp.
"I think, personally, Shady and Brandon did not need to play. Of course Russell, Darnell and Sasha did," Self said of three Jayhawks trying to play their way into the draft. "Mario and his family made the decision that it was certainly not in his interests to play as well. I think you can look at it in a couple of different ways. That's what they wanted to do."
Arthur was the only Jayhawk to be invited to undergo physical exams in Orlando. Chalmers and Rush were not among the 15 players on the physical-only invitation list. So Rush continues to work out with trainer Tim Grover at ATTACK Athletics in Chicago and Chalmers at Ed Schilling's Champions Academy in Indianapolis.
"I would say the chances are great both will stay in the draft. I think Shady is going to stay in. I've said that all along, unless something negative happens," Self said referring to injury. "I believe Mario : they (family members) say they are still gathering information, but the information they gather will be based on what people say during the five or six workouts he has with teams (before June 16)."
More like this story on KUsports.com