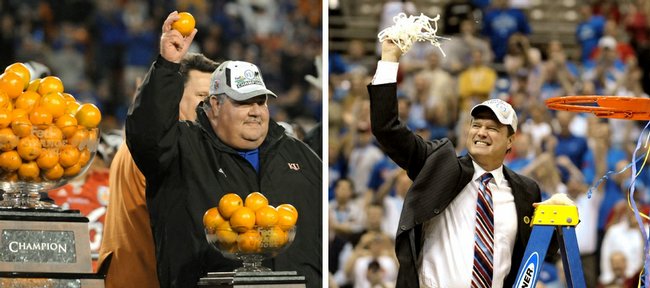 I wasn't there for Bob Hemenway's commencement address, but I know many folks who heard it weren't pleased with the Kansas University chancellor.
Hemenway, they felt, put too much emphasis on the Jayhawks' football and men's basketball accomplishments and not enough on academics.
I can't fault Hemenway, though. Sure, the mission of all universities is academics, but nothing enhances the perception of a university more than its athletic prowess, and perception is a big part of Hemenway's job.
Contemporary perception is television. You won't ever find a university's academic achievements on the tube, but college football and men's basketball :? In season, they're on TV more often than cooking shows.
Kansas University is trumpeting 2007-08 as the greatest sports season in its history. Never before had the Jayhawks won the NCAA men's basketball championship and a major bowl game in the same school year.
Then again, there have been only two other school years when that was even possible - 1951-52 and 1987-88.
The Jayhawks' 1951 football team compiled an 8-2 record, and would have qualified for a major bowl in this day and age, but that was before television made bowls a must-have for every major winter tourist destination.
Bowl games had proliferated by the late 1980s, but in '87 Kansas fielded one of the worst football teams in its history.
Those Jayhawks finished with a 1-9-1 record with the lone victory a 16-15 squeaker over NCAA Div. I-AA Southern Illinois.
So we're talking about a narrow window. Still, when a school's two showcase sports go over the top, it is a wise man who beats the drum as long and as loud as he can because each passing day leads to the inevitable: "What have you done for us lately?"
Was this really the greatest sports year in KU history?
Not in big-picture terms.
In fact, you could say football and men's basketball were blinders that blocked out the fact that Kansas remains non-competitive among its Big 12 Conference brethren in many sports.
In baseball, for example, KU suffered the ignominy of being one of only two schools that failed to qualify for the league tournament. And, in women's basketball, the Jayhawks tied for 10th place.
I mention baseball and women's basketball because those sports - at least in my opinion - rank next on the public-interest chart.
Granted they're a distant 3-4 behind football and men's basketball, but they're funded well enough to generate high expectations.
If you calculate success based on the top four sports instead of the top two, then 2007-08 takes a back seat to 1992-93.
During that school year, football won a bowl game, men's basketball went to the Final Four, baseball made its only trip to the College World Series and women's basketball compiled a 21-9 record.
Ah, yes, that was a very good year indeed. But so was the one that just ended. The only difference is how they accentuate the positive and eliminate the negative.
More like this story on KUsports.com