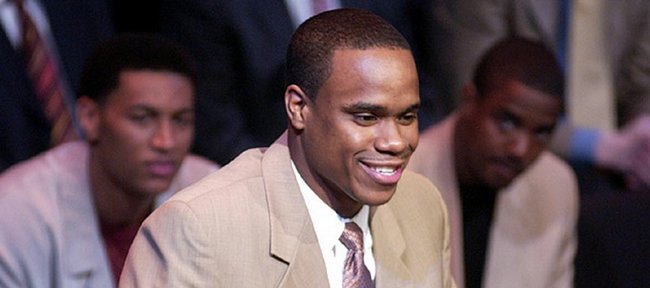 Michael Lee answered the phone on the first ring Monday night in his Gardner-Webb University assistant men's basketball coach's office.
"I was wondering who'd be calling me at 7:30 on Memorial Day," said the hard-working Lee, who - in just his eighth day on the job - has not yet met a lot of people in the town of Boiling Springs, N.C. - Pop. 3,997.
Lee, who spent four years as a player and one as a graduate assistant at Kansas University and also traveled the world one year as a member of the Harlem Globetrotters, likes what he's seen of his new digs just 45 miles west of Charlotte and a whopping 2,249 miles from his hometown of Portland, Ore.
"I'm in Tar Heel country now. I understand that concept," joked Lee, who soon will be wearing a 2008 NCAA championship ring to forever proclaim his allegiance to the Jayhawks, who beat North Carolina in the 2008 national semifinals.
"It's a smaller town. Everybody is real nice. I'm excited to be here, but to be honest at this point the excitement is over. I've been working the past week. There's a lot of work to do."
Just 25-years-old, Lee feels he's prepared for his full-time assistant's job after working the 2007-08 season on Bill Self's KU staff where he helped in day-to-day operations, scouting and travel.
"Coach Scruggs (Rick, 14th year) gave me a list of things I'm responsible for," Lee said. "I'll be on the road recruiting. I'll do scouting reports on opponents, full scouting reports. I'll be responsible for the players' study hall, track the progress of players, work with the managers. I'll be involved in mailouts, unofficial (recruiting) visits, official visits, everything. It's a learning process for me."
Lee says he's grateful to Self not only for his two years as a player under the fifth-year Jayhawk coach and one year on his staff, but for Self's input in the job application process.
"Coach Self mentioned it (opening) to me. He said, 'Mike, what do you think?''' Lee said. "I said, 'I think it's a good opportunity, whether I get the job or not, to go through the process of contacting the coach, filling out my resume, maybe even interviewing.'
"I sent in my resume, they called me in and I interviewed well," Lee added. "I didn't have much coaching experience, but had playing experience at Kansas. Winning the national championship didn't hurt. Coach Self spoke on my behalf. Coach Williams (Roy, North Carolina who coached Lee two years at KU) spoke on my behalf as a reference. They spoke highly of me and I got the job."
Scruggs is tickled to have Lee on the staff as the Bulldogs begin their first season moving from the Atlantic Sun Conference to the Big South.
"Obviously, this is a young man who had the unique honor of playing and learning under two of the top coaches in the college game in Roy Williams and Bill Self, so it came as no surprise that Michael's base of knowledge was so strong," Scruggs said. "He comes highly recommended as a coach and person, and we feel he can have a very strong influence on our student-athletes and basketball program."
Lee - he played on two Final Four teams at KU (2002, 03) - and was part of a national title in his only year on the Jayhawk staff, says naturally he'll miss Lawrence.
"There is no place like Kansas and Kansas basketball," Lee said. "Coming back this past year and being a graduate assistant ... a lot of people helped me out. They welcomed me back. People had no problems helping me, the whole athletic department and whole community. I thank everybody for that."
He said he can sense KU's first national title since 1988 has brought KU's basketball alumni closer together. Since the title victory over Memphis, he's either spoken with, or traded emails with Nick Collison, Jeff Hawkins, Kirk Hinrich, Keith Langford, Bryant Nash and his closest friend, ex-Jayhawk point guard Aaron Miles.
"Everybody is happy," Lee said. "Aaron and I talked about it a bit. It (national title) is something we wanted so bad (as players). It meant a lot to us as players. Getting close and not having one put it in perspective for me on how hard it is to attain that. I don't think the guys ('07-08 Jayhawks) even realize it yet. What they achieved is no minor feat. They did something big, real big. It's something all players want so bad. To see them get it ... it's amazing. I'm very happy."
Lee believes the Jayhawks will field an exciting team next season even with seven newcomers coming aboard to replace a batch of veterans.
"It will be a year where there's definitely a lot of teaching," Lee said. "We can always have a good year. Coach Self will always bring in the top talent in the nation. I just read it's the No. 2 class in the nation. The talent is there. Coach Self is a teacher. Put talent with a great teacher and we'll be right there."
He's also optimistic about his new school - Gardner-Webb.
"It should be a fun year next year, especially moving to the Big South Conference," Lee said. "It's going to be fun getting familiar with our players this summer and the fall."
As to how long he wants to be an assistant ... "I don't know. I guess realistically I could be an assistant for the next five to 10 years. If I get great experience under my belt, hopefully I will someday be a head coach."
And as far as his world travels ... they are on hold for just a bit.
"I've not been everyplace I want to go. I've not been to South America yet," he said.
More like this story on KUsports.com