Feature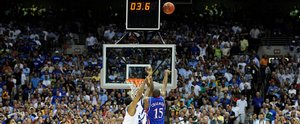 The Lawrence Journal-World looks back at the men's basketball season of 2007-2008, in which the Jayhawks claimed the NCAA championship title for the first time in 20 years and its third ever.
Kansas University's seven-man basketball recruiting class of 2008 has been ranked No. 2 in the country by Rivals.com.
Rivals on Friday tapped UCLA's class No. 1 following the Bruins' end-of-the-week commitment from Dallas South Oak Cliff High center J'Mison Morgan.
KU's class of Marcus and Markieff Morris, Travis Releford, Tyshawn Taylor, Quintrell Thomas, Mario Little and Tyrone Appleton was followed, in order, by Wake Forest, Louisville, Memphis, Ohio State, UConn, Florida State, Florida, Tennessee, North Carolina, Georgetown, Alabama, Arizona, Vanderbilt, Arkansas, Oregon, West Virginia, Washington, USC, Kentucky, Michigan State, Minnesota, Oklahoma, Xavier, Nevada, Duke, Georgia, Washington State and Cincinnati.
Rivals tapped KU's class the best in the Big 12, followed by Oklahoma, Texas A&M;, Missouri, Iowa State, Colorado, Baylor, Texas Tech, Texas, Oklahoma State, Nebraska and Kansas State.
"Kansas might not have a marquee five-star recruit, but the Jayhawks are reloading after a national championship run with an impressively deep class and intriguingly diverse class," Rivals.com analyst Jerry Meyer said.
Marcus Morris is ranked No. 29 overall and brother Markieff 50, followed by Releford (70), Taylor (77) and Thomas (150). Little is the No. 1-rated juco player and Appleton No. 3.
UCLA's class consists of No. 2-rated Jrue Holiday, followed by Morgan (25), Jerime Anderson (37), Drew Gordon (46) and Malcolm Lee (48).
ESPN.com, by the way, rated KU's class fifth nationally behind UCLA, Florida, Ohio State and West Virginia. KU signee Thomas is ranked 62nd, followed by Releford (66) and Taylor (110). Juco and prep school players were not included in the ESPN rankings.
¢ Bobo finally commits: "Bobo" Morgan said Friday he chose UCLA over KU and Memphis. He signed with LSU last November but recently asked out of his letter-of-intent in the wake of coach John Brady's firing and Trent Johnson's hiring.
"I wanted to make my own decision. I wanted to go somewhere that I can make a name for myself and not have to follow in (Darrell) Arthur's footsteps," Morgan told texashoops.com. He was referring to former South Oak Cliff High teammate Darrell Arthur of KU.
More like this story on KUsports.com