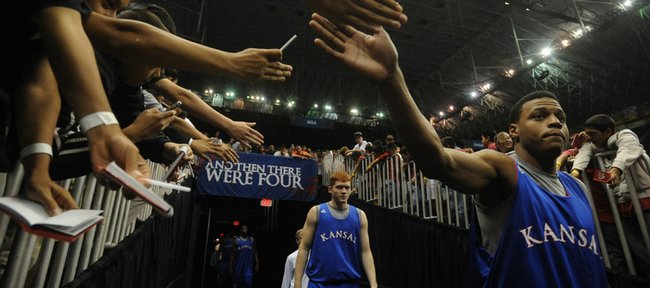 Kansas University's Brandon Rush, Kansas State's Bill Walker and several other college standouts have been working out in Chicago the past several weeks under the direction of Tim Grover, who is regarded as one of the top athletic trainers in the world.
Grover - he tutored former KU player Julian Wright in weeks preceding the 2007 NBA Draft - has famous clients in Michael Jordan, Charles Barkley, Hakeem Olajuwon, Scottie Pippen, Dwyane Wade, Juwan Howard as well as baseball great Alex Rodriguez.
Rush had an impressive Wednesday workout under the watchful eyes of ESPN draft analyst Chad Ford.
"Rush has been working nonstop for several weeks and looks as though he finally has regained his explosiveness and lateral quickness (following last spring's ACL surgery)," Ford said in his column at ESPN.com.
Ford applauded Rush's "beautiful jump shot, smooth demeanor and his above-average size for his position. I saw him work out with Timberwolves' forward Antoine Walker. Rush shot about 80 to 90 percent from the field. He can hit his shot from just about anywhere."
Ford believes Rush will be tapped No. 22 in the first round of the June 26 draft by Orlando. Ford also said he could see Rush going as high as No. 15 to Phoenix.
Ford, who also observed Memphis' Chris Douglas-Roberts and USC's O.J. Mayo at Grover's state-of-the art ATTACK Athletics Center on the Windy City's West side, said K-State forward Walker has lost 30 pounds since the end of the 2007-08 season.
Walker - who also impressed Ford - says he'll remain in the draft if he believes he's a first-round pick.
¢
Bobo circus continues: J'Mison "Bobo" Morgan, who held a news conference on Nov. 2, 2007 to announce his desire to attend LSU, canceled his Thursday presser in which he was expected to commit to UCLA.
Morgan's mom, Bianca, told the Los Angeles Daily News the re-scheduled news conference was "definitely" set for today. Asked by reporter Brian Dohn if UCLA was the school "Bobo" would attend, she said, "Yes, definitely."
She recently listed UCLA, KU and Cincinnati as finalists for "Bobo," who attends Dallas South Oak Cliff High.
¢
Chip off old block: Santa Clara basketball coach Kerry Keating, who is the son of KU senior associate AD/hoops schedule maker Larry Keating, apparently has learned some tricks of the scheduling trade from his papa.
ESPN's Andy Katz says the younger Keating is putting together a format for 2009-10 to guarantee Santa Clara two home and two road games with four teams from four other conferences.
Katz says Keating will get teams from the Mountain West, Big Sky, Big West and WAC. The five coaches (Keating is from the West Coast Conference) would agree to play two home games and two road games that would be arbitrarily drawn. No one would have to return the game the following season. Katz reports each team could lock in two home games, important to mid-major schools.
¢
Fran loves Arthur: ESPN's Fran Fraschilla is another analyst who expects KU's Darrell Arthur to be a sure lottery pick in the June 26 draft. Fraschilla says the 6-foot-9 Arthur will be tapped No. 9 overall by Charlotte.
"He runs the court as well as any big man in college basketball," Fraschilla said in his column on ESPN.com. "Like all of Kansas' top seven, he checked his ego at the door and only played 25 minutes a game for the national champs. With added strength, he's a young Horace Grant."
Arthur has not yet hired an agent, but is considered a lock to remain in the draft.
¢
Pre-draft camp: Jeff Goodman of Foxsports.com says six Jayhawks will attend next week's NBA pre-draft camp in Orlando, Fla. Arthur, Rush and Mario Chalmers are expected to attend only for physicals and interviews with NBA executives. Darnell Jackson, Sasha Kaun and Russell Robinson are expected to play in camp games in an attempt to work their way into the second round of the draft.
¢
ISU stung: Iowa State coach Greg McDermott is reeling from the recent decision of Wesley Johnson to transfer to a yet-to-be-determined school.
McDermott is upset Johnson, one of the Big 12's best players, has said he decided long ago to not return to ISU, yet informed McDermott of his decision just a week ago.
McDermott is not sure if he'll grant a release to Johnson.
"If this had happened in mid-March, as much as I wouldn't have wanted it to happen, we would have had a chance to replace him," McDermott told the Ames Tribune. "It's difficult to do now. We'll factor all that in before we make our decision."
If ISU does not release Johnson, he will have to spend one year as a walk-on before accepting a scholarship elsewhere. Without a release, Johnson cannot contact coaches from other schools.
More like this story on KUsports.com