Feature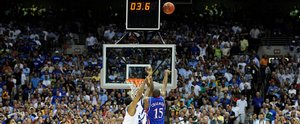 The Lawrence Journal-World looks back at the men's basketball season of 2007-2008, in which the Jayhawks claimed the NCAA championship title for the first time in 20 years and its third ever.
Journal-World Web sites LJWorld.com and KUsports.com have given fans of Kansas University a place to go from now until the end of time to relive the 2007-08 national-championship season.
Photographs, game stories, columns, blogs, reader comments, video and more from every game are archived under the title "Self-Made Champions: The 2008 Season in Retrospect."
The content can be accessed at the following link: http://www2.ljworld.com/ news/champions2008/
"We just want to give Jayhawk fans an absolutely immersive place to experience everything about the 2008 season, including not only the season and the players, but the incredible reaction in the town," said David Ryan, online editorial projects manager for Mediaphormedia. "And we hope that the 5-year-old boy or girl, who experienced this as a child, will be able to come back as an adult and be able to fully grasp how incredible this season really was."
More like this story on KUsports.com