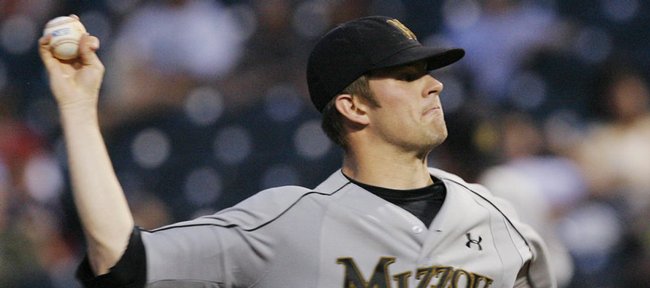 Oklahoma City — Jamie Johnson hit a two-run double with one out in the bottom of the ninth inning, lifting Oklahoma to a 4-3 win against Missouri on Thursday night in the Big 12 Conference baseball tournament.
Oklahoma (34-23-1), the final team to qualify for the eight-team tournament, is 2-0 in pool play with a game remaining against Texas (35-20) on Saturday. Missouri (38-18) is 1-1 in pool play, as is Texas.
Earlier Thursday, Texas remained alive for a potential berth in the tournament's championship game with a 15-9 win over top-seeded Texas A&M; (42-16), which continued its late-season nosedive by losing its eighth straight game.
Missouri ace Aaron Crow held the Sooners in check during his seven-inning stint, allowing six hits and striking out six.
Oklahoma rallied in the ninth against reliever Kyle Gibson (9-2). Aaron Baker singled to right field, and after a sacrifice bunt by Bryant Hernandez, pinch-hitter Spencer Selby reached on an error by Missouri second baseman Greg Folgia, the Tigers' fourth error of the game.
Johnson followed with his double to center field, scoring pinch-runner Doug Buser and Selby. Chase Anderson (5-3) relieved Oklahoma starter Ryan Duke in the fifth and allowed one hit in 41â3 innings of work.
Texas 15, Texas A&M; 9
David Hernandez hit a three-run homer as Texas jumped on Texas A&M; for seven first-inning runs and held on for the win over the Aggies, who were swept at home by Texas last weekend.
Hernandez's shot off Texas A&M; starter Brooks Raley (7-1), along with a two-run triple by Kyle Russell, highlighted the Longhorns' first-inning outburst, during which they had six hits. Texas added three more runs in the second - chasing Raley - and two more in the third to take a 12-0 lead.
Texas A&M; rallied with a six-run sixth inning, but Texas' Brandon Belt answered with a two-run homer in the bottom of the inning. Belt finished 4-for-5 with four RBIs.
All but one Texas starter contributed to the team's total of 17 hits. Nick Fleece led the Aggies, going 2-for-5 with three RBIs, two on a seventh-inning home run.
Texas starter Austin Wood (5-3) allowed seven hits and six runs in 51â3 innings.