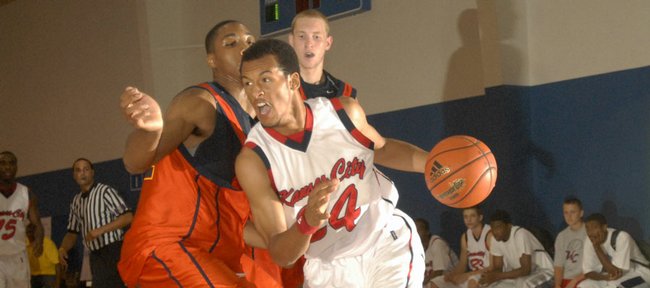 Kansas University freshman-to-be Travis Releford is in Shanghai, China, this week, playing basketball for an Adidas-sponsored high school all-star team.
"Travis has been able to experience some nice things of late," Kansas City Pump N Run coach L.J. Goolsby said of the 6-foot-5 guard out of Bishop Miege High in Roeland Park, who traveled to Germany two months ago with the U.S. Under 18 national team.
"I think it's tremendous. He has been able to do so much in terms of working on fundamental skills," Goolsby added.
He noted Releford - thanks to USA Basketball and Adidas Nations programs - has in the past year worked with former NBA coaches Paul Silas, Lionel Hollins and Ed Schilling.
"He traveled all over the United States last summer. Now there's talk of going to Paris later this summer (with Adidas Nations)," Goolsby said of Releford, who averaged 17.8 points and 6.5 boards in leading the U.S. to a fourth-place finish at the Schweitzer Games in Mannheim, Germany. There's also a chance Releford will be invited to USA Basketball's Under 18 team trials in July in Washington, D.C.
Releford will return to the U.S. on Sunday, gather his belongings and soon move to Lawrence for the start of summer school on June 3.
Releford recently learned he had qualified academically for a full scholarship and immediate eligibility at KU.
"I never had any doubts. He just had to take care of business in the classroom, get his core (scores) up," Goolsby said.
¢
The Big 12 men's basketball coaches, who voted 12-0 Tuesday at the league meetings to reject a proposal to expand the conference schedule from 16 to 18 games, encouraged each other to play tougher nonconference games.
That would increase the league's strength of schedule.
"It doesn't apply to us. (Some) schools feel the guarantee games (against smaller schools that do not require a return trip) are so expensive that they lose money playing the games," KU coach Bill Self said. "There was talk of scheduling smart."
KU has no problem making money on the guarantee games. Allen Fieldhouse, unlike the other schools' home arenas, sells out for all games.
The 2008 meetings were called to order with a special proclamation congratulating Self for leading KU to the 2008 national basketball title.
"It was no big deal. They did do that, and it was great," he said. "Other coaches were complimentary. I do think it (KU title) will help the league, bring attention to the league."
More like this story on KUsports.com