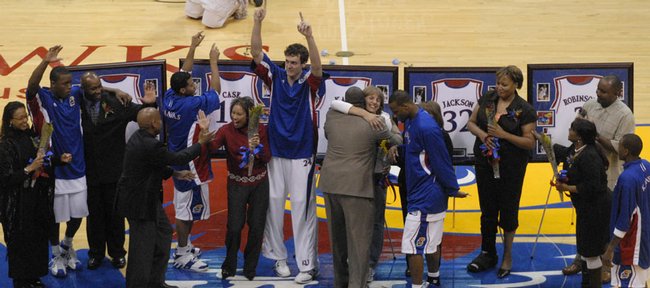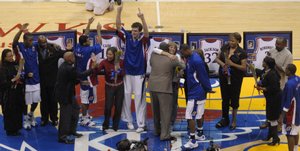 Sasha Kaun, who spoke just a handful of words of English upon arriving in this country seven years ago, will receive a computer-science degree today from Kansas University.
The Tomsk, Russia, native will walk down Campanile Hill in cap and gown with senior teammates Darnell Jackson, Russell Robinson and Rodrick Stewart. The other senior on the Jayhawks' NCAA championship basketball team, guard Jeremy Case, graduated last spring.
"It's what my intention was when I came to the United States when I was 16," the 23-year-old Kaun said. "I always felt I would be able to do it. I knew it'd be tough. I was willing to do anything to achieve my goal."
Kaun, who spent three years at Florida Air Academy in Melbourne, Fla., credits a crucial decision he and his mother, Olga, made the day Sasha enrolled in high school in this country.
"I had completed 10th grade in Russia," Kaun said. "They asked if I wanted to repeat the grade. I said, 'Sure,' because I felt it would be a good experience learning English and also getting to play more basketball in high school. It turned out well for me."
Kaun emerged not only as an outstanding student, as evidenced by his 3.2 grade-point average and KU male scholar-athlete-of-the-year award, but also a quality basketball player.
The 6-foot-11 Kaun, who was first big man off the bench, will try out for Russia's national team in early July. He has been told he has a shot at playing significant minutes for his homeland during the Olympics.
"My agent (Justin Zanik) met with the coach last week. They have only one 'big' coming in. A couple are injured and won't be attending tryouts," Kaun said. "The coach said if I play hard and do what I can do I have a great chance to make it, even be playing."
Sixteen players have been invited to Russia's national team tryouts with three or four cuts to be made.
"I'll be going to Moscow right after the (June 26) NBA Draft," said Kaun, who figures to either be taken in the second round or land a free-agent contract.
"It might be to my advantage to not be drafted if I do not go in the first round. It's because there is big demand for me to play in Russia. Coming from the U.S. and attending an American college, and the fact there must be three Russian players on the court (on Russian pro teams) at the same time, there is some leverage."
Leverage because Kaun said he conceivably could make top dollar in Russia.
"The money is great over there. Guys are making seven figures," Kaun said.
That's all in the future. His last act as a KU student is today's graduation. His mom will attend, as will his high school basketball coach and his adopted mother and grandmother from New York.
"It's been a great experience for me here," Kaun said. "It was tough at times, long projects, but it's something I wanted to do. I've been asked, 'What's the hardest class you've taken?' I always say, 'Geology 101.' Those 100-level courses are the toughest because you have no motivation for them."
The bottom line, though, is he has earned a degree.
"Sometimes kids who play basketball or football who have a pro future think they will be able to play pro and do not worry about school," Kaun said. "They don't care about their education. It's unfortunate. The way I have always looked at it since high school is you have to realize you might not get drafted. You might get hurt. I've always been concerned about grades because I always wanted to have something to fall back on."
As far as KU's other seniors ...
Bronx, N.Y., native Robinson has earned a diploma in communication studies.
"When I came here I came to play basketball and get a scholarship," Robinson said. "Though the NBA is my dream, being able to graduate was also my goal and is going to be a huge accomplishment."
Robinson's mother, father and an uncle as well as a couple of cousins will be here to see him walk down the hill.
Stewart, who hails from Seattle, said he became focused on attaining his degree in African-American studies following his transfer from Southern Cal in December of 2004.
"I didn't come to college just to play basketball, but to also earn a degree and graduate," Stewart said. "Being able to walk down that hill, with my teammates and all, is going to be very emotional for me. I will be thinking of all the people who helped me get here - a ton of people."
Stewart's father, stepmother and twin brother Lodrick will be on hand.
Oklahoma City native Jackson will have a batch of relatives on hand, including his mother, two aunts, uncle, brother and sister.
"When I got here I thought it was going to be an easy road, but I had a rude awakening on that first day of practice," said Jackson, who majored in African-American studies. "It was quite an adjustment with everything you had to do - class, practice, weights - everything and all at 100 percent."
More like this story on KUsports.com