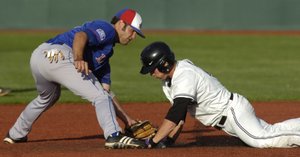 Manhattan — Kansas University's baseball team tripped over its own shoelaces once again on its way to the finish line.
Still, the Jayhawks aren't out of this thrilling race. Quite the opposite, in fact.
Though Kansas didn't get it done Saturday, losing 5-4 to Kansas State at Tointon Stadium, the scoreboard-watching came with nothing but positive results.
Texas Tech and Oklahoma both lost Saturday, meaning Kansas still controls its own destiny toward getting a Big 12 Conference tournament berth. A Kansas victory or an Oklahoma loss today will clinch the eighth and final spot for the Jayhawks and send them to Oklahoma City - the season-long aspiration.
Kansas State (26-27 overall, 10-16 Big 12) locked up the seventh seed in the Big 12 tournament with Saturday's victory.
"I (said) earlier in the week that it was going to come down to Sunday, and that's exactly what it's going to come down to," KU coach Ritch Price said. "These guys are going to play their (tails) off, I have no doubts about that."
The Jayhawks stumbled to their third straight loss Saturday, but actually played well in the thrilling showdown. They had good at-bats against five Kansas State pitchers, had a solid effort out of their bullpen and cut down on the costly mistakes that doomed them in Friday's miserable 5-0 loss.
Saturday's game usually was a one-run affair throughout, but Kansas led only once - when catcher Buck Afenir hit an opposite-field home run in the fifth to put the Jayhawks up 3-2.
"I just stayed inside of it," Afenir said. "I knew off the bat (it was gone)."
Kansas State answered with two in the bottom of the fifth to go up 4-3. The Jayhawks tied it again in the seventh, when Ryne Price hit a sacrifice fly for his 60th RBI of the season.
At that point, it was anyone's guess who was going to prevail.
"Certainly," Price said, "that was a great college baseball game."
KU's bullpen did a fine job relieving starter Andres Esquibel, who lasted only 41â3 innings. But Kansas State finally broke the stalemate in the bottom of the eighth, when Derek Bunker poked a single up the middle off Paul Smyth and plated Dane Yelovich for the winning run.
Kansas (30-26, 9-17) went down in order in the top of the ninth, and most of the players didn't say another word before boarding the team bus.
"They hurt right now, there's no doubt about it," Price said. "If you would've told us we were going to lose two straight to these guys, I don't think anyone in that dugout would believe it's possible."
That confidence needs to return to today's 2 p.m. series finale at Tointon for Kansas to have a chance. The Jayhawks remain a half-game ahead of ninth-place Oklahoma, the lone team Kansas needs to care about now. Texas Tech's loss guarantees it can't catch KU in the standings.
If KU wins today, Oklahoma can't catch up, either.
That would be enough to prolong the season for at least another week.
"We're just going to have to really clutch up," Afenir said, "and I think we will."
More like this story on KUsports.com