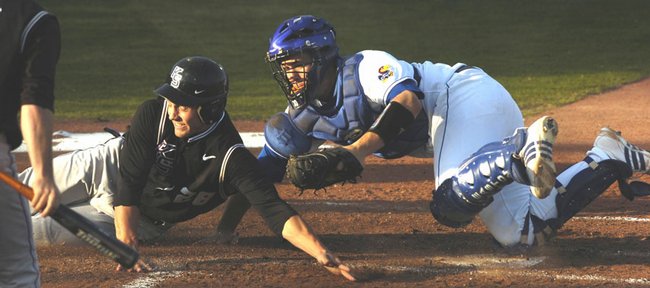 Barely a minute had passed after the conclusion of Friday's baseball game at Hoglund Ballpark when the scoreboard behind the right-field fence was reset and turned off.
It probably was better that way.
Kansas University looked nothing like a team with everything to play for this weekend. The Jayhawks didn't hit, didn't pitch particularly well and didn't play sharp defense in a 5-0 loss to Kansas State in the home finale Friday.
So what does that mean? Well, the Jayhawks (30-25 overall, 9-16 Big 12 play) now have no room to breathe with two games in Manhattan to finish the regular season. To guarantee a spot in the Big 12 tournament, they need to win today and Sunday on the road.
And that will require playing much better baseball than they played on Friday.
"That's about as bad of a performance as we've had all year," KU coach Ritch Price said.
How bad?
¢ The Jayhawks were 0-for-8 with runners in scoring position, though only one base runner made it to third base.
¢ They committed three errors of concentration - a dropped fly ball in center field, a ground ball that clanked off the shortstop's glove and a pickoff attempt that was thrown down the right-field line.
¢ They scattered seven hits and had just one extra-base knock - a double by John Allman that actually smacked off the glove of K-State's diving third baseman and went into no-man's land in left-center field.
¢ Starting pitcher Nick Czyz had serious issues with his command, walking five batters and plunking one in five innings.
"We felt good, we just struggled in a couple aspects of the game," said Allman, who had two hits. "It made it hard to win."
It didn't help that Kansas State starter Brad Hutt kept KU's hitters off balance all night. He threw 61â3 scoreless innings and left with K-State (25-27, 9-16) comfortably ahead.
"That's what he does," Price said. "He uses his change-up to our left-handed hitters and had them off balance, then he uses his fastball, and we're fouling them off, and we're late. He uses his slider to right-handers and finishes them with fastballs when they're looking for offspeed pitches."
It all added up to a miserable night and now a more urgent weekend for the Jayhawks. Kansas and K-State are tied in the conference standings with 9-16 league records. Baylor is one game ahead, Oklahoma a half game behind and Texas Tech one game behind.
Nobody in the 10-team league is out of the running for a spot in the eight-team tournament. But the Jayhawks know that another day like Friday and they quickly could be thrown out of the party.
"It's not the final we wanted," Allman said, "but it's not the last game of the year. We've got to get after it (today) and Sunday and win the series."
More like this story on KUsports.com