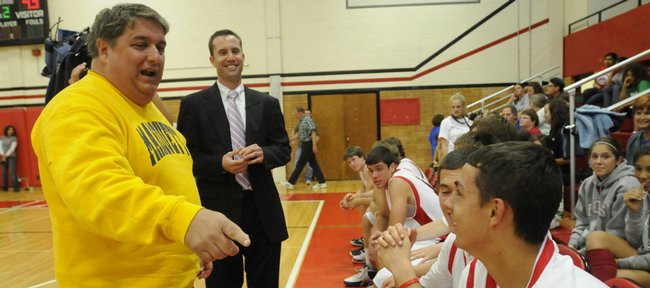 Baba Diallo clutched a clump of sweaty basketball clothes tightly to his body Wednesday night. Lawrence High's 6-foot-6 senior forward, still dripping with perspiration, was savoring his last minutes in the LHS gymnasium, not believing the contents of the clothing in his possession.
Darnell Jackson's jersey and shorts. Rodrick Stewart's shorts. Russell Robinson's shirt.
"You see I've got it like a football bundle," Diallo said. "Nobody's taking this from me. This is too special right now."
They were collectibles from a memorable evening of basketball between Kansas University's senior class - playing its last barnstorming game of a state-wide tour - and Diallo's area all-star high school hoops squad.
A little more than a month removed from a national championship victory, KU's seniors defeated the preps, 100-91, in a running-clock game that contained all the hijinks of a Harlem Globetrotters affair with just as little defense.
Every Jayhawk senior who played - including Jackson, Robinson, Brad Witherspoon, Jeremy Case and Sasha Kaun - contributed to the team's 27 dunks, punctuated by an alley-oop pass to Jackson from a fan who came down from the stands in the final seconds. Even Stewart, who was coaching with a brace on his right knee while recovering from a fractured kneecap, tossed a lob from the bench to Jackson for a slam.
A portion of the proceeds for the event benefited Lawrence High assistant football coach Devin McAnderson, battling myelodysplastic syndrome, a form of leukemia.
Afterward, Witherspoon tried summing up the barnstorming experience, which spanned much of the state.
"It's been a lot of fun going all over Kansas with the guys," he said. "Especially like Russell, who's from New York. It's a lot of fun to hear him talk like, 'What are all these cows?' But it's just been a blast."
Offensively - and there were plenty of points to go around - Case stole the show for the seniors, scoring a game-high 30 points with six three-pointers. He also was on the receiving end of a Superman-like dunk, soaring through the air with the help of the outstretched arms of Jackson.
Case, who is in graduate school at KU, was asked about filling the graduate student manager vacancy on KU coach Bill Self's staff following Michael Lee's departure to Gardner-Webb University.
"I'm definitely interested," Case said. "Coach Self and I haven't really sat down and spoke about it yet. I plan on going to see him whenever he gets back from recruiting, and we'll see. But it's definitely a possibility."
For the prep all stars, Free State High senior Weston Wiebe led the way, tallying 23 points and a few dunks of his own. Wiebe said he loved playing in a stress-free atmosphere against the Jayhawk seniors.
"Our two rules were, 'Don't get anywhere near them when they dunk and don't foul, either,'" said Wiebe, who snagged a Jackson undershirt after the game.
Lawrence's John Schneider and Danielle Bird and Free State's Craig Rosenstengle also participated, playing in a five-person Lawrence-only shift that included Wiebe and Diallo. Drew Berg, Tanner Swafford, DJ Fritzel, Caleb Denton and Gabe Belobrajdic made up the other five for the all stars, who kept the score close for much of the game.
"We were thinking they were going to come in and kill us, but they made it fun for us and the crowd," Diallo said. "I enjoyed every second of it."
More like this story on KUsports.com