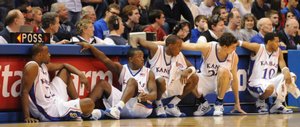 These days, two groups of basketball players dominate the brains of obsessed fans of Kansas University hoops.
Group 1: Darrell Arthur, Brandon Rush and Mario Chalmers and the intrigue of where they will be chosen in the NBA Draft inspires interesting conversation.
Group 2: Incoming high school recruits Marcus and Markieff Morris, Travis Releford, Tyshawn Taylor, Quintrell Thomas and junior-college signees Tyrone Appleton and Mario Little represent the unknown. They raise so many questions. At this point all anybody can do is guess at answers.
Who will arrive the most ready to play Division I basketball, based on his knowledge of the game and understanding of the effort level required to compete at the big-time level? Taylor.
Who has the highest ceiling? Marcus Morris.
Who has a shot at becoming a lock-down defender? Little.
Which player stands to benefit the most from Danny Manning's instruction? Markieff Morris.
As thoughts of NBA Draft choices and incoming Jayhawks clutter imaginations, the old reliables who formed the blue-collar backbone of the national champions have been having a blast and making a little money forming the latest rendition of the Kansas Barnstormers.
As usual, the KU Class of 2008, even with NCAA championship rings on their fingers, flies a steady path under the radar. Not a first-round draft choice among them. Not much draft buzz, though Sasha Kaun and Darnell Jackson are candidates for selection in the second round of the draft. Russell Robinson hopes to get a shot to play for pay somewhere. Rodrick Stewart is recovering from knee surgery. Jeremy Case wants to become a coach.
All five contributed to such a memorable Senior Night in their final games played in Allen Fieldhouse. They play for a different team now, one whose brief season comes to an end tonight. Former walk-on Brad Witherspoon, Robinson, Case, Jackson and Kaun represent the Kansas Barnstormers. One more time, they will entertain a Lawrence audience tonight in the Lawrence High gym, also known as The Jungle, a far more upbeat one than Upton Sinclair's.
The Barnstormers take on a team made up of area all-stars: Baba Diallo and John Schneider of LHS, Craig Rosenstengle and Weston Wiebe of Free State, Mike Berg of Baldwin, Eudora's D.J. Fritzel, Gabe Belobrajdic of Tonganoxie, Caleb Denton of Perry-Lecompton, Tanner Swafford of Basehor-Linwood and Lawrence High state champion Danielle Bird.
Obviously, the Kansas Barnstormers are favored to preserve their perfect record. For one thing, the Barnstormers have a prohibitive advantage in the coaching department. Too injured to play, Stewart will coach his former teammates. Radio personality David Lawrence, TV star Kevin Romary and I will coach the area all-stars. Another way of describing that trio: a former football star, a terrific golfer and a horrendous golfer.
In the second half, the Barnstormers will branch out from conventional basketball and try their hands at Harlem Globetrotters-type entertainment.
The basketball won't be at the same level as that played at Allen Fieldhouse, but the opportunity for personal interaction will be greater, the price of admission ($10) more affordable. Doors swing open at 5:30 p.m., when the players will be available to give autographs until 7:15. Tipoff is scheduled for 7:30. At one table, "An Incredible Year," Sunflower Publishing's book on the KU basketball season, will be on sale.
Those not interested in autographs might want to stop by to thank Robinson for defining the word teammate to perfection, Kaun for his big game against Davidson, Jackson for keeping Julian Wright's early departure to the NBA from hurting KU, Case for his shooting exhibition on Senior Night, Stewart for filling in early before Rush was ready for full-time duty in the wake of knee surgery and Witherspoon for bringing maximum effort daily in practice.
Tons of tickets, which will be on sale from 8 a.m. to 4 p.m. at LHS and at the door starting at 5:30, remained as of Tuesday. Here's hoping the place is packed and, for one more night, the spotlight shifts to a special senior class, before minds drift back to thinking about the NBA Draft one minute, the incoming recruiting class the next.