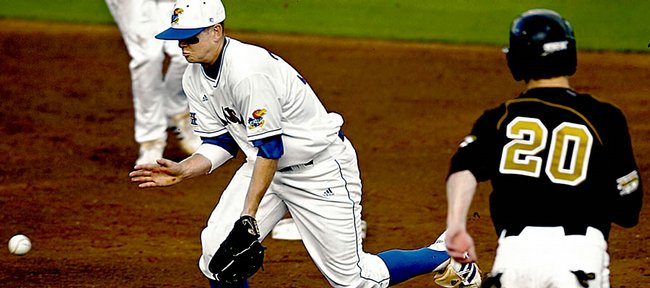 The Kansas kid wearing the Missouri uniform with the cannon for an arm brought his spectacular stuff to Hoglund Ballpark on Friday night. He carried with him an equally spectacular individual winning streak - including a season's goose egg in the loss column - and left with it intact.
Make that a Crow's egg.
Aaron Crow shut down Kansas University's baseball team for seven innings, then watched his bullpen hang on as the 14th-ranked Tigers defeated the Jayhawks, 5-3, in the first of a three-game series. Crow improved to an astonishing 11-0 this season and lowered his earned-run average to 2.82 in front of KU's largest home crowd of the year.
"He doesn't make many mistakes," said KU third baseman Tony Thompson, who had three hits and may have been the only one to figure Crow out. "You've just got to make him throw the ball up, and he doesn't do that very often. He's a really good pitcher."
Crow, a 6-foot-3, 195-pounder from the Topeka area, was dominant enough against the Jayhawks that the only two runs he gave up were unearned. That occurred in the third inning when MU shortstop Andrew Thigpen threw away Buck Afenir's groundball, allowing Robby Price and John Allman to score. It also gave KU its only lead at 2-1.
Then, Crow kicked his efforts into a new gear. The Tigers' ace and projected top-five pick in the major-league draft did not allow a runner past second base over the next four innings as his velocity actually crept higher.
"I thought he got better as the game went on," KU coach Ritch Price said. "I didn't think he was nearly as sharp early in the game as he was later in the game, which a lot of quality guys do once they find their rhythm."
Said Crow, who fanned 11: "It happens a lot. I just kind of get loose and get into a groove ... It always feels better about the third or fourth inning."
Kansas starting pitcher Nick Czyz (2-6) did his best to keep pace with Crow, but he wilted a bit in the fifth and sixth innings. The Tigers retook the lead with two runs in the fifth and plated one more on Jonah Schmidt's home run to left in the sixth, giving them a 4-2 edge.
It wasn't until Crow exited the game because of his mounting pitch count that KU seriously threatened. Trailing 5-2 in the eighth, the Jayhawks slapped together three straight singles, culminating with Erik Morrison's RBI single to center. In the ninth, Morrison had one more chance to break through with two outs and the bases loaded. But Kyle Gibson struck him out to end the game, slamming the door on any KU comeback and preserving Crow's marvelous outing.
The Tigers improved to 33-16 overall and 12-10 in the Big 12. Kansas had its four-game winning streak snapped and dropped to 29-23 and 8-14.
The teams will resume their series at 6 p.m. today.
More like this story on KUsports.com