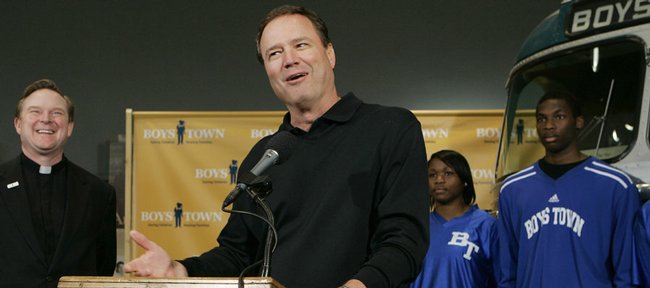 It should come as no surprise 69 college underclassmen have declared for the 2008 NBA Draft as compared to 58 a year ago.
A new NCAA rule allows NBA teams to pay travel and lodging expenses for players such as Kansas University sophomore Darrell Arthur and junior Mario Chalmers, who will try out for various pro teams the first two weeks of June.
In past years, underclassmen like the KU duo - who did not sign with agents, allowing them the possibility of withdrawing from the draft and returning to school - had to pay their way to NBA camps, discouraging them from testing the waters.
"When I told Sandra (Arthur's mom) there was a change and clubs could pay for the transportation to workouts, I think she was relieved in that regard," KU coach Bill Self said.
"This will better for me and my family," Arthur agreed.
Arthur, Chalmers and 67 others who had until April 27 to enter their names in the draft, have until June 16 to withdraw if they want to return to college. There are just 60 slots in the entire draft - 30 per round.
It has left many college coaches in a state of limbo, not knowing how many of their players will return.
"The bottom line is that the NBA is getting what they want (trying out players and landing the best), and the college game is getting hurt," Nevada coach Mark Fox told Jeff Goodman of Foxsports.com.
KU's Self said he was "not crazy" about the rule that lets players without representation wait until mid-June to decide upon a possible return. "When they declare, I don't think they really want to be here anyway," Self added.
Still, with the current system as it is, Self does not begrudge Chalmers and Arthur their chance to weigh their options closely the next several weeks. "They have put in their time. They deserve this opportunity (to test the waters)," Self said.
He has covered his own program by currently "oversigning" by one. KU, which has 12 scholarships to give (one from the maximum of 13 because of NCAA sanctions) recently received a 13th commitment in Tyshawn Taylor. With Arthur almost certain to leave and Chalmers also likely to bolt, Self is confident he'll have grants to give when all is said and done.
"Most coaches would agree it's not a great rule. There will be some really poor decisions. You've got all these declarations, and there's 30 picks in the first round. Probably 70-80 guys have been told by experts they'll be a first-round pick," Self said.
Coaches like Ohio State's Thad Matta want a system in which players must decide whether they will remain in the draft a week or two after the conclusion of the season.
"If they put their name in, they should go," Florida's Billy Donovan told Foxsports.
Self, by the way, is also against the current system that requires a player to turn 19 during a draft's calendar year or be one year removed from high school before he's eligible to enter the NBA.
"I don't like the rule. I think it's a bad rule. It's good that kids have to go to school. I think it's best for the student-athlete to be able to do that," Self said, adding, "I'd rather it be like baseball. They go after high school. If not, they have to put more time in college (three years)."
¢ Boys Town tour: Self spent an hour Wednesday visiting with Boys Town staff and students on the west side of Omaha, Neb. At a Boys Town news conference, Self told the Associated Press he was enthused about the 2008-09 Jayhawks.
"If they (Chalmers, Arthur) don't come back, we're still going to be good. Part of coaching, to me, is sometimes starting with a fresh slate," Self said. "(If the two return) we could be as talented next year as we were this year. People may say, 'No way,' but I have a lot of faith in our young guys."
Of KU's three players currently in the draft, Self said: "That was a good move on his (Brandon Rush's) part (to declare with agent). It was time for him to do that. Darrell and Mario have the option to come back. I'm approaching it like we're not going to have them, too. Not that I wouldn't want them to come back, but I think there's a great chance they'll be drafted in the first round."
¢ Recruiting: Former Oklahoma guard Bobby Maze, who averaged 20.7 points and 6.7 assists last season for Hutchinson CC, has committed to Tennessee. KU will play the Volunteers next season in Lawrence. ... Verdell Jones, a 6-4 guard from Champaign, Ill., signed with Indiana. Jones averaged 17.6 points and 6.5 assists last season.
More like this story on KUsports.com