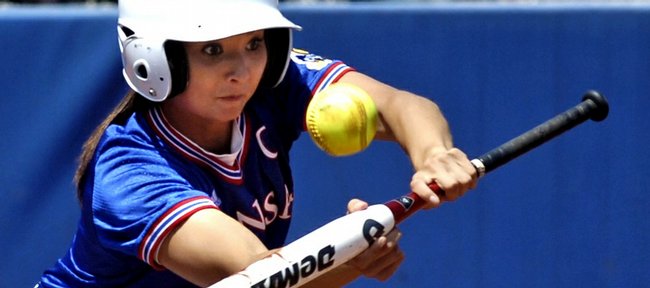 In some respects, Kansas University's softball team had nothing to play for Sunday afternoon. The regular-season finale meant zilch to the Jayhawks' postseason fate, with a No. 7 seed already having been locked up for next week's Big 12 tournament.
But who's kidding? There's always something to play for. And on this day, Kansas did it for the seniors.
KU rode the stellar pitching of freshman Allie Clark and the sweet swing of junior Val Chapple to a 6-2 victory over Iowa State at Arrocha Ballpark - a victory that was dedicated to the four members of the senior class, playing their last home game in a Jayhawks uniform.
"I knew I was pitching, and I was like, 'I ain't gonna lose.' Not for them," Clark said. "That was my motivation. I didn't want to lose. I think everyone had that motivation inside of them."
A day after blowing its chance to earn a first-round postseason bye and getting just three hits off Cyclones starter Rachel Zabriskie, Kansas was greeted with seeing Zabriskie in the circle once again.
This time, KU made her pay.
"Seeing the same girl twice is kind of a slap in the face," Chapple said. "It's like they think this girl can throw it past us again."
The Jayhawks plated their first run off Zabriskie in the second inning when catcher Brittany Hile blasted a solo home run off the scoreboard in left-center field. An inning later, Chapple dealt the biggest blow of the game. She belted a three-run bomb to center to push the margin to 4-0 and give her nine homers on the season.
Meanwhile, Clark worked out of trouble all afternoon in the circle for KU. She allowed just two runs in her five innings, but she did it by stranding seven Cyclones on the basepaths in the first four innings alone.
"I buckled down when I needed to," Clark said. "I got the key outs and worked around the plate and pushed them off. I wasn't giving them anything."
Clark (9-3) won her fourth straight decision. Val George came on in relief for the final two innings to record her third save.
KU coach Tracy Bunge said her team had to overcome several cases of the flu this week, but that wasn't going to stop the Jayhawks from putting on a show for the seniors - Amy Farrow, Addy Lucero, Sara Sidebottom and Betsy Wilson. After the game, all four sat in chairs around home plate as teammates gave speeches recalling their time together.
"I know the team really wanted to get one today for them," Bunge said. "It was a great win for the team, but it was even better for the seniors to go out on a winning note."
The Jayhawks improved to 37-18 and 7-11 in the Big 12. Iowa State dropped to 28-28 and 4-14.
The 37 wins by KU thus far mark the most under Bunge since her first season at Kansas in 1997, when the team won 38 - a testament to staying close in most ball games, according to Bunge.
"We haven't let many games slip," Bunge said. "I can maybe think of two the entire year that we should have, could have and didn't get it. Normally at the end of the year, I'm talking about eight, nine, 10 games that we could have and didn't get it done."
Chapple said the team was disappointed with the number of wins this year. She said the goal at the beginning of the season was getting to 40 victories.
KU can reach that plateau by winning the Big 12 championship in Oklahoma City. The Jayhawks will take on No. 10 Nebraska at 5 p.m. Friday in the first round.
More like this story on KUsports.com