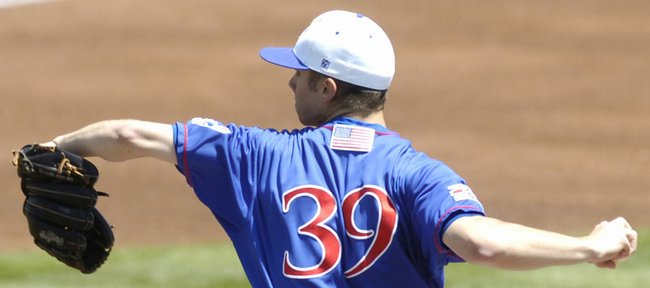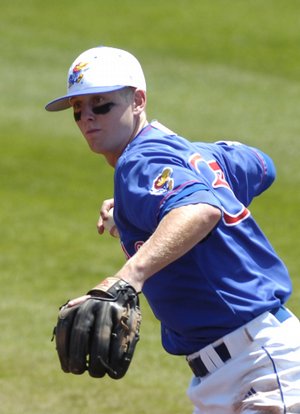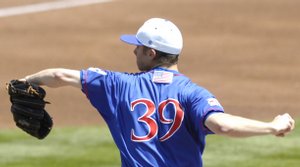 Kansas University's baseball team was finishing up its much-needed weekend of success Sunday when two fans in the Hoglund Ballpark bleachers pulled out brooms and started waving them over their heads.
A sweep - and a badly needed one, too.
Kansas beat Oklahoma, 9-4, on Sunday to complete the three-game sweep and further entrench itself in the middle of the Big 12 Conference pack.
It's that time of year for the Jayhawks, who traditionally seem to start slow and warm up as the weather does.
"Every year, it seems like we get rolling about this time," left fielder John Allman said. "Once the weather starts to pick up, we start swinging the bats better, and the pitchers start feeling a little better. We're getting that synergy back as a team."
Allman paused, then smiled.
"Synergy," Allman said. "That was a good word, wasn't it?"
Hey, everything's good for Kansas right now. The Jayhawks continued to swing scorching bats, pounding out 13 hits to finish with 45 in the three-game series. They jumped to an early lead on a solo home run by Ryne Price and never trailed again.
The pitching, meanwhile, picked up significantly. Freshman T.J. Walz had 62â3 innings of admirable work, striking out two and improving to 4-0.
The game stayed close into the middle innings, though, thanks in part to a humorous play in the fifth. Oklahoma's Matt Harughty sent a fly ball to deep left field, and Allman nearly robbed it when he crashed into the wall leaping for the catch.
It ended up being a two-run home run - and Allman's glove came off his hand and fell behind the fence, too.
"My wrist kind of broke on the fence, and my glove fell off," Allman said with a grin. "I was trying to reach as far as I could."
Kansas stayed ahead, but Oklahoma had a major threat in the seventh inning. Down 5-4, the Sooners had two on and two out when Mike Gosse hit a line drive up the middle. Kansas second baseman Robby Price made a diving catch to end the inning and preserve KU's lead.
"That was a great play," KU coach Ritch Price said. "That took the tying run off the board. If they're still hitting, who knows?"
Robby Price then led off the bottom of the seventh with a beautiful bunt single, setting the table for a three-run eighth inning that put Kansas comfortably ahead to stay.
Kansas improved to 29-22 overall and 8-13 in Big 12 play and dug into seventh place in the standings - a half game behind Baylor, and a full game ahead of Kansas State. The top eight teams are invited to the Big 12 tournament later this month.
KU plays its next five games at home, including next weekend's series against Missouri. It's a good time to be in a comfort zone - and something about May brings a lot of comfort out of the Jayhawks.
"I just know that we need to win a bunch of these last games," freshman Tony Thompson said. "I know our offense is good enough and our pitching is good enough that we can get to that tournament and play well there. That's our goal."
More like this story on KUsports.com