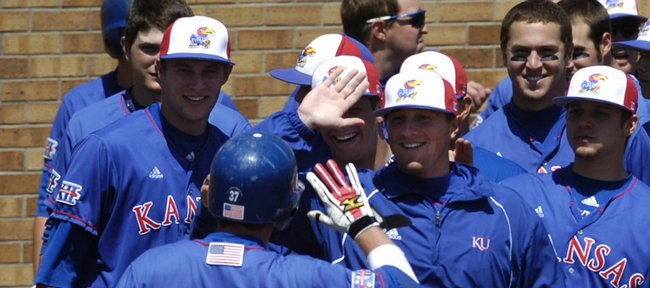 Golfers curse the wind. Fools spit into it. And Kansas University baseball players seem to love it.
The Jayhawks again rode a strong outward-blowing wind to a victory Saturday afternoon against Oklahoma University, this time by a 13-10 margin.
KU, which goes for a three-game sweep of the Sooners with today's series finale at 1 p.m., produced its second consecutive 16-hit game and first four-home-run game since 2006.
The victory put KU alone in seventh place in the 10-team Big 12 conference, an important move up the standings because only the first eight teams make the Big 12 tournament.
Robby Price, John Allman, Erik Morrison and Nick Faunce all cleared the fences for Kansas (22-24 overall and 7-13 in the Big 12) on an afternoon the Sooners (29-19-1, 6-13-1) dropped into eighth place.
Allman, a senior left fielder who bats third, also doubled, drove in two runs and went 4-for-5. He effectively walked the fine line of being conscious of the helpful wind without becoming obsessed with it.
"You want to try to keep the same approach," Allman said. "Try to get the ball elevated in the strike zone and try to put a good swing on it. You don't want to think about it too much, but it's a factor. If you can adjust to where you're hitting the ball in the air a little bit more, you're going to be more effective at the plate, but you've got to be careful."
Kansas coach Ritch Price gave his hitters passing grades for taking advantage of the wind without getting greedy.
"I thought they did a nice job of staying in the middle of the diamond," Price said. "A lot of those hits were from the right-center field gap to the left-center field gap. And John's dead right. If you start thinking about the wind and try to elevate your swing, you're going to miss pitches you should hit."
The Jayhawks weren't missing too many pitches in the fourth inning, when they sent 12 batters to the plate and scored eight runs to take a 10-2 lead.
Kansas right-hander Andrew Esquibel, who had struck out five batters in the first four innings, lost it after KU's big inning. Oklahoma opened the fifth with three consecutive singles, a three-run home run by J.T. Wise, a double to center off the warning track from Spencer Selby and a run-scoring double to left by Trey Sperring. At that point, left-hander Shaeffer Hall replaced Esquibel and picked up the victory by allowing two runs in three innings of relief. Paul Smyth earned his ninth save.
"I think this is the third consecutive start he's had a bad inning," Price said of Esquibel. "He's pitched well and then just blows up in one inning."
Kansas did enough with aluminum and leather to keep it from mattering.
With the Jayhawks leading 11-9, a runner on second, and two outs in the seventh, Allman made a running catch of Mike Gosse's sinking liner. An inning later, third baseman Tony Thompson supplied the web gem of the game, hitting the deck to stop Wise's hot grounder and then throwing him out for the second out of the inning.
Mostly, though, it was an offense led by Allman and Robby Price (three RBI) that put KU in position to go for the sweep today.
Allman improved his career batting average against the Sooners to .389 with three home runs in 36 at-bats. He said he was not aware he did particularly well against Oklahoma. Then again, why should he take note of that? He handles most teams' pitching quite well. A career .344 hitter who never finished a season with a batting average below .333, Allman is batting .366 with five home runs.
Standings, more than statistics, were on the brain of the 6-foot-2, 225-pound right-handed hitter from St. Louis after the game.
"If we can get a win tomorrow, we can set ourselves up to make the Big 12 tournament, and after that, you never know what might happen," Allman said.
More like this story on KUsports.com